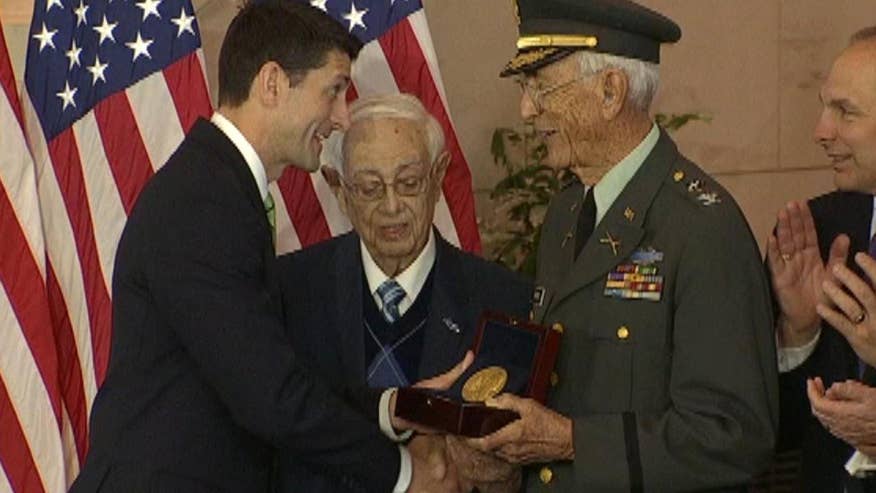 Washington, D.C. – Finally, an Army regiment made up of Puerto Rican soldiers received its long-deserved recognition on Wednesday.
The 65th Infantry Regiment – which is known by the nickname "Borinqueneers" and fought and served in World War I, World War II and the Korean conflict – was honored at a ceremony at the Capitol Building in Washington, D.C., where their Congressional Gold Medal was unveiled.
"Today we're setting the record straight for the Borinqueneers," said House Speaker Paul Ryan, one of many prominent political leaders who attended the ceremony.
The honor came more than 50 years after the unit was disbanded.
The medal joins a litany of other distinctions for the soldiers, who individually boast one Medal of Honor, nine Distinguished Service Crosses, approximately 250 Silver Stars, more than 600 Bronze Stars and some 2,700 Purple Hearts.
"We are honored to receive this award after so much struggle," Raul E. Reyes Castaneira told Fox News Latino. "We reached our goal, and we are being recognized that we support this nation, and we support it with our blood – the blood we shed."
The regiment is the latest segregated group to receive the Congressional Gold Medal, the highest civilian award in the United States. The black Tuskegee Airmen and the Navajo Code Talkers received the award previously.
In signing a bipartisan bill in 2014 to award them the medal, President Barack Obama said it "honors military heroes from our history."
Reyes Castaneira said it was a particularly proud moment for Puerto Ricans, and one that shines a spotlight on their contribution to the United States.
"We should highlight the good in the Puerto Rican community and educate and promote the good things about Puerto Rico and Latinos in our country," he said. "I feel very proud to be Puerto Rican and to be able to part of the 65th Infantry and to receive this honor."
U.S. Sen. Robert Menendez, a New Jersey Democrat who was an original co-sponsor of the legislation recognizing the Borinqueneers, said the men were true heroes.
"Their heroic conduct in the face of overwhelming odds saved the lives of many comrades, advanced American military operations, and broke racial barriers that had long constrained minorities in our military ranks," Menendez told FNL in a statement. "These brave patriots embody the very best of our nation."
Menendez said that the ceremony and the way it highlights the sacrifices Puerto Ricans have made for the United States should loom large as the island struggles financially and looks to the U.S. Congress for relief.
"As evidenced by the Borinqueneers, the people of Puerto Rico have been there for us from the infancy of our nation," Menendez said. "Let the story of these American heroes remind us that we have a special, historic, unshakeable connection with Puerto Rico, and now is the time to strengthen that bond."
Less than 800 of the veterans remain alive, many of whom live in Florida and Puerto Rico.
Frank Medina, national chair of Borinqueneers CGM Alliance, said the medal is a nod to the spirit of the military.
"The Congressional Gold Medal proved that the Borinqueneers were not left behind," Medina said in a statement to FNL. "In battle, no service member is left behind … This is a sacrosanct military principle every service member swears by."
Last year, Sen. Marco Rubio, a Florida Republican who pushed for the bill authorizing the medal, criticized the length of time it was taking to produce its design. In a letter to Obama, Rubio noted that several Borinqueneers in Florida had died since the day the bill was signed, and they never got to see the medal they spent most of their life hoping to receive.
Sgt. Raul Maldonado Peña said that he hoped the regiment's achievements and recognition inspires younger Latinos.
"My message to new generations is that we need to keep fighting, not just against discrimination but to fight for our country," Maldonado Peña said. "Our mission is to defend our country and to keep her safe with virtue and principle for our communities."
He added, "I'm proud to serve our country as a Puerto Rican, and I will never agree with those that speak poorly of immigrants. We must unite in our mission and simply do our jobs."
Elizabeth Llorente is Senior Reporter for FoxNews.com, and can be reached at Elizabeth.Llorente@Foxnews.com. Follow her on Twitter @Liz_Llorente.
Ninoska Marcano is a freelance reporter living in Washington D.C.
Follow us on twitter.com/foxnewslatino
Like us at facebook.com/foxnewslatino