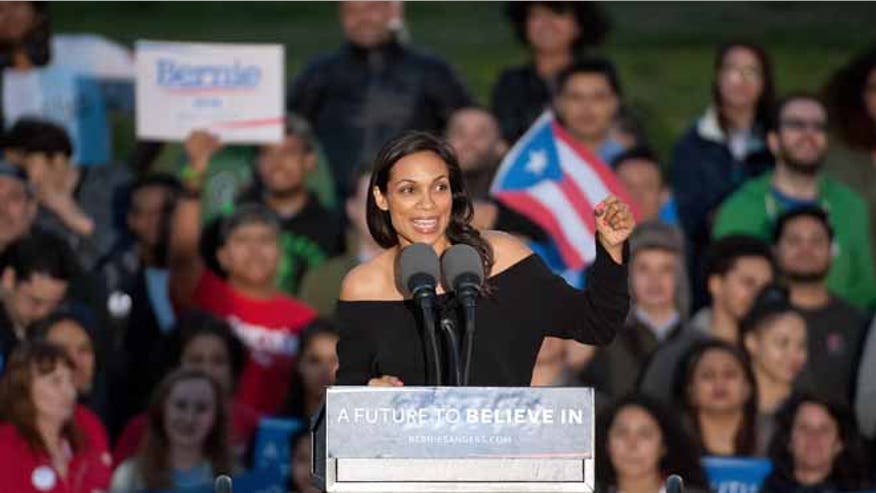 Actress – and a major Bernie Sanders' supporter - Rosario Dawson slammed Hillary Clinton on Thursday for implying that the Vermont senator and Democratic presidential candidate doesn't care about women.
Speaking to a crowd of 15,000 during a rally in her hometown of New York City, Dawson also called on Clinton to debate Sanders ahead of the state's April 19 primary.
"Shame on you, Hillary," Dawson said.
Dawson's attack on Clinton comes after the former secretary of state implied that Sanders doesn't care about women's rights because of the Vermont lawmaker's response to Donald Trump's suggestion that women should be punished for getting illegal abortions. Clinton slammed Sanders for saying Trump's proposal was "shameful" then saying his comments were a distraction from "a serious discussion about the serious issues."
Dawson attacked Clinton for her comments.
"I don't have to vote against someone, I can vote for someone who's on our side," Dawson said.
Despite lagging behind Clinton in most polls in New York, Sanders feels confident that he will win the primary in the state of his birth and go on to win the nomination.
Sanders said during the same rally that voter turnout in April 19's primary could affect the trajectory of his campaign. The Empire State has 247 delegates up for grabs, the second largest haul in the primary season.
Sanders and Dawson were joined at the rally by director Spike Lee and singer Residente. They spoke of Bernie's support for women and for Puerto Rico in its debt crisis.
Sanders drew on his experience growing up in Brooklyn. He reiterated his positions on fighting income inequality, creating a single-payer healthcare system and raising the minimum wage to $15 an hour.
The Associated Press contributed to this report.
Like us on Facebook
Follow us on Twitter & Instagram