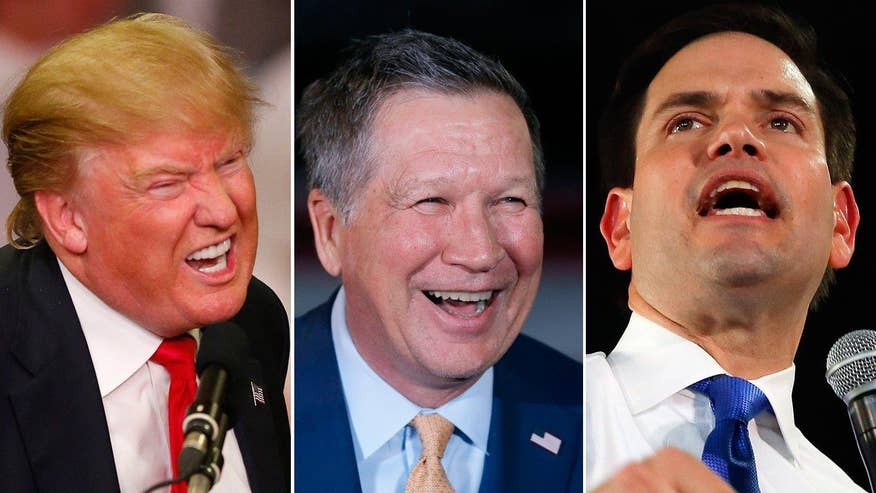 If you can't beat 'em in Ohio, join 'em.
That may be the new mantra for presidential candidate Marco Rubio, who apparently has dismissed any hope of winning that state in Tuesday's primary.
So now he is urging Republicans there to vote for Gov. John Kasich in order to prevent Donald Trump from winning, according to published reports and comments from his own people.
"If you want to stop Trump in Ohio, Kasich's the only guy who can beat him there," Rubio spokesman Alex Conant said Friday in an interview with The Associated Press.
In turn, Florida Sen. Rubio is hoping to win in his home state on Tuesday, thereby splitting the day's two big delegate prizes and keeping them out of Trump's hands.
But it doesn't look like Kasich is willing to play the same game. AP reporter Katie Ronayne Tweeted a quote from Kasich spokesman Rob Nichols saying in reference to the reported Rubio strategy, "We were going to win in OH without his help, just as he's going to lose in FL without ours"
According to POLITICO, Rubio has denied any quid pro quo with Kasich's team. "I have not talked with John Kasich," he said. He did seem to acknowledge to an MSNBC reporter on Friday, however, that Ohio may already be in the rear view mirror.
"The reality at this stage is … we have a good team in Ohio, we will do as good as we can, but our focus is on Florida," Rubio said.
In fact, the entire suggestion that the men could work together to thwart Trump seemed to have the opposite effect, with Kasich's people publicly relishing Rubio's seeming forfeiture of Ohio.
"We welcome the support of the Rubio campaign," Trent Duffy, another Kasich spokesman, told POLITICO, adding that any attempt to tell voters what to do was "presumptuous."
"The voters should vote their conscience," said Duffy. "They should vote for the best person they think is best able to lead our country. We believe that man is John Kasich…everywhere across the country."
Ted Cruz, who is running second in most polls, also scoffed at the alleged strategy. "It's real simple," Cruz told reporters. "How do you beat Donald Trump? You beat him."
Polls suggest that Kasich has a better chance in his home state than Rubio has in his. According to the RealClearPolitics poll average of the last 11 surveys in the state, Trump is besting the GOP field by 14.7 points in Florida. On the other hand, Trump is leading the pack by an average of only 2.5 percentage points in the last four Ohio polls.
Trump continued to steal Rubio's hometown thunder Friday when he formally announced the endorsement of former presidential candidate -- and longtime Floridian -- Dr. Ben Carson.
Standing at Trump's side in Palm Beach Friday morning, the retired neurosurgeon and conservative author gave Trump a hearty backing, and warned that a failure to rally behind him would "fracture the party in an irreparable way."
Rubio, who is coming in third in most polls, said it is Trump who could destroy the party, given the many Republicans who vow never to support him.
"I certainly think it would fracture it," Rubio said of a Trump nomination on CBS' "This Morning."
"There is a very significant number of Republicans that will never vote for him. And you can't win unless the party's united," he said.
Rubio said Friday that in no way is he giving up."As far as Florida's concerned, we feel good, we're making progress, we have real momentum here now."

The Associated Press contributed to this report