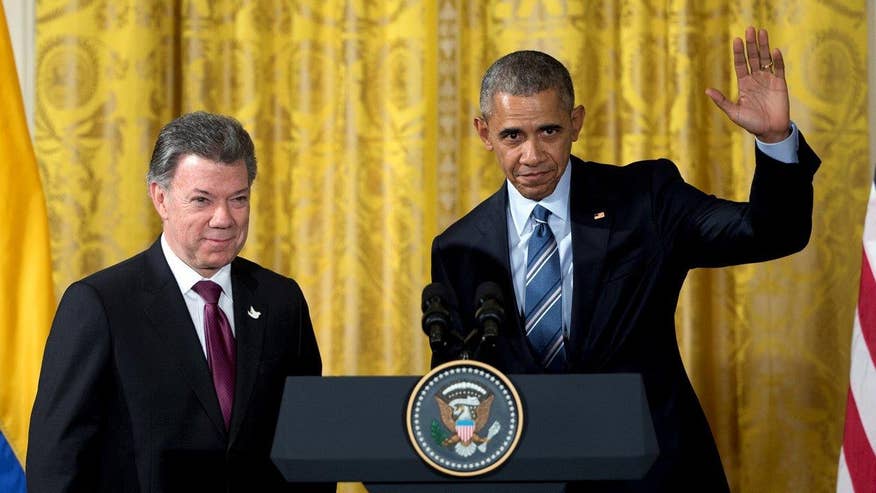 A day after his meeting with U.S. President Barack Obama, Colombian leader Juan Manuel Santos defended the joint effort to by U.S. and Colombian officials in combating cocaine production and trafficking.
"We have about 60 percent less land producing coca [plants], we have two-thirds less families dedicated to this business, we are interdicting more cocaine than ever before," Santos told "Fox & Friends" Friday morning. "We continue to fight. Colombia has been the country that's sacrificed the most in the world in this war on drugs."
He added: "We have to continue and persevere. We've beaten the big drug cartels in Colombia that used to be so powerful. We don't have those anymore, but as long as you have demand here in the U.S. or in Europe, we'll probably have a supply."
Santos also addressed concerns about the Revolutionary Armed Forces of Colombia (FARC) having connections to Middle Eastern extremist groups like ISIS, saying that Colombian intelligence authorities have no credible information of links between the FARC and terror groups. He also said if the peace deal to end the 50-plus-year civil conflict between the Colombian government and the rebel group is reached, then any such concerns about Islamic extremist groups would be moot.
"They're going to disarm. They're going to reintegrate into legal life without any armaments," Santos said. "This is a breakthrough for Colombia. We have been at war for 50 years, and if we sign that peace we won't have to worry about links with other terrorist organizations because they will simply disappear."
Santos' interview came after a meeting of the two heads of state at the White House, where Obama said he planned to ask Congress for some $450 million in assistance for Colombia in his final budget, acceding to Santos' request that the U.S. increase its aid to the country this year to help promote the transition to peace
Obama also announced that the 15-year-old Plan Colombia, a $10 billion U.S. program to fight insurgency and the narcotics trade in the South American nation, would soon conclude. In its stead, Obama said the U.S. would launch a new program called Peace Colombia aimed at helping reintegrate FARC militants into society and expand the government's reach into blighted areas that have long been controlled by the guerrilla group.
The Associated Press contributed to this report.
Like us on Facebook
Follow us on Twitter & Instagram