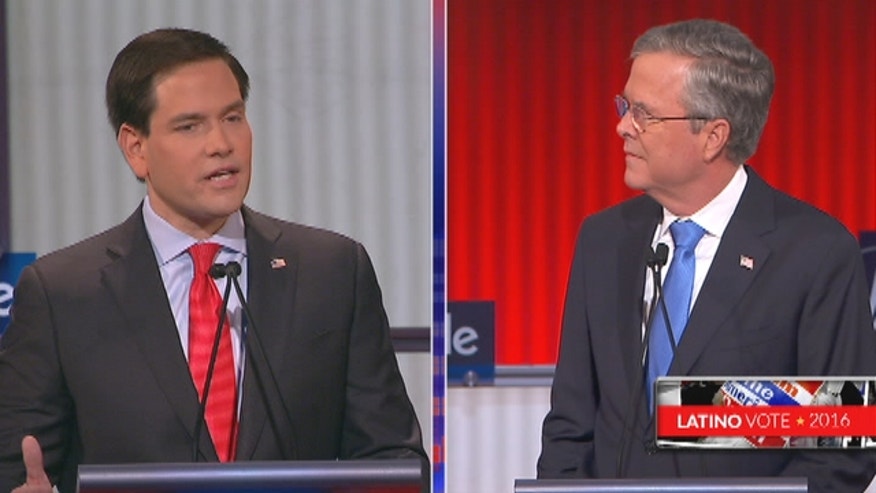 Marco Rubio is not only besting fellow Floridian Jeb Bush in the presidential polls but also when it comes to money in the bank.
The day after Rubio finished third in the Iowa Caucus – and with the same number of delegates as billionaire businessman Donald Trump – the Miami Herald released an analysis of fourth-quarter fundraising that shows Rubio outpacing Bush in that time-frame and catching up with his former political ally in terms of their overall war chests.
In the fourth quarter of 2015, Rubio pulled in $14.2 million, thanks to the help of small donors and billionaires alike. Bush's campaign was only able to raise $7.1 million in the quarter, according to numbers filed Sunday night to the Federal Elections Committee.
The analysis is another piece of good news for the Rubio camp as it readies for the New Hampshire primary – as well as a blow for Bush, who was in dire need of good news after finishing with just 3 percent compared to Rubio's 23 percent in Iowa.
Bush, who left Iowa long before caucusing ended on Monday to focus his efforts on New Hampshire, had four Granite State events scheduled for Tuesday. He still leads Rubio in overall fundraising with $32 million taken in to the senator's $28 million, but the gap is narrowing. More worrisome is that Bush's much-touted money advantage is not helping him rise out of the GOP pack.
The money reported to the FEC comes from individual donors, which by law is capped at $5,400 and is seen as reflecting a candidate's grassroots appeal. Also included in the analysis were separate donations to a presidential hopefuls' super PACs, which are not capped.
Conservative Solutions, Rubio's super PAC, is also doing well – bringing in $14.4 million in the second half of 2015, up to a total of more than $30 million. Rubio's biggest donor – Miami mogul and former Philadelphia Eagles owner Norman Braman – has donated $6 million.
That money still pales in comparison to the $118.1 million that Bush's super PAC, Right to Rise USA, has been able to raise, with the financial services giant C.V. Starr & Co. alone handing over $10 million.
Bush's super PAC also has $59 million remaining in its war chest compared with Rubio's $14 million, but the former Florida's governor's fundraising has slowed as bigger-dollar donors have grown increasingly wary of his chances of winning the Republican nomination.
Rubio's biggest backer, Braman, told the Miami Herald that Rubio's grassroots support and his successes in the early primaries could direct even more wealthy contributors to his camp.
"The donors will really start to come together around the strongest candidate after these early primaries," Braman said. "That's what we've seen happen before."
Like us on Facebook
Follow us on Twitter & Instagram