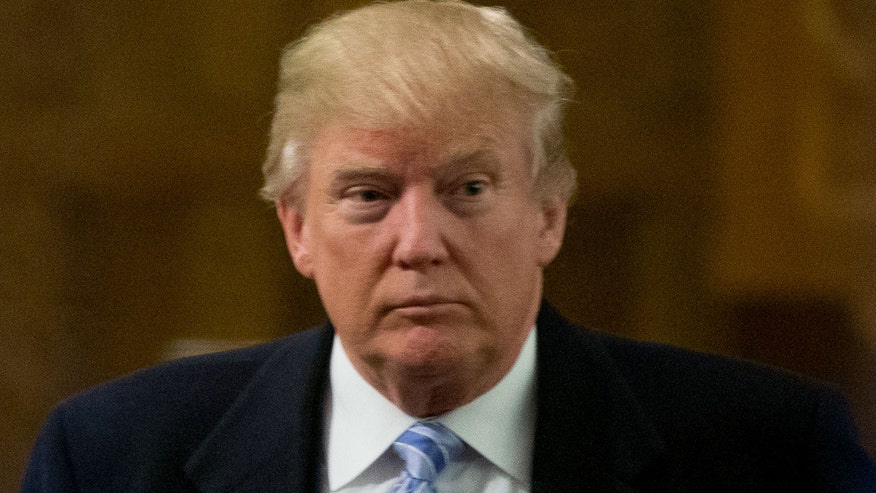 **Want FOX News First in your inbox every day? Sign up here.**
TRUMP'S BIG IOWA GAMBLE
DES MOINES, IOWA -- Donald Trump has mused aloud that he could shoot a person and still not lose support. That may be so. But now we're getting ready to find out whether his Iowa backers will forgive him for what may be a worse transgression in the first-in-the-nation presidential caucus: skipping their only Republican presidential debate of the 2016 cycle.
Trump looks like as close to a lock as he can be in New Hampshire's Feb. 9 primary. He's 20 points ahead in the Real Clear Politics average of New Hampshire polls and the state is a perfect fit for him: Northeastern, moderate, more secular than most and with an open primary system that allows Democrats and independents to vote on the GOP side.
His victory there is more than expected. It is, as it was for the frontrunner in the 2012 GOP cycle, prefigured and necessary.
Iowa is different for Trump. He doesn't need to win here to keep his remarkable dominance of the GOP field intact. But he can't have a poor showing. Like Mitt Romney before him, Trump needs to be in the hunt in the Hawkeye State. As the Republican establishment flirts with the idea of backing Trump to block Sen. Ted Cruz the pressure for an Iowa win decreases.
As Trump was suggesting while he was trailing Cruz in the polls here, Iowa victories have not resulted in nominations in recent cycles. The last Iowa winner to be the Republicans' eventual pick was George W. Bush 16 years ago.
But Trump can't crash and burn, either. His bid to win depends on convincing the GOP mainstream that his ultimate victory is inevitable. The subtext of his campaign is "resistance is futile." Trump's core supporters may not be thinking about electability, but the calculated choices of late deciding establishmentarians certainly are. A hiccup in Iowa followed by a crushing victory in New Hampshire will keep the Trump Train on the tracks.
But Trump's decision to snub Iowa's only debate puts him in risk of a third-place finish or worse in Iowa. Voters here take seriously their place as the first deciders and have already been given relatively short shrift as it relates to Republican debates. They got three in the last go around but are getting just one this time.
Thursday's Fox News/Google debate is when that all gets put right. This is Iowa's moment in this cycle.
Trump can still finish well here. But as John McCain found out in the 2012 general election when he "suspended" his campaign for a couple of days when the economy fell down a well, voters sometimes react poorly when candidates veer suddenly late in a race.
Chris Stirewalt is digital politics editor for Fox News. Want FOX News First in your inbox every day? Sign up here.
Chris Stirewalt joined Fox News Channel (FNC) in July of 2010 and serves as politics editor based in Washington, D.C. Additionally, he authors the daily Fox News Halftime Report political news note and co-hosts the hit podcast, Perino & Stirewalt: I'll Tell You What. He also is the host of Power Play, a feature video series on FoxNews.com. Stirewalt makes frequent appearances on network programs, including America's Newsroom, Special Report with Bret Baier and Fox News Sunday with Chris Wallace. He also provides expert political analysis for FNC's coverage of state, congressional and presidential elections.