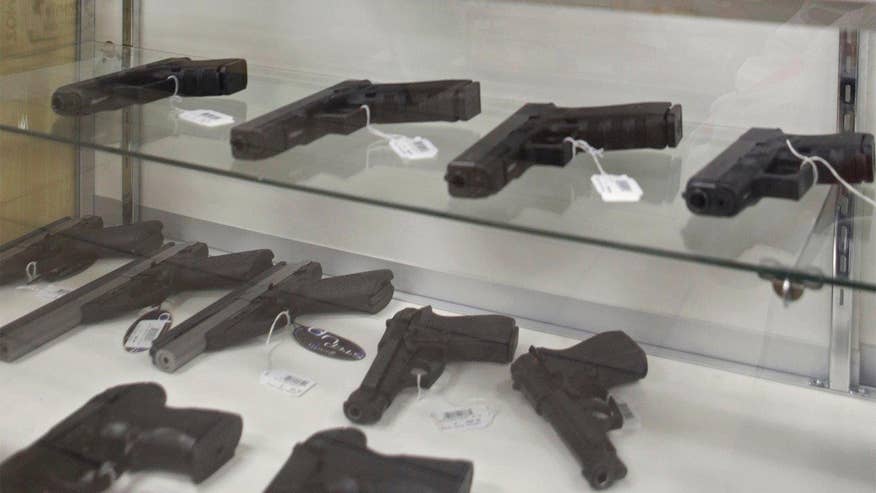 **Want FOX News First in your inbox every day? Sign up here.**
Buzz Cut:
• Obama's small ball on guns could be a big deal
• Big Dog doesn't bark amid revived sex abuse claims
• Cruz overtakes Trump in California poll
• Honey Badger warns his fellow Granite Staters
• We salute you, cheese hero

OBAMA'S SMALL BALL ON GUNS COULD BE A BIG DEAL
Is it possible that President Obama's executive actions on gun control can be both inconsequential and of lasting significance? You bet.
Friend and foe agree that the president's move to nudge out the definition of a federally licensed firearms dealer doesn't amount to much as it relates to curbing gun deaths.

Not only did the so-called "gun-show loophole" not play a role in any recent mass shootings, but anyone who was already habitually selling firearms at pawn shops, flea markets, or, yes, gun shows, is already licensed or already in violation of the law.

Leaning harder against those who sell firearms - what Attorney General Loretta Lynch deemed "a clarification" - will not do much, if anything, for what the president promised to do to "spare families the pain and the extraordinary loss" from gun violence.

So, in that way, Obama's new actions are small beer. Much of his supposedly bold actions relate to directing federal agencies to do better at what they're already doing. One wonders why he waited so long to think of that...

It's easy to understand why the president would fancy up these measures as bold steps. For himself, Obama can certainly feel his presidency turning into that thin wisp of smoke from a snuffed candle. As with every year since Obama lost the House for his party in 2010, the president is promising to go it alone.

Obama is preparing to give his last State of the Union address and his longtime rival, Hillary Clinton, is getting ready to finally grasp control of the Democratic Party from him. Six weeks from now, the Obama presidency won't even be a wisp. It will already be a nostalgia trip.

Aside from trying to show some vigor on an issue he has made a top drawer priority, Obama can also try to hem Clinton in on the subject of guns. She has veered quite a bit on the subject, which promises to be an electoral loser for Democrats this year, and by acting now, he can make her sign on the dotted line.

This is not all kabuki, though.

House Speaker Paul Ryan is doing more than blustering when he accuses the president of "subverting the legislative branch, and potentially overturning its will."

Think of the president's actions as a test case for a broader-still executive action on guns. If Obama's more modest measures outlined today can survive the legal challenges that are sure to follow, he will have broadly redefined what the chief-executive's role is in administering the Second Amendment.

The enumerated restrictions on the federal government in the Bill of Rights get special status. While courts may hold that the executive branch has broad discretion in enforcing environmental regulations, banking rules, or food safety, Mr. Madison's addition to the charter has created a force-field around certain activities.

Regulate wetland usage, bank sales or raw milk and courts balance the general idea of individual freedoms against the good of the society. Trip into speech, religion, assembly, guns or other enumerated areas and the test changes.

That means courts have struck down, repeatedly, efforts by governments to restrict individuals' abilities to own firearms. In other cases, courts have demanded at least legislative permission before restrictions have been imposed.

If Obama could win for himself and his successor broader power to regulate the sale of firearms for the executive alone he will have struck a small, but very significant blow in his bid for large-scale gun control. Obama ultimately wants the right to regulate firearms the same way he can regulate the environment, banks and food, and this could be the start.

The path to the kinds of confiscations that Obama has said might be necessary could run through a loophole just like this.

WITH YOUR SECOND CUP OF COFFEE…
The beginning of the New Year means many nervous fingers are paging through newspapers to find their horoscopes. While astrological fortune telling may be quite ancient, horoscopes in newspapers are a surprisingly recent development. Smithsonian brings us the history: "The first real newspaper horoscope column is widely credited to R.H. Naylor, a prominent British astrologer of the first half of the 20th century. Naylor was an assistant to high-society neo-shaman, Cheiro…Cheiro, however, wasn't available in August 1930 to do the horoscope for the recently born Princess Margaret, so Britain's Sunday Express newspaper asked Naylor. But though it wasn't the first of its kind, Naylor's article was a tipping point for the popular consumption of horoscopes…The then-editor of the paper offered Naylor a weekly column – on the caveat that he make it a bit less dry and bit more the kind of thing that lots of people would want to read – and 'What the Stars Foretell', the first real newspaper horoscope column, was born."

Got a TIP from the RIGHT or the LEFT? Email FoxNewsFirst@FOXNEWS.COM

POLL CHECK
Real Clear Politics Averages
Republican Nomination – Trump 35 percent; Cruz 19.5 percent; Rubio 11.5 percent; Carson 8.8 percent
General Election: Clinton vs. Trump – Clinton +4.8 points
Generic Congressional Vote: Republicans +0.5

BIG DOG DOESN'T BARK AMID REVIVED SEX ABUSE CLAIMS
"Subdued"? "Rambling"? "Adrift"? Yep. That's how several major media outlets reviewed Bill Clinton's New Hampshire debut on behalf of his wife's second White House bid.

Campaigns meekly - NYT: "Sticking mostly to descriptions of Mrs. Clinton's policy positions and biography, the former president made only glancing references to her opponents, saying that some were 'kind of scary' but not naming names. He also suggested that he would not thrive politically today because he was not 'mad at anybody,'… Mr. Clinton seemed to be on a tight leash during his appearances in Nashua and Exeter, delivering performances far different from the ones he gave in 2008, when some Democrats criticized him for overshadowing Mrs. Clinton with his attacks on then-Senator Barack Obama. Mr. Clinton did not just keep his well-known temper in check: He even stopped shaking hands and signing autographs after brief forays on the rope line, a place at which he is known to spend up to an hour."

Won't defend himself - The Hill: "Bill Clinton came off the sidelines…refusing to take the bait from Republican front-runner Donald Trump, who last week began invoking the former president's 'abuse' of women…[MSNBC's Andrea Mitchell asked] how he felt about the attacks from Trump, Bill Clinton swiped away the question with his hand. 'How I feel is only relevant once they pick a nominee,' he said."

Hillary cash flows to purportedly impartial DNC - Daily Caller: "Hillary Clinton and the Democratic National Committee have an unusual and apparently unprecedented agreement in which an entity she controls has paid nearly $20 million to the political panel, even as its leadership plays a supposedly impartial role in fostering competition between the former secretary of state and her rivals for the party's 2016 presidential nomination. Clinton created a 'joint fundraising committee' Sept. 10 that funneled big-money donations in excess of the per-campaign limit to the DNC. In the next 20 days, she raised and gave $600,000 to the DNC, and the figure ballooned to $18 million in the fourth quarter, according to newly released figures–a third of her total haul. Normally the party would only team up with a candidate that way if the candidate was the nominee."

The truth is out there. Like, way, way out there - The Federalist: "[Hillary Clinton] told reporters last week that, if elected, she plans to 'get to the bottom' of all this alien stuff despite her husband's previous claims that Area 51 doesn't have aliens. During a meeting with the The Conway Daily Sun at a campaign stop in New Hampshire, reporter Daymond Steer, whose apparent shtick is to ask the presidential candidates about UFOs, brought up the topic in conversation with Clinton. She reportedly 'seemed to have fun discussing the topic,' and stated emphatically that she would 'get to the bottom of it.'… 'We may have been (visited already). We don't know for sure,' Hillary said….'Maybe we could have, like, a task force to go to Area 51,' she said."

CRUZ OVERTAKES TRUMP IN CALIFORNIA POLL
Sacramento Bee: "Ted Cruz has surged to a statistical tie with Donald Trump among Republicans in California, while Ben Carson and Carly Fiorina have tumbled in this late-voting state, according to a new poll. The Field Poll, released Tuesday, reflects Cruz's momentum nationally in the crowded Republican presidential field. While the Texas senator lags behind Trump in New Hampshire and national polls, he has pushed ahead in Iowa, which holds its first-in-the-nation caucuses on Feb. 1."

Honey Badger warns his fellow Granite Staters - Former Gov. John H Sununu warns voters in New Hampshire not to drink the Trump 'Kool-Aid.' He writes in a Union Leader op-ed: "New Hampshire earned its 'First in the Nation' primary status by effectively weighing, vetting, and narrowing the field of nominees for both parties…We must not drink the Trump Kool-Aid."

[National Journal rounds up the latest on the intensifying firefight in New Hampshire between Sen. Marco Rubio and Gov. Chris Christie.]
Jeb announces new drug addiction plan ahead of N.H. forum - WSJ: "In another sign of Jeb Bush's all-in approach to the New Hampshire GOP primary, he is announcing a drug-control policy Tuesday aimed at the state's heroin epidemic…Mr. Bush is expected Tuesday to join GOP rivals New Jersey Gov. Chris Christie, former Hewlett-Packard CEO Carly Fiorina and Ohio Gov. John Kasich at the New Hampshire Forum on Addiction and the Heroin Epidemic at Southern New Hampshire University."

[In an op-ed for Time, Carly Fiorina describes her family's personal experience with drug addiction ahead of a speech on the subject in New Hampshire today. Fiorina writes, "We shouldn't be criminalizing addiction. If you're criminalizing drug abuse, you're not treating it."]

SOUND OFF: READERS RESPOND TO POWER INDEX
"The 'Power Index' is silly. The most powerful candidate is the one that can get the most support, and eventually, the most votes. What some deadheads in the beltway like most is a waste." – Jim Forsythe

"Substantive policy is most important, and I think Ben Carson has the most reasonable, logical, and realistic policies. One small example: He is the only one I've heard say, we need to declare war on ISIS so we can rightfully call those who aid and abet them traitors." – Frederick McIntyre

"I have said it before: Nominating Cruz would elect Hilary and a Democrat Senate." – John A. Johnson

WE SALUTE YOU, CHEESE HERO
One man's nostalgia-driven quest drove him over 400 miles from Connecticut to Ottawa for a piece of cheese. The Wilton Bulletin brings us the story of New Jersey native Anthony LoFrisco, who was a boy during World War II when Italian imports were barred from entering the United States. When one local cheese shop managed to snag a 1,000 pound provolone block after the war ended, LoFrisco said the sight made a lasting impression. Hearing recently that a New Jersey store also had a massive provolone block, LoFrisco set out to see it, but was disappointed to learn it was neither Italian nor 1,000 pounds. After some Googling, LoFrisco was on the road to Ottawa where he was able to cut the first slice of a local cheese store's recent 1,000 pound import."

Chris Stirewalt is digital politics editor for Fox News. Want FOX News First in your inbox every day? Sign up here.
Chris Stirewalt joined Fox News Channel (FNC) in July of 2010 and serves as politics editor based in Washington, D.C. Additionally, he authors the daily Fox News Halftime Report political news note and co-hosts the hit podcast, Perino & Stirewalt: I'll Tell You What. He also is the host of Power Play, a feature video series on FoxNews.com. Stirewalt makes frequent appearances on network programs, including America's Newsroom, Special Report with Bret Baier and Fox News Sunday with Chris Wallace. He also provides expert political analysis for FNC's coverage of state, congressional and presidential elections.