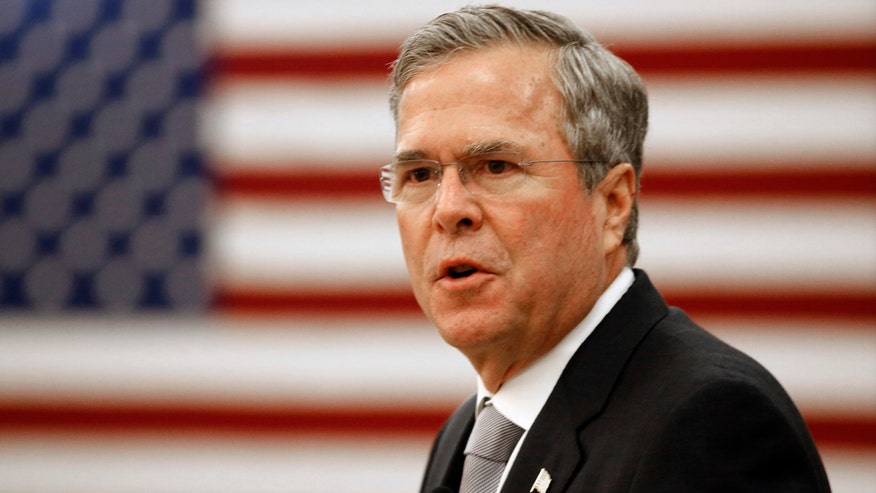 Republican presidential candidate Jeb Bush called Wednesday for a muscular build-up of U.S. military force to combat ISIS and other terrorist threats in the aftermath of last week's Paris attacks.
"I believe the best policy for creating the conditions for peace is to develop the capability to wage war with crushing force," Bush said at The Citadel military academy in Charleston, S.C.
"Radical Islamic terrorists have declared war on the western world," Bush said. "Their aim is our total destruction. We can't withdraw from this threat, or negotiate with it."
Bush's proposal to expand America's military strength includes 40,000 new soldiers and 4,000 new Marines -- and expanding the Navy to include more technologically advanced submarines.
On Thursday, the former Florida governor is set to receive the endorsements of 27 retired flag officers, or U.S. military officers who have held the high ranks of general or admiral, according to his campaign.
"Jeb Bush has been a strong advocate for the U.S. military, strong enough to earn my support, " Navy Admiral Robert Natter (Ret.) writes in an op-ed for The Virginian-Pilot newspaper of Norfolk, Va. Thursday. "The 2016 field has many talented candidates, but for this old sailor, Bush has presented the strongest plan in the field for rebuilding our military."
In an effort to strike while the iron is hot, the Bush campaign is also releasing a new digital ad in early-voting states with a focus on national security and rebuilding the military. The ad includes Medal of Honor recipients describing why they are backing Bush for president.
"This commander in chief requires training wheels," retired U.S. Marine Maj. Gen. James Livingston says as a photo of President Obama is shown.
"This nation hungers for leadership," retired U.S. Marine Col. Jay Vargas says in the ad. "We have almost gone backwards instead of going forwards—and I think Jeb Bush will push it forward."
"We will be putting a significant digital buy behind the spot in the early primary states," said a Bush campaign official, though no specific amount was given.