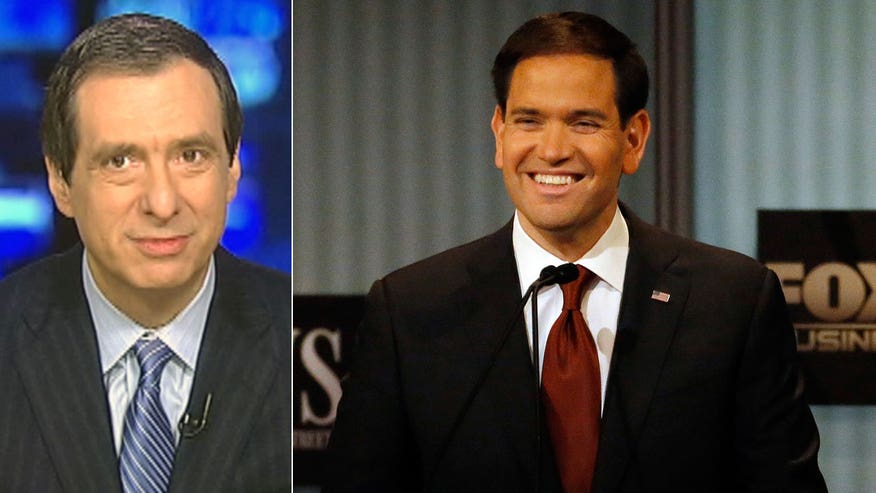 It was 5 a.m. in Milwaukee, after a late night of debating, when Marco Rubio walked into a hotel ballroom, impeccably dressed and betraying no sign of fatigue.
In a dark room illuminated only by photographers' lights, he jumped into back-to-back satellite interviews with "Good Morning America," "Today" and "CBS This Morning," hitting his talking points without a stumble. (And then he sat down with me, as you'll see Sunday on "Media Buzz" along with two other candidate interviews.)
Rubio's discipline, along with his gift for eloquence, is winning him all kinds of media plaudits, with Slate making this premature proclamation: "Marco Rubio Is The Nominee In Waiting."
For that forecast to come true, however, the Florida senator will have to withstand an intensified wave of media scrutiny that will dwarf what he's been through so far.
I've written before that Rubio has a good chance of emerging as the standard-bearer of the GOP's so-called establishment wing, ready to do battle with the front-running non-politicians, Donald Trump and Ben Carson. He solidified that position with a very strong performance in the Fox Business debate in Milwaukee, after an even stronger showing in the CNBC faceoff in Boulder.
Rubio's team doesn't want him to peak too early, and this is earlier than he would like. In a Fox interview yesterday, Rubio demurred when Bill Hemmer asked about him being the man to beat, offering bromides about how there's a long way to go and it's up to the voters.
He does not want that front-runner label hung around his neck. Of course, Rubio is actually in third place in recent national polls, double digits behind Trump and Carson, but this is turning into a two-tier contest.
Much of the media's focus is on his personal finances, but Rubio often has a good comeback about how his own middle-class struggles and need to put his kids through college will resonate with many Americans.
Some of the early stories missed the mark. There was Rubio getting a few traffic tickets, Rubio buying an $80,000 boat, Rubio cashing in an IRA, Rubio buying a house with a friend who turned out to be the subject of investigations—none of that is going to block his ascent.
His use of a Republican Party credit card for some personal expenses while he was a Florida lawmaker is a bit more serious. But he repaid the expenses, and there's no smoking gun in the payment statements he recently released.
Rubio is vulnerable, of course, on the experience question, as a freshman lawmaker whose status reminds some people of Barack Obama. Of course, GOP primary voters have made clear this year they're not enamored of people with a long political resume.
And Rubio is at odds with the party's base on immigration, since he favors a middle course—not a Trump-like mass deportation but not granting citizenship, either—that is hard to explain in a short sound bite. Rubio was part of the Gang of Eight that pushed a compromise measure through the Senate that, tactically at least, he now views as a mistake.
Ted Cruz, who also did well in the past two debates, clearly has his sights set on Rubio as a purveyor of what he calls amnesty—and they are on a collision course. Cruz stepped up his rhetoric on Rubio yesterday, saying he had fought "tooth and nail" for the Hill compromise and that any pro-amnesty candidate will lose to Hillary Clinton.
Jeb Bush, whose Super PAC has publicly threatened a $20-million ad blitz against Rubio over such issues as abortion, also knows he can't win the nomination without taking down the man he mentored in Miami.
But for the moment, Rubio is getting a big media bump. As Slate says:
"It's good to be Marco Rubio. You're young, smart, and good-looking. In a party that needs credibility with Hispanic voters, you're Cuban American. You're a great talker. You're a rising star in a party that's eating its elders. Insurgents admire you, yet the GOP establishment trusts you. Republicans are looking for a new leader, and you seem to be it."
The Washington Post, in a front-page piece yesterday, noted Rubio's "return to the lofty status he had after he burst onto the national scene five years ago. Many Republican elites are once again celebrating him as the party's golden boy, if not its strongest general-election candidate, and fear seeing him bruised too badly during the primary season."
The Washington Times says Rubio is "emerging as the GOP candidate most likely to unite the various wings of the Republican presidential primary electorate."
And the New York Times says the contest "increasingly appeared to be heading toward a confrontation between two first-term senators both elected with Tea Party support but who have since taken different paths: Ted Cruz of Texas and Marco Rubio of Florida."
The media are clearly rooting for a Rubio-Cruz showdown, which might be described as the playoff series to get into the World Series. Two charismatic Cuban-Americans going at it for the goal of being the party's first Hispanic nominee. Given that immigration would be the chief battleground, that would be a spicy contest indeed.
Howard Kurtz is a Fox News analyst and the host of "MediaBuzz" (Sundays 11 a.m.). He is the author of five books and is based in Washington. Follow him at @HowardKurtz. Click here for more information on Howard Kurtz.