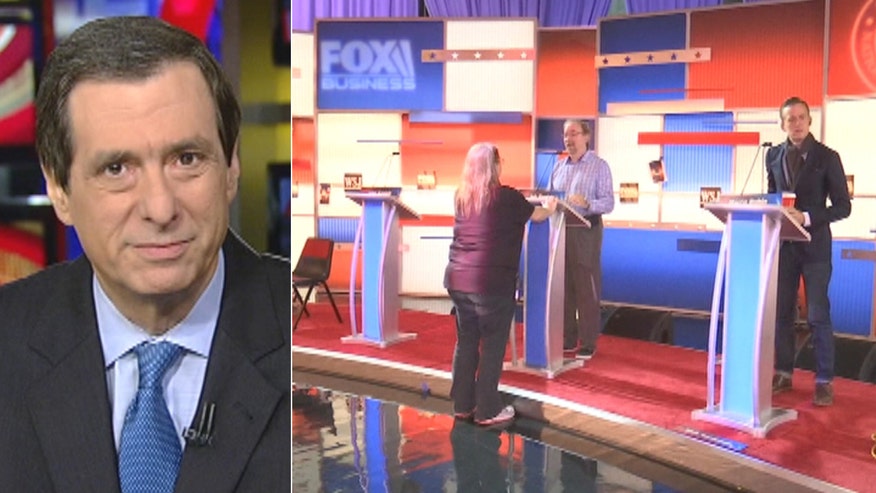 Presidential debates are always unpredictable. But two Fox Business anchors have made one thing clear about Tuesday's faceoff in Milwaukee:
The debate is not about them. They will not be grandstanding, asking condescending questions or expressing disdain for the candidates.
In other words, don't expect a CNBC rerun.
Neil Cavuto and Maria Bartiromo are veterans with a deep knowledge of business (and both once worked at CNBC). But they also are very familiar with the political arena and accustomed to interviewing candidates and congressmen, hosting shows on both FBN and FNC. They will be joined on the stage by the Wall Street Journal's editor, Gerard Baker.
I make this point mainly because bashing the media has become a running story line in these debates, starting with the Fox News debate in Cleveland. And perhaps some candidates won't want to abandon what's been an effective theme for them.
Cavuto told Politico that he is a business "nerd," and that his goal is to make himself "invisible" (figuratively speaking). "I'm not the issue," he said.
Bartiromo sees her mission as being able to "help the voter better understand what each candidate's plan is."
I'm sure that was always their plan, but the CNBC debacle does loom in the background.
The big difference in Milwaukee is that there will only be eight candidates on stage. Chris Christie and Mike Huckabee were bumped to the undercard debate, which means they'll get less media attention, which makes it harder for them to climb in the polls and qualify for the next main debate. Christie told me the other day that all he needs is a podium and a mike--and it's a smart strategy to avoid whining about the rules.
What looms over this debate is Ben Carson's war against the media as journalists try to poke holes in the inspiring life story that is the bedrock of his candidacy. Given the debate's theme, it's possible the moderators won't raise it. But will the candidates?
Donald Trump is the only GOP contender who has criticized the doctor over the violent incidents that Carson has spoken about when he was an angry teenager (and which have now come under media scrutiny). If the subject does surface, it's a good bet that Carson will renew his denunciation of the press, which is always a popular applause line.
Of course, if it's a policy-oriented debate, the moderators may drill down on Carson's onetime plan to offer a private alternative to Medicare and press him to defend his tax plan.
But Carson's appeal is such that even when he has lackluster debates, he seems to go up in the polls.
This might be the first of the debates where Trump is not the center of attention. Will he try to change that? Trump excels as a counterpuncher, as he often reminds us, but he given that his lead in the national polls has shrunk, he may try to go on offense—maybe without sounding like Darrell Hammond on "SNL."
Marco Rubio and Ted Cruz will try to reprise the breakout performances they had last time, which gave them both a bump. Both are quick on their feet, but they will need some new material. Rubio will undoubtedly bring up his own middle-class struggles—and recent release of the credit-card records of party expenses he had to replay in Florida—to make his case on economic issues.
It's striking how little chatter there has been about Jeb Bush. Before the CNBC debate, when he shook up his campaign, everyone in pundit world agreed that he desperately needed a strong performance—and by his own admission, he failed. This could be an opportunity for redemption—and with such minimal expectations, he has a low bar to clear.
Click for more from Media Buzz
Howard Kurtz is a Fox News analyst and the host of "MediaBuzz" (Sundays 11 a.m.). He is the author of five books and is based in Washington. Follow him at @HowardKurtz. Click here for more information on Howard Kurtz.