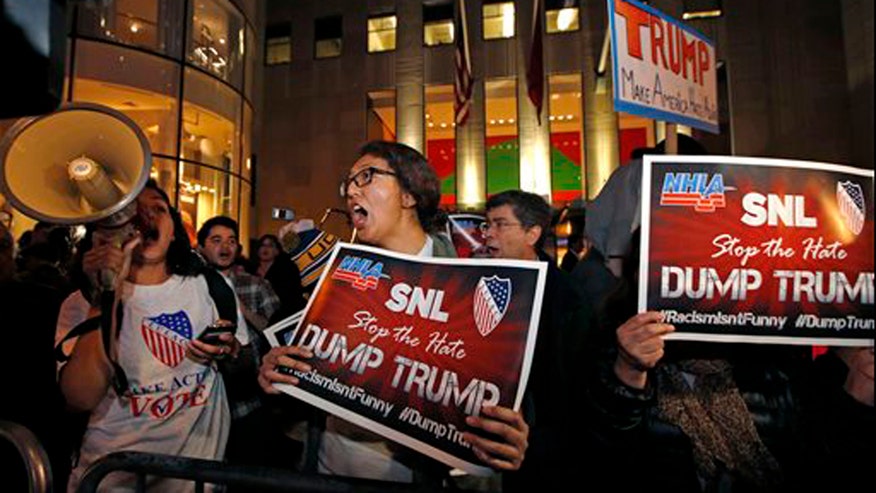 Donald Trump is hosting NBC's "Saturday Night Live" -- in a highly-anticipated appearance that is also bringing sharp criticism about the Republican presidential candidate's comment, particularly on Mexican immigrants.
While the New York-based sketch-comedy show has a 40-year history of lampooning politicians, even getting some to mock themselves, booking a presidential candidate to host is almost unprecedented.
Trump said Friday night on Fox News' "The O'Reilly Factor" that he nixed some proposed skits because they were too risqué, particularly, it seems, for the all-important social-conservative vote in early-voting state Iowa.
"I had to," Trump said. "I'm leading in Iowa. I want to stay leading in Iowa."
Previously, only eight politicians have served as guest hosts. Only one of those -- the Rev. Al Sharpton, in 2003 -- was actively involved in a presidential bid at the time. (Hillary Clinton appeared in last month's season premiere, but not as the host.)
This won't be Trump's first turn as guest host. The billionaire developer and media celebrity presided in April 2004, a few weeks after NBC's "The Apprentice" debuted.
This time, "SNL" will serve as a campaign stop on Trump's drive for the Republican presidential nomination.
Meanwhile, the TV platform granted him has fanned the flames of outrage sparked in June when he announced his candidacy and described some Mexicans who are in the United States illegally as criminals and rapists
Those immigration comments spurred NBC to sever its Miss Universe ties with Trump while declaring he would never return to his "Apprentice" role.
Fox News reported late Saturday that a group of protesters that were demonstrating in front of the Trump Organization's headquarters, "Trump Tower" on Fifth Avenue, will march the few blocks down to NBC's studios at Rockefeller Center prior to the broadcast.
This week, NBC faced mounting pressure from a coalition of advocacy groups calling for Trump to be dropped from "SNL" for what one spokesman termed his "racist demagoguery."
Groups have also protested outside the show's NBC studio in New York.
NBC has not responded to the outcry, and Trump's 90 minutes in the "SNL" spotlight seemed certain.
Typically outspoken, Trump has welcomed the controversy, predicting it would only boost his audience.
For candidate Trump, whose many interview and debate appearances are drawing large viewerships, a spike in this week's "SNL" ratings seems assured.
The Associated Press contributed to this report.