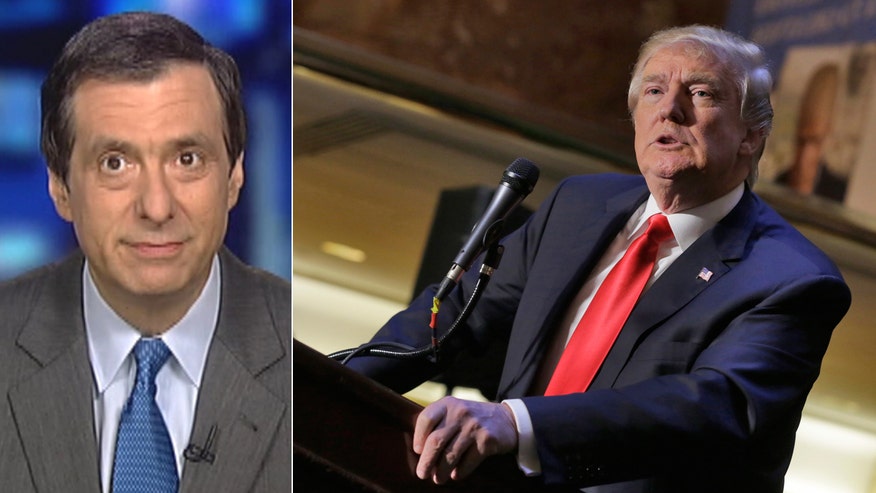 When I walked into the Trump Tower press conference the other day, Donald Trump was standing beneath a huge blowup of his book cover, featuring what he admitted was a mean-looking photo of himself.
Then he started trashing everyone else.
He took a firehose approach, spraying every target in sight.
Marco Rubio is "overrated," he "doesn't show up for the people of Florida," and "he's a disaster with his credit cards."
Ben Carson can't negotiate trade deals, and besides, "you look at Ben, he's very weak on immigration and he wants to get rid of Medicare."
Could the upcoming "SNL" guest host impersonate Jeb Bush? "Nah, I don't like to do that. I don't like to show a person sleeping at a podium."
I remember thinking this is highly entertaining, but that we'd seen this show before. There were plenty of golden oldies: Horrible trade deals, anchor babies, Mexico will pay for the wall, our country has no more victories. I figured the session wouldn't generate much news.
And I was wrong.
I didn't know that Fox was airing much of the presser, and CNN taking almost the whole thing. (I quickly found out on social media after I asked a few questions and Trump praised me for being fair. Hey, my job is to be fair to everyone.)
But those who think Trump's reality-show campaign has lost its luster are constantly being proven wrong. A new Fox poll out last night gives Trump a 3-point, margin-of-error lead over Carson, after several surveys in which The Donald trailed The Doctor.
(Speaking of polls, I can't get over Florida: Trump 37, Carson 17, Rubio 16 and Jeb 7 in a local poll. How is this guy crushing the incumbent senator and former governor in their home state?)
For all Trump's ups and downs, he is still driving the campaign debate. When he slaps his opponents, they all get asked about the latest attacks. They can punch back or deflect Trump's jabs, but they are on his turf. Rubio is gearing up to defend his personal spending and release his past credit-card records; he also said his opponent "always gets weird" when his poll numbers go down. Still, Marco is responding to Trump (and other critics); Trump isn't responding to him.
The billionaire does this by being blunt and harsh and politically incorrect, but also by using biting sarcasm for laughs. Who else talks about an opponent sweating? Trump's fans love it, his detractors can't stand it, but it's hard to look away.
Politicians, of course, aren't the only Trump prey. He went off on CNBC debate moderator John Harwood with language that far exceeds what his harshest critics have said: "I think Harwood is probably finished as a credible reporter. He was a disaster."
When I left Trump Tower—he went on to a spate of TV interviews--there was a massive line of people waiting for the book-signing, stretching from Fifth Avenue around to Park Avenue.
The next morning, on CNN's "New Day," Trump ripped CNN reporter Sara Murray for the way she reported on the book event: "She's absolutely terrible, your reporter… If you listen to Sara Murray, you would think were three people standing in the atrium of Trump Tower." Anchor Chris Cuomo defended her as a "top-notch reporter," but his guest kept hammering away.
The strange thing is, Trump had praised Sara Murray at the news conference the day before for asking what he called a wonderful question.
I checked Murray's reports and found no shot of the crowd outside the Trump tower. She was reporting from inside the atrium, so her camera on the riser, naturally enough, showed some press people.
Nothing ticks off Trump more than his perception that journalists minimize his crowds or his poll numbers. And even if he's ripping a journalist on her own network, he knows how to get attention—and no one's hanging up on him.
Howard Kurtz is a Fox News analyst and the host of "MediaBuzz" (Sundays 11 a.m.). He is the author of five books and is based in Washington. Follow him at @HowardKurtz. Click here for more information on Howard Kurtz.