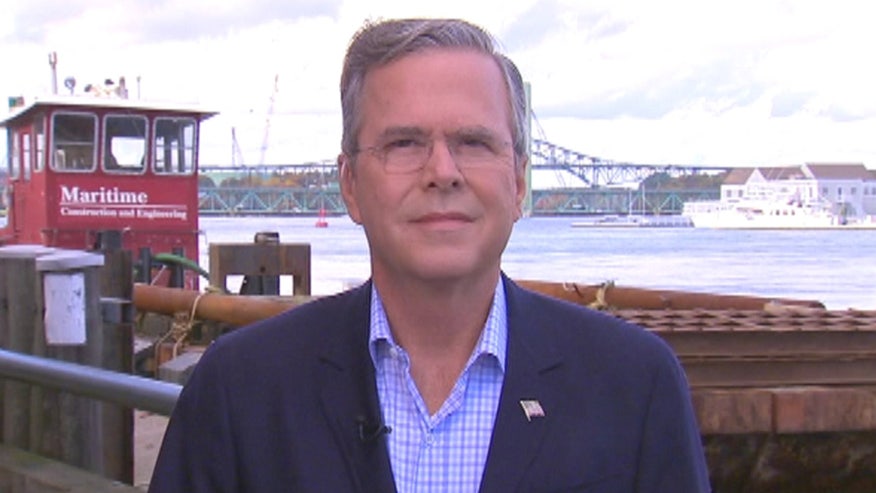 Republican presidential candidate Jeb Bush stepped back on offense Thursday against Marco Rubio over missed votes in the Senate, after his former protégé seemed to shut down that line of attack at the GOP debate in Colorado.
Rubio's handling of the criticism Wednesday has become one of the most replayed moments from the debate, and was seen by analysts as hurting Bush's efforts to outmaneuver the Florida senator. But while campaigning in New Hampshire, a state crucial to Bush's chances at the White House, Bush stood by his criticism in an interview with Fox News.
Asked by Fox News' Jenna Lee if it was a " mistake" to attack Rubio during the CNBC debate, the Republican contender vehemently replied: "No."
"It wasn't a mistake," Bush said from Portsmouth, N.H. "It's a mistake to run for office, to not serve. You can do both."
"The simple fact he is not doing that and a lot of people care about it. … A lot of people are frustrated with their jobs all across this country but continue to show up to work," Bush added, reprising his line of attack on his "friend, Marco."
Asked if the exchange with Rubio was a sign that Bush's campaign was in a "terminal" stage as many post-debate political analysts had suggested, Bush brushed it off.
"We're still in October. We have more than 100 days left before we go to the Iowa caucuses," Bush said. "I knew this was going to be a long journey but to suggest that the campaign is terminal -- c'mon, that's funny."
In a boost, Bush on Thursday did secure the coveted endorsement of former U.S. senator and New Hampshire governor Judd Gregg during his trip to the Granite State.
But Bush likely needs to knock Rubio down in the polls in order to regain his footing in the 2016 race. To that end, his criticism of the senator at Wednesday's debate was expected.
"Marco, when you signed up for this, this was a six-year term, and you should be showing up to work. I mean, literally, the Senate, what is it, like a French work week?" Bush said on stage. "You get, like, three days where you have to show up? You can campaign, or just resign and let someone else take the job."
Rubio, in a move that can be described as political jujitsu, reversed the momentum of the attack, and fired back at his former mentor.
First, Rubio noted that Bush had never criticized the 2008 Republican nominee, Sen. John McCain of Arizona, when he missed Senate votes to run for president--- and then landed his knockout blow.
"The only reason why you're doing it now is because we're running for the same position, and someone has convinced you that attacking me is going to help you," Rubio said, with the Colorado crowd erupting in applause.