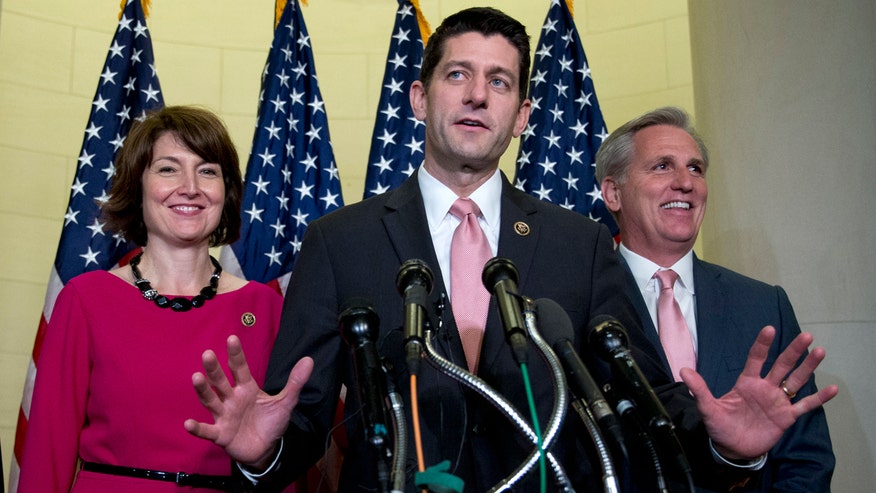 The election of a new House speaker in the middle of a Congress is rare, and here is a general rundown of how the related events will unfold Thursday.
There have been only four such special speaker elections mid-Congress, in the modern era. The last such ballot came in the spring of 1989 when the House selected the late-Speaker Rep. Tom Foley, D-Wash., to succeed the late-Speaker Rep. Jim Wright, D-Texas, who resigned amid an ethics cloud.
Prior to Wright stepping aside, the deaths of speakers triggered the other special elections. The most-recent came in 1962 when Speaker Rep. Sam Rayburn, another Texas Democrat, expired.
The House comes to order at 9 a.m. House Speaker Rep. John Boehner, R-Ohio, gavels the House to order. There will be the pledge and prayer. Then a quorum call vote to establish that the House can do business.
That brings events to about 9:40 a.m., when Boehner will deliver his farewell address.
At 9:50 a.m., the House will take nominations for speaker. House Democratic Caucus Chairman Rep. Xavier Becerra, D-Calif., will undoubtedly nominate House Minority Leader Rep. Nancy Pelosi, D-Calif.
House Republican Conference Chairwoman Rep. Cathy McMorris Rodgers, R-Wash., will nominate speaker-designate Rep. Paul Ryan, R-Wis.
Other nominations are in order at that time. Rep. Daniel Webster, R-Fla., has asked that he not be nominated for speaker.
And late Wednesday night, Webster said he knows for certain that he will not be nominated.
"I firmed up that no one will nominate me for speaker," he told Fox News.
At the start of a Congress, the House does not have a speaker. Usually the clerk of the House presides until the lower chamber taps a new speaker. That will not be the case this time since the House has a speaker. As a result, Boehner is expected to preside over the House. One of the House reading clerks, either Susan Cole or Joe Novotny, will call the names of each House member in alphabetical order. Those members will then rise from their seat and verbally announce their vote, be it for Boehner, Pelosi or someone else.
The list starts with Rep. Ralph Abraham, R-La., and ends with Rep. Ryan Zinke, R-Mont., both freshmen.
The House currently is at capacity with 435 members. There are 247 Republicans and 188 Democrats.
There could be votes for other candidates even if they are not nominated. The speaker of the House does not need to be a member of the body. However, such a scenario has never unfolded.
In recent years, non-members such as former Rep. Allen West, R-Fla., former Comptroller General of the U.S. David Walker and retired Gen. Colin Powell received votes for speaker.
The call of the roll always provides for some entertainment. Some members barely whisper the name of their preference. Others stand ramrod straight and thunder the name of their pick, much like a parent admonishing a behaving child with the dreaded "triple-name" scolding: "John Andrew Boehner" or "Nancy D'Alesandro Pelosi."
The chamber is usually packed for this occasion as members sit quietly in their seats. A child will usually bawl somewhere. Someone's phone will inevitably sound -- usually with an incongruous ringtone for the occasion like "Centuries" by Fallout Boy or "Style" by Taylor Swift.
The speaker must receive an "outright majority" of all members of the House, voting for a candidate by name in order to win. That means, it isn't enough just to have a plurality or "greater number." The winner must have more than half of all votes cast.
This is why 218 is so important and why Ryan's failure to record 218 votes Wednesday in the House GOP nomination vote was significant.
Ryan tallied precisely 200 votes. Forty-three votes went to Webster. House Majority Leader Rep. Kevin McCarthy, R-Calif., received a solitary vote -- as did Rep. Marsha Blackburn, R-Tenn.
McCarthy wouldn't say who voted for him but acknowledges he knows who did so in the secret ballot conclave. With a laugh, McCarthy insists he did not vote for himself.
Fox is told that Ryan should be able to reach 218 votes Thursday. But even his vote of 200 was misleading. 248 members technically comprise the House Republican Conference. That's because the non-voting representative to the House from American Samoa, Delegate Amata Radewagen is permitted to vote in the conference but not on the floor.
Radewagen tells Fox she voted for Ryan. That means he really only recorded 199 votes from actual House members.
Even Webster said that his 43 backers and 45 Ryan defectors "is a little higher than I thought."
If Ryan fails to score 218 (or the absolute majority of all members voting), then the House (by rule) cannot conduct any more business until it establishes a new speaker.
The House hasn't gone to a second ballot in a speaker election since 1923. The House finally re-elected Speaker Rep. Frederick Gillett, R-Mass., on the fourth ballot spread out over three days. The House consumed 133 ballots and two months to select a speaker in 1856.
Fox is told that many of the members who backed Webster are expected to peel off and vote for Ryan. However, Webster was mum earlier Wednesday about whether he would support Ryan.
Freshman Rep. Glenn Grothman, R-Wis., is close with the speaker-designate and considers him a "mentor." He's not expecting trouble tomorrow.
"There will be no drama," Grothman said. "I would be shocked if he didn't get well over 218."
Grothman says he expects his Badger State colleague to only lose "11 votes or 12."
The late-Speaker Rep. William Bankhead, D-Ala., garnered an eye-popping 324 votes in his election in 1937. That's the record for a speaker election.
The high-water mark for Boehner came in 2011 when the GOP assumed the majority. Boehner recorded 241 supporters.
The House has tapped a speaker with fewer than 218 votes on five occasions in modern history. The aforementioned Gillett only scored 215 in 1923. Boehner and former House Speaker Rep. Newt Gingrich, R-Ga., garnered 216 votes, in 2015 and 1997, respectively. This is because members were absent or may have voted present.
Absences gave a significant boost to Boehner this past January as several dozen members were out of town, attending the funeral of the late-New York Gov. Mario Cuomo, Democrat.
If all goes according to plan, the vote to be tallied, probably just before 11 a.m. Boehner will announce the election of the new speaker.
As much as some members of Congress would like it, a nebula of white smoke won't waft off the Capitol dome at this stage.
However, there was a moment of levity during the GOP Conference meeting today. Just after the conference picked Ryan, someone cracked open the door to the meeting room and a puff of cigarette smoke billowed into the corridor. Fox is by multiple sources told the cloud of "white smoke" came from Rep. Duncan Hunter Jr., R-Calif.
Upon the selection of the speaker, Boehner will then appoint an escort committee. At about 11:05 am, House Sergeant-at-Arms Paul Irving will enter the chamber and presumably introduce Ryan, ushering the Wisconsin Republican to the dais.
Pelosi will step onto the rostrum and present Speaker-elect Ryan to the House. Ryan will then deliver his acceptance speech.
At about 11:20 a.m., Rep. John Conyers, D-Mich., known as the "Dean of the House" because he is the chamber's most-senior member, will swear-in Ryan. Conyers was elected to Congress in 1964, six years before Ryan was born.
Boehner will submit two conditional letters of resignation. One goes to Ohio Gov. John Kasich, Republican. This missive enables Kasich to declare Boehner's House seat vacant and set into motion the process for electing a successor to his seat. Boehner's other resignation letter goes to Ryan. Boehner's letter will indicate his seat is vacant as of 11:59:59 p.m., October 31.
This particular seat was last vacant in late 1990 when late-Rep. Buz Lukens, R-Ohio, stepped aside amid a sex scandal. Boehner won election a few days later and was sworn-in as a lawmaker in January 1991.
Boehner is expected to do an "exit interview" with Fox's Bill Hemmer in the early afternoon. He is planning on going back to Ohio on Friday.