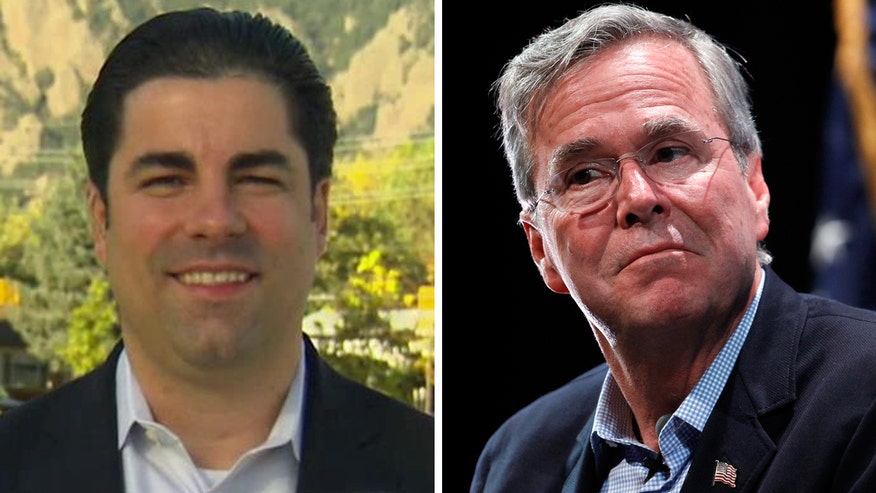 The Jeb Bush campaign is ramping up attacks on fellow Floridian Marco Rubio ahead of Wednesday's Republican presidential debate, describing the first-term senator as a "GOP Obama" while sharply contrasting their respective records.
The Bush campaign, just a few days after confirming it was cutting its budget and overhauling operations, delivered a PowerPoint presentation to donors in Houston on Monday detailing a re-calibrated strategy that emphasizes early-voting states. And they sought to draw distinctions between the former Florida governor and Florida Sen. Rubio, who has gradually moved up into the top three in recent polls, surpassing Bush, the one-time front-runner.
The campaign described the junior senator from Florida as in the same vein as President Obama, whom Republicans charge has led the country astray in part due to his lack of experience as a public servant prior to being elected to the White House.
"Marco is a GOP Obama," the campaign said behind closed doors to the meeting of loyal supporters.
"Rubio and President Obama have strikingly similar profiles: first-term senators, lawyers and university lecturers, served in part-time state legislatures for eight years, had few legislative accomplishments, and haven't shown much interest in the process of advancing legislation and getting results," the campaign said in the presentation, according to information provided by people in attendance at the Houston meeting.
As Bush has slid from top position in the GOP field to fourth in the latest CBS/New York Times national poll released Tuesday, some of his proponents believe his campaign has been wounded by Rubio's rise -- and the time to engage more forcefully, against the insurgent rival, has come.
"I think when you look at the record of accomplishment from [Bush]," Danny Diaz, Bush's campaign manager, said in an interview with Fox News' "Happening Now" on Tuesday, "I think that stands in stark contrast to others in the field, including Senator Rubio, who are short on accomplishments, and the reality is we need someone who has a proven record on fixing things to be able to go into Washington, D.C."
On the campaign trail, Bush has increasingly been using comparisons to Obama to suggest Rubio enters the contest with a similarly thin record of legislative accomplishments since his election in 2010. He even poked at him Monday during an event at the donor retreat with his brother, former President George W. Bush.
"I vetoed a couple projects for one of the presidential candidates," Bush said, referring to his time as governor of Florida while Rubio was in the state Assembly, according to the pool report.
Rubio, for his part, is outlining new policy proposals in advance of the next debate, as he also tries to shake off criticism for missing votes in the Senate.
In an op-ed on FoxNews.com, Rubio explained his "pro-growth" tax plan would be a "significant departure" from "old school" reform ideas. He proposes reducing the number of brackets from seven to three; eliminating most exemptions and deductions; and instead giving taxpayers a "personal tax credit" that phases out at high-income levels. It also would cut rates for businesses.