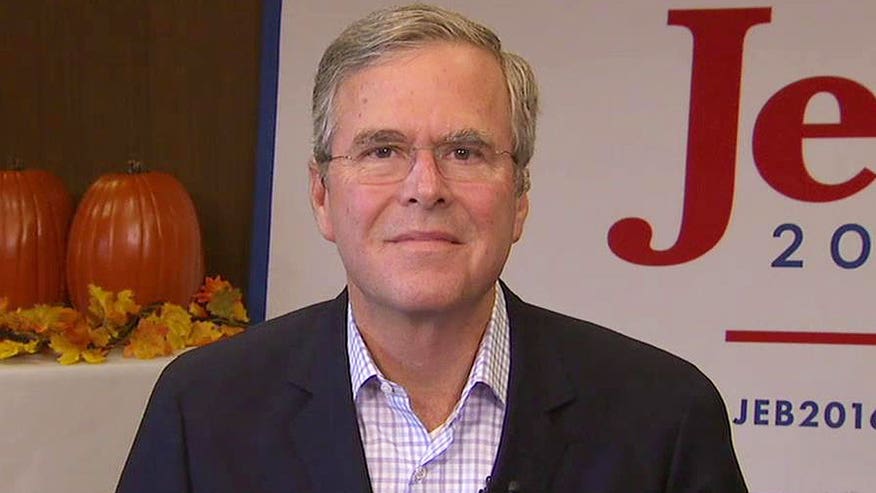 **Want FOX News First in your inbox every day? Sign up here.**
Buzz Cut:
• Hunger Games: Jeb slashes campaign by almost half
• Doubts on faith hurt Trump in Iowa
• The Edge: Jeb's media blitz pays off, Trump coverage rebounds
• Power Play: Who can go the distance?
• 'Smoking hot accordion players'
HUNGER GAMES: JEB SLASHES CAMPAIGN BY ALMOST HALF
Bloomberg: "The campaign is parting ways with some consultants and downsizing its staff at their Miami headquarters in moves that will save more than $1 million per month and cut payroll by 40 percent this week, according to Bush campaign officials who requested anonymity to speak about internal changes. The campaign is also cutting back 45 percent of its budget, except for dollars earmarked for TV advertising and spending for voter contacts, such as phone calls and mailers. Some senior level staff and consultants will continue to work with the campaign on a volunteer basis, while other junior level consultants, primary in finance but including other areas, will be let go, the officials said. The officials declined to say who would be removed from the payroll or provide an exact dollar figure for the savings."

"We are making changes today to ensure Jeb is best positioned to win the nomination and general election….We moving our resources into the states to ensure that voters in primary and caucus states are introduced to his record and vision for the future." – Bush Campaign Spokeswoman Kristy Campbell

DOUBTS ON FAITH HURT TRUMP IN IOWA
The second top tier Iowa poll in as many days reveals a tectonic shift in the first nominating contest of 2016. The new survey from the Des Moines Register echoes one released Thursday by Quinnipiac University: Donald Trump, Iowa frontrunner since August, has fallen clearly into second place behind former neurosurgeon Ben Carson.

Carson runs 9 points ahead of Trump. In the DMR's late August poll Trump led Carson by 5 points.

And in what amounts to a tie for third place are Sens. Ted Cruz of Texas and Marco Rubio of Florida at 10 and 9 points, respectively. The third tier in the poll lumps together former Florida Gov. Jeb Bush, Sen. Rand Paul, R-Ky., and businesswoman Carly Fiorina.

How to explain Trump's slide and Carson's rise? Likeability seems to remain the problem. While Trump can boast a net favorability rating of 22 points he is far from the top of the heap. The best-liked candidates among likely Republican caucus-goers are Carson at 72 points, Rubio at 50 points and Fiorina at 44 points.

But Trump can at least be happy that he is not a cellar-dweller like Bush at 7 points or New Jersey Gov. Chris Christie who is 10 points below sea level. There's a warning for Rand Paul here too. With a net -5 favorability rating his climb out of the third tier may prove quite challenging.

There is a specific challenge for Trump, however, that no other candidate shares: persistent questions about his Christian faith. In a Republican primary electorate known as one of the most pious in the nation, 40 percent of respondents said they were not sure if Trump is a committed Christian, and another 28 percent said they were certain he was not.

Trump continues to hold a steady lead in New Hampshire where voters tend to be less-religious and less-conservative. And New Hampshire may well be his best chance for an early state win. He faces only modest challenges from Paul and Cruz for his voter base in the Granite State.

Trump could do what the 2012 winner did and convert a second place Iowa finish and a New Hampshire victory into momentum enough for the grueling week's ahead. But if Trump's Iowa slide is a harbinger of an overall hardening of sentiment against the frontrunner among evangelical Christians and conservatives, his march on the nomination would turn into siege warfare.

[Fox News Sunday hosts Carson - Newly crowned Iowa frontrunner Ben Carson joins Chris Wallace. "Fox News Sunday" airs at 2 p.m. and 6 p.m. ET on Fox News. Check local listings for air times in your area.]

Carson's 'secret sauce' is Facebook - David Drucker talks with Ben Carson's team on their Facebook-based campaign strategy, and how the social media platform allowed his popularity to skyrocket. Drucker writes, "Carson has 4.3 million Facebook fans, a couple of million of whom actively engage with the campaign during a typical week… [Carson] personally takes and answers three questions every night on his Facebook page; the interaction generates an average of 100,000 responses that are shared approximately 10,000 times."

THE EDGE: JEB'S MEDIA BLITZ PAYS OFF, TRUMP REBOUNDS
Jeb Bush has been on a media blitz for days, while his campaign and super PAC have pumped up advertising efforts. The double-barreled approach to get back into the thick of the 2016 campaign is paying some dividends.

Bush had the biggest jump of any candidate in The Edge from the New Analytics Company. The other big winner for the week was Donald Trump whose score sagged last week. But a word of caution for Bush and Trump, last week's big winner in the media conversation, Rand Paul, gave back more than half of his gains this week.

The Edge is a one-of-a-kind measurement from the New Analytics that "scrubs" television, radio, print, internet and social media to gauge positive and negative attention for the 2016 candidates. It is not a public opinion survey, but the team at New Analytics believes that The Edge provides a way to show changes in the race before polls can reflect them. The data are compiled into a single score and provided exclusively to Fox News First. You can see the graphic here.

Donald Trump, 25.82 [+1.2]; Ben Carson, 15.54 [-.97]; Jeb Bush, 12.89 [+2.01]; Marco Rubio, 6.68 [-1.1]; Ted Cruz, 6.77 [-.64]; Carly Fiorina, 5.51 [-.81]; Rand Paul, 4.82 [-1.19]; Mike Huckabee, 4.58 [-1.12]; Chris Christie, 3.38 [-1.12]; John Kasich, 3.93 [-.08]

Pro-Trump PAC pulls the plug - WaPo: "After The Washington Post reported this week on multiple connections between Trump and the Make America Great Again PAC, Mike Ciletti, the Colorado-based operative running the group, said he had decided to close up shop…He said neither Trump nor anyone from his campaign had asked him to shut down the operation."

Jeb super PAC heads back to Tallahassee with bio ad - Right to Rise USA, the super PAC supporting Republican presidential candidate Jeb Bush, offers a new ad in support of its candidate, much of it in black and white, with lawmakers and lobbyists touting Bush's record for reform in Florida.

[NRO goes deep into campaign financing including the importance of having both large and small donors; one for sustainability and the other for voter enthusiasm, to assess Jeb Bush's chances.]

Jeb says there's no double standard on Benghazi and 9/11 - On "The Kelly File" Thursday, Megyn Kelly asked if there was a double-standard with Republicans criticizing Hillary Clinton's lack of action in the Benghazi attacks while defending President George W. Bush's actions leading up to the 9/11 terrorist attacks. Bush responded, "Not at all because if someone had evidence that there was a pending attack…and no one acted, of course there were have been criticism, but that's not the case." Watch here.

[Bush is in Virginia Beach, Va., for a candidate forum at Regent University, the Christian college founded by Pat Robertson.]

POWER PLAY: WHO CAN GO THE DISTANCE?
Which GOP candidates are really built to last? National Review's Katherine Timpf and Washington Free Beacon's Matt Continetti join Chris Stirewalt to see who measures up. WATCH HERE.

[Continetti's column today gives his take on Paul Ryan's evident success in the speaker's race, saying the impact of the 'Ryan Revolution' in the House is just beginning.]

Obama vetoes military funding - WaPo: "President Obama exercised his veto power Thursday for just the fifth time in his presidency, rejecting a defense authorization bill because of the way it would sidestep budget limitations for the military and because it would restrict the transfer of detainees being held at Guantanamo Bay…The veto is a shot across the bow of Congress, which differs with Obama over the outlines of a budget for fiscal 2016."

Behind Boehner's big banger - In a new video from Speaker John Boehner, the Ohioan explains how he received his gavel when he took over as speaker. The gavel was made for Boehner by a friend of his who decided to make the item from a walnut tree on Boehner's favorite golf course back home. Boehner's gavel was the source of much amusement due to its large size, especially in comparison to his predecessor and current House Minority Leader Nancy Pelosi.

WITH YOUR SECOND CUP OF COFFEE…
The New York Review of Books takes a look at three books about a true American original, the great landscape architect Frederick Law Olmsted, whose works on parks and campuses still span the continent and define our understandings of public natural spaces. And that was very much his plan: "During the 1840s, New York City was flooded by somewhere between a million and a million and a half immigrants, mainly Irish and German, who were largely unaccustomed to living in a dense, heterogeneous urban setting. Olmsted grasped how a park like Birkenhead could serve New York as a vast outdoor classroom for mass acculturation, where uneducated newcomers would be on an equal footing with the established citizenry and observe modes of improving behavior—in dress, deportment, and leisure pursuits—that they otherwise might not encounter."

Got a TIP from the RIGHT or the LEFT? Email FoxNewsFirst@FOXNEWS.COM

POLL CHECK
Real Clear Politics Averages
Obama Job Approval: Approve – 45.4 percent//Disapprove – 50.0 percent
Directions of Country: Right Direction – 26.1 percent//Wrong Track – 63.4 percent

HILLARY SURVIVES AND ADVANCES, BUT DANGERS REMAIN
Neither candidacy-ending smoking gun nor convincing acquittal emerged from Hillary Clinton's marathon testimony Thursday before the Benghazi committee. What did surface amid the former secretary of state's artful dodging was a head-shaking account of government failure on her watch that cost the lives of four Americans in 2012. New documents debunking the notion Clinton believed a video inspired the attack re-opened wounds that election politics were at work from the outset. And while Clinton reminded the committee that she had taken responsibility, she went on to deflect the blame for critical failures to others.

Ron Fournier sums it up: "Is she a li­ar or a states­wo­man? For the vast ma­jor­ity of Amer­ic­ans who long ago answered that ques­tion in their own minds, Hil­lary Rod­ham Clin­ton's testi­mony on Benghazi changed noth­ing…[And] if you're among the grow­ing num­ber of in­de­pend­ent voters drift­ing away from the two parties—you prob­ably don't care about the hear­ing. You know what you missed: shal­low theat­er, na­ked par­tis­an­ship, and in­sti­tu­tion­al­ized in­com­pet­ence… They kept ask­ing: Why could a former re­port­er lobby the sec­ret­ary of State dir­ectly while there was no evid­ence that Stevens had her private email ad­dress? The am­bas­sad­or and his ur­gent se­cur­ity con­cerns went through oth­er chan­nels, Clin­ton replied. No won­der she can't sleep."

GOP Sixteeners respond
"Four Americans died and Hillary lied claiming it was about a YouTube video. It wasn't about a video and she knew it…" – Statement from former Gov. Mike Huckabee, R- Ark.

"It was a massive incompetence at every level, and the buck stops at the top." – Statement from Sen. Marco Rubio, R-Fla.

"Hillary is doing a HORRIBLE job at #BenghaziHearings reading from the script. #pathetic . She is no leader" – Tweet by Donald Trump

"This is the 'Clinton Way.' She cannot be president." – Tweet by Carly Fiorina

[Clinton addresses the DNC's Women's Leadership Forum in Washington then holds a rally in Virginia.]

#mediabuzz - Host Howard Kurtz reviews the week's main media event: Hillary Clinton's Benghazi testimony. The panel gives their take on how they thought the event was covered. Watch "#mediabuzz" Sunday at 11 a.m. ET, with a second airing at 5 p.m. ET.

LINC NOW MISSING
Fox News: "Former Rhode Island Gov. Lincoln Chafee withdrew Friday from the Democratic presidential race, further narrowing the already thin field of competitors facing front-runner Hillary Clinton. Chafee, who has struggled to gain traction in the polls, announced his decision at a Women's Leadership Forum conference where other candidates also were speaking."

ROCKY MOUNTAIN HIGH-MINDEDNESS
Ahead of the third GOP presidential debate next week in Boulder, Colo., the American Enterprise Institute and the University of Colorado will host a pre-debate panel on the biggest economic issues facing the country, and how the candidates need to address these issues in the debate. So if you're a reporter, pundit or political big brain, you can invite yourself to the Tuesday evening event here.

'SMOKING HOT ACCORDION PLAYERS'
CBC News: "There are some smoking hot accordion players in Newfoundland and Labrador [Canada], but this morning the instrument was literally on fire, at a Gander personal care home. When fire crews responded to a call from Golden Years Estate, they found a small amount of smoke in a room but no flame and everyone was safe. Adison Quilty of Gander Fire and Rescue told CBC's Central Morning Show…that the fire wasn't caused by any fast playing fingers but because the accordion was placed against an electrical heater. 'The heat from the heater eventually melted the buttons and created a little bit of smoke in the room,' said Quilty. The incident was a reminder that temperatures are dropping and fire departments want to remind people to be cautious with heat sources in their homes."

AND NOW A WORD FROM CHARLES…
"We're living in an age where what you say and its relation with the facts is completely irrelevant as we see in the presidential campaign. And it's carrying over into the hearings." – Charles Krauthammer on "Special Report with Bret Baier."

Chris Stirewalt is digital politics editor for Fox News. Want FOX News First in your inbox every day? Sign up here.
Chris Stirewalt joined Fox News Channel (FNC) in July of 2010 and serves as politics editor based in Washington, D.C. Additionally, he authors the daily Fox News Halftime Report political news note and co-hosts the hit podcast, Perino & Stirewalt: I'll Tell You What. He also is the host of Power Play, a feature video series on FoxNews.com. Stirewalt makes frequent appearances on network programs, including America's Newsroom, Special Report with Bret Baier and Fox News Sunday with Chris Wallace. He also provides expert political analysis for FNC's coverage of state, congressional and presidential elections.