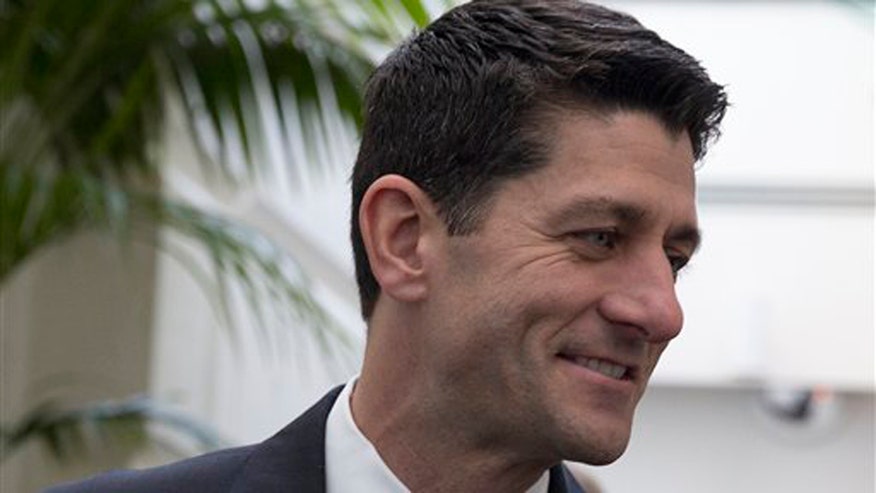 Wisconsin congressman Paul Ryan announced Thursday he would seek the House speakership after gaining support from several critical Republican groups.
In a "Dear Colleague" letter addressed to members of the House Republican Conference, Ryan said he was "ready and eager to be our speaker."
"I never thought I'd be speaker. But I pledged to you that if I could be a unifying figure, then I would serve—I would go all in," he said in the letter. "After talking with so many of you, and hearing your words of encouragement, I believe we are ready to move forward as a one, united team."
Outgoing House Speaker John Boehner told the House Republican Conference on Wednesday that they will vote internally for speaker on Oct. 28, followed by a full floor vote on Oct. 29. In total, Ryan or any candidate would need roughly 218 votes to win the speakership.
Rep. Dan Webster, R-Fla., who previously had announced his candidacy for the job, told Fox News late Thursday he remained in the running despite Ryan's announcement.
The three House Republican groups that Ryan said must support him in order for him to seek the speakership did so before his announcement.
The latest to support him was the Republican Study Committee and the so-called Tuesday Group. The former represents mainstream House conservatives and claims over 170 members. It said Thursday Ryan is "the right person to lead the House going forward."
The Tuesday Group, which also backed Ryan, represents GOP moderates.
Their support comes after the House Freedom Caucus, which earlier had endorsed another candidate, put out a statement Wednesday saying that the overwhelming majority of its members now support Ryan – though it wasn't technically an endorsement. Their initial resistance to a Ryan speakership had been his biggest hurdle to running.
Ryan, in initially opening the door to a run, said that he must have broad support from these groups – and if he didn't, he would stay on as chairman of the Ways and Means Committee and not seek the job being left by Boehner.
Ryan had laid out several demands as a condition for him running, including:
• He wants House rules changed to overhaul what is known as the "motion to vacate the chair" -- a parliamentary weapon members can use to try and oust a speaker.
• He wants to be able to spend time with his family, and not be on the road as much as previous speakers.
The Associated Press contributed to this report.