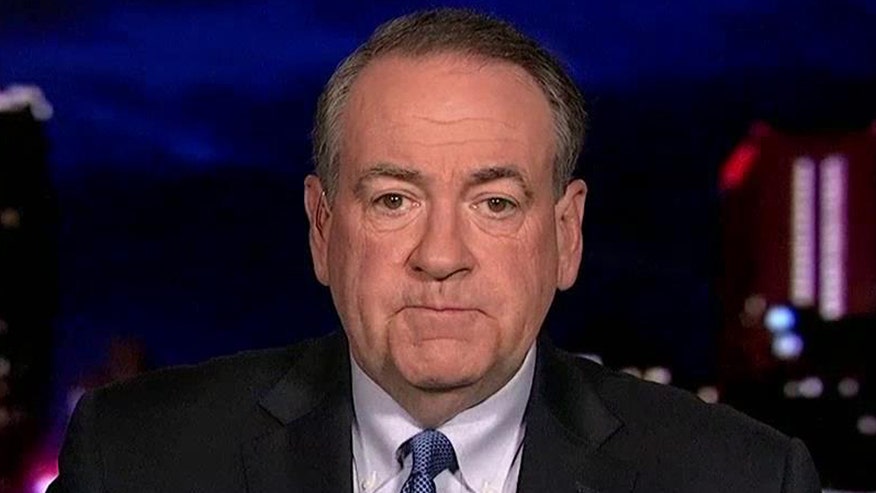 **Want FOX News First in your inbox every day? Sign up here.**
Buzz Cut:
• 2016 GOP Power Index: Two weeks left for Huckaboom or Huckabust
• Is Trump a PAC man after all?
• Gowdy to GOP: 'Shut up' ahead of Hillary testimony
• Better pack your Dramamine
• It's like 'Ocean's 11,' but with waffles
2016 GOP POWER INDEX: TWO WEEKS LEFT FOR HUCKABOOM OR HUCKABUST
Mike Huckabee and Sen. Rand Paul had very poor fundraising quarters and each had bad weeks in their own ways, but Huckabee's cash situation actually puts him in a more perilous position, taking him to the bottom of the stack in this week's 2016 GOP Power Index.

The former Arkansas governor had the weakest fundraising of any top-tier candidate and is the only one in the top 10 to have finished the third quarter with less than $1 million in the bank. His campaign also spent more than it raised.

For Paul, the questions are how long dignity allows him to continue a campaign that has become an ordeal and how long he can maintain the fiction that his presidential run isn't endangering his Senate seat. Obduracy, cash reserves and sheer cussedness could carry Paul to February, regardless of how he fares in the next 105 days.

For Huckabee, though, his campaign could simply expire. Unless he can find some way to juice fundraising, Huckabee is on track to be all out of cash well before the Iowa caucuses.

Appearing on "FOX & Friends" this morning, Huckabee decried those people who "sit in their little buildings in Washington" and make pronouncements like the claim that his campaign is on "life support." He said that they should "come to Iowa" to find out how things are going.

Fox News First is content with the size of its building and has been to Iowa plenty.

And while we would certainly allow that Huckabee could outperform his current seventh-place standing if the caucuses were held today, the chance that he could get past Ted Cruz, Ben Carson and Donald Trump to unite anti-establishment evangelicals or even take a bronze medal sounds pretty far-fetched.

Huckabee has promised to turn up the heat next week in the third GOP debate. He had better or the trail could end for him in short order.

1) Ted Cruz; 2) Marco Rubio; 3) Carly Fiorina; 4) Donald Trump; 5) Jeb Bush; 6) Ben Carson; 7) John Kasich; 8) Chris Christie; 9) Rand Paul [+1]; 10) Mike Huckabee [-1]

On the radar: Bobby Jindal, Rick Santorum, Lindsey Graham, George Pataki, Jim Gilmore

What would you say? - Give us your take on the 2016 Power Index we will share the best and brightest with the whole class. Send your thoughts to FOXNEWSFIRST@FOXNEWS.COM

[Watch Fox: Chris Stirewalt joins "The Real Story" in the 2 p.m. ET hour with the latest on who's up and who's down in the 2016 Power Index.]

Is Trump a PAC man after all? - WaPo: "A consultant for the [Make America Great Again PAC] is a Republican operative who has previously worked with Trump's campaign manager, Corey Lewandowski, according to several people with direct knowledge of their ties…'Unlike other campaigns, we don't have a quote-unquote designated super PAC that we tell people to give money to,' he said. In a later interview, he threatened to file a lawsuit if The Washington Post reported that Trump had given the group his blessing…

"There are a number of links between the real estate tycoon's political operation and the Make America Great Again PAC. Mike Ciletti, a Colorado-based operative who told Politico in August that he is a consultant for the super PAC…The Trump campaign has paid Ciletti's printing firm since April, with the most recently reported payment on Sept. 18…In one of several interviews with The Post, Lewandowski first denied knowing Ciletti or anyone connected to the super PAC. 'I don't know him,' Lewandowski said. Two days later, when confronted with the campaign's payments to Ciletti's firm, Lewandowski acknowledged he was familiar with Ciletti. 'I know a lot of people,' he said. 'I know of Mike Ciletti.' After being pressed for more details, he hung up."

Trump says he would have prevented 9/11 - Fox News: "Trump, a first-time candidate, implied his stance on immigration could have kept out the terrorists who slipped into the United States and trained in the country to hijack the four commercial airliners and kill nearly 3,000 people on American soil on Sept. 11, 2001. 'I am extremely, extremely tough on illegal immigration,' Trump told 'Fox News Sunday'…'I believe that if I were running things, … I doubt that those people would have been in the country.'"

Carson gets 2,000 at book signing - KSAT: "Ben Carson got a rock star welcome at a far Westside bookstore Sunday night. Supporters outside Books-a-Million off Loop 1604, screamed as he hurriedly walked past them without speaking. Carson was about half an hour late to the book signing. Even so, at least 2,000 people waited patiently, some since 10:30 a.m. for the 8 p.m. event."

Frontrunners to receive Secret Service protection - Fox News: "Republican presidential candidates Donald Trump and Ben Carson are likely to get Secret Service protection, Fox News has learned. The development comes after an aide to Carson met with the U.S. Secret Service's Dignitary Protection Division to request protection for the candidate as threats against him have grown, according to a source familiar with the conversation. The source said the request is likely to be approved this week, as is Secret Service protection for Trump."

Power Play: Where does Carly go from here? - Carly Fiorina has risen from political obscurity to become a viable player in the path to the Republican nomination. Former Rep. Nan Hayworth, N.Y. co-chairwoman of the super PAC backing Fiorina, joins Chris Stirewalt to talk about the candidate's breakthrough. WATCH HERE.

Christie uses Instagram to say 'it's about you' - Gov. Chris Christie's campaign took to Instagram to release a 3-part series of vignettes featuring footage from Christie's numerous town halls continuing his theme of "It's about you."

WITH YOUR SECOND CUP OF COFFEE…
Even at 7 feet, 5 inches and 550 pounds, Andre Roussimoff occupied a small space in the American mind. He was Andre the Giant in the professional wrestling ring and Fezzik, the kind-hearted henchman of "The Princess Bride," as well as a few other bit parts. Grantland's Brian Phillips tells story of the real man who was far more complicated than his "gentle giant" persona. It's a wonderful read: "He is in no sense cut or ripped or 'muscular'; it's not clear that he works out at all. He's stronger than other strong men the way you're stronger than your 10-year-old nephew. When he fights Chuck Wepner, a boxer who'd gone 15 rounds in a title fight with Muhammad Ali, no one bothers to tell Wepner that wrestling is staged. That way his reactions will look more believable. Andre sort of confusedly toys with him; it's like watching a classics professor try to pick up a chicken. A little awkward, but it's not like the chicken is a threat."

Got a TIP from the RIGHT or the LEFT? Email FoxNewsFirst@FOXNEWS.COM

POLL CHECK
Real Clear Politics Averages
Obama Job Approval: Approve – 44.7 percent//Disapprove – 50.6 percent
Directions of Country: Right Direction – 26.9 percent//Wrong Track – 63.1 percent

GOWDY TO GOP: 'SHUT UP' AHEAD OF HILLARY TESTIMONY
The chairman of the House Select Committee on Benghazi, Rep. Trey Gowdy, told his fellow GOP to 'shut up' on CBS News Sunday after a few Republican lawmakers implied the committee was politically motivated. WaPo reports, "[Gowdy] has told Republican colleagues to 'shut up talking about things that you don't know anything about. And unless you're on the committee, you have no idea what we have done, why we have done it and what new facts we have found' …He added that his position on the committee's purpose has remained consistent: 'Four dead Americans is more than enough work for me. She's [Clinton] a witness. She was the secretary of state. You have to talk to her. But we have already talked to 50 people not named Clinton. We're going to talk to another couple of dozen not named Clinton.'"

Benghazi embassy denied more security, per ambassador emails - Fox News "Gowdy said [on CBS] Sunday that the 12-member bipartisan committee has acquired [Amb. Chris Stephens'] emails from that time…Gowdy said Stevens even joked in an email that maybe he and others at the Benghazi outpost 'should ask another government to pay for our security upgrades because our government isn't willing to do it.'"

Still cash on the sidelines - USA Today: "Hundreds of wealthy Democrats who raised money for President Obama's re-election have not yet joined the top fundraising ranks of Hillary Clinton's presidential campaign…Just 76, or less than 10%…"

CNN poll: Bernie gets a bounce, Hillary remains steady - CNN: "Clinton stands at 45% in the race for the Democratic nomination, with Vermont Sen. Bernie Sanders behind her at 29%…Compared with pre-debate polling, Sanders' support is up five points since mid-September, but no other candidate showed significant change."

No bullying Joe - CBS News: "A close confidant and longtime adviser of Joe Biden's who spoke to him recently says Biden, as vice president, feels he has earned the right to make a decision about his political future on his own timetable…'He does not like bullies and will not be bullied.'"

[Business Insider aggregates here today's installment of breathless Biden speculation.]

2016 Democratic Power Index: 1) Hillary Clinton; 2) Joe Biden; 3) Bernie Sanders; 4) Martin O'Malley; 5) Jim Webb; 6) Lincoln Chafee

Better pack your Dramamine - Politico blows kisses today at the "women in the van" who make up so much of the press corps covering Hillary Clinton's campaign. The piece has more cringy bits in it than a high school production of "Death of a Salesman."

To wit:

"BuzzFeed's Ruby Cramer recalled one press gaggle when Clinton encouraged her to 'liberate herself' and ask what she really wanted to ask. Cramer had planned to ask a lighthearted question, but explained that she felt obligated to ask about a former Clinton tech staffer, Bryan Pagliano, who pleaded the fifth rather than testify before Congress about Clinton's email practice. (She ended up asking both.) 'And Hillary said 'Liberate yourself -- ask me what you want to ask … no just be free, be you,'' Cramer recalled, chuckling. 'I felt like she was encouraging me in a woman-to-woman way.'"

Says New York Times Political Editor Carolyn Ryan: "….women are drawn to this story journalistically, given its sweep, history-making potential and the way the Clinton story intersects with the broader discussion about gender, power and culture in this country."

And the story offers this, without irony: "It hasn't brought Clinton more positive coverage, according to those both inside and outside the campaign. But both reporters and press aides note that there's a different vibe nonetheless, punctuated by occasional expressions by the candidate herself of camaraderie for fellow pioneers."

Urp…

DONNYBROOK ELECTION IN CANADA TODAY
National Post: "Canada's extraordinarily long 78-day election campaign that culminates Monday was always going to be one for the record books. Stephen Harper aspires to become the first prime minister since Sir Wilfrid Laurier in 1908 to win four consecutive mandates. Tom Mulcair still hopes to take the official Opposition NDP over the top to form the first federal New Democratic government in the country's history. And the Liberals are hoping to make an unprecedented leap from third-party status to government, while reinstalling a Trudeau at 24 Sussex Drive for the first time since Pierre Elliott Trudeau stepped down in 1984 after almost 16 years in office. … And there was Justin Trudeau, scion of the late Pierre and his hated national energy program, spending the final day of the race in Edmonton and Calgary while making an electoral pitch to Quebecers and all but trolling Harper's old Alberta-based grassroots."

IT'S LIKE 'OCEAN'S 11,' BUT WITH WAFFLES
The Guardian: "Thieves had hoped to take advantage of [a] warehouse move to steal $18m worth of maple syrup. But the plot came undone thanks to a single empty barrel and now 25 Quebec residents are facing jail…In the Canadian province of Quebec, where nearly 75% of the world's supply of the pancake topper is produced, the supply of syrup is tightly controlled by the Federation of Quebec Maple Syrup Producers…At the time of the heist, which occurred between 2011 and 2012, the federation was in the process of constructing a new state-of-the-art warehouse to store approximately 50,000 [tons] of maple syrup…Those responsible made away with 3,000 [tons] of maple syrup, and would have likely claimed the 2,000 [tons] that remained in the temporary storage facility if not for an inventory check in July 2012 by a man named Michael Gauvreau."

Chris Stirewalt is digital politics editor for Fox News. Want FOX News First in your inbox every day? Sign up here.
Chris Stirewalt joined Fox News Channel (FNC) in July of 2010 and serves as politics editor based in Washington, D.C. Additionally, he authors the daily Fox News Halftime Report political news note and co-hosts the hit podcast, Perino & Stirewalt: I'll Tell You What. He also is the host of Power Play, a feature video series on FoxNews.com. Stirewalt makes frequent appearances on network programs, including America's Newsroom, Special Report with Bret Baier and Fox News Sunday with Chris Wallace. He also provides expert political analysis for FNC's coverage of state, congressional and presidential elections.