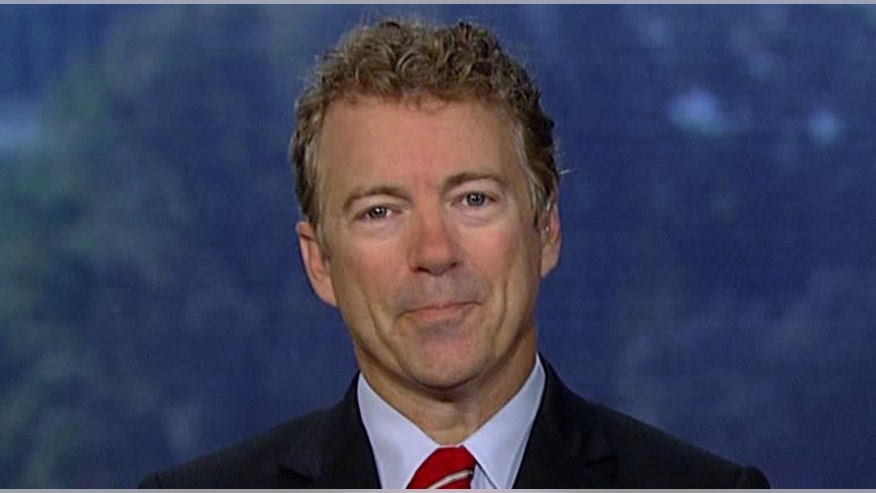 **Want FOX News First in your inbox every day? Sign up here.**
Buzz Cut:
• The Edge: Rebound or rigor mortis for Rand?
• Cash wars: Who burned and who made it rain
• Oh, the Huma-nity
• Power Play: All hail Queen Hillary… again?
• Get it? A 'trans-fur student'
THE EDGE: REBOUND OR RIGOR MORTIS FOR RAND?
It's been a bad week for Rand Paul: A salty livestream, poor fundraising numbers and an awkward memo explaining why he's even still in this race. But like the saying goes, sometimes you bounce off the bottom.

This week's installment of The Edge from the New Analytics Company suggests that Paul's all-out media blitz to keep his campaign on life support may be working. Or it may just be death throes for a campaign that is out of cash and out of time.

Many voters have abandoned Paul for Ted Cruz as they perceived Paul to be abandoning his base. His desperation plays are getting attention, but will it translate into votes?

The Edge is a one-of-a-kind measurement from the New Analytics that "scrubs" television, radio, print, internet and social media to gauge positive and negative attention for the 2016 candidates. It is not a public opinion survey, but the team at New Analytics believes that The Edge provides a way to show changes in the race before polls can reflect them. The data are compiled into a single score and provided exclusively to Fox News First. You can see the graphic here.

Here's this week's final scores with gains/losses from last week in brackets:

Donald Trump, 24.63 [-.41]; Ben Carson, 14.51 [+1.36]; Jeb Bush, 10.87 [+.72]; Marco Rubio, 7.78 [+.21]; Ted Cruz, 7.41 [+.7]; Carly Fiorina, 6.32 [+.86]; Rand Paul, 6.00 [+2.21]; Mike Huckabee, 5.7 [+.87]; Chris Christie, 4.5 [+.64]; John Kasich, 3.99 [+.08]

CASH WARS: WHO BURNED AND WHO MADE IT RAIN
The third quarter fundraising numbers are officially in, and the race for president is starting to take on a harsh financial reality.

The biggest overall haul on the GOP side goes to Ben Carson. But so did the title for biggest spender. The deepest pockets belong to Ted Cruz, who has a cash lead of more than $2 million over his closest rivals.

While the topline figure – how much a candidate raised – is obviously important, it's actually what's left over that shows who has the staying power through the harsh winter of early caucuses and primaries. For those candidates who started the final quarter of 2015 with less than $5 million in the bank the going will only get tougher.

The exception is Donald Trump who has been relying on media coverage and limited contributions to propel his candidacy. He hasn't spent much of his own money yet but promises he will start soon. Of the donations he did receive, however, Trump spent nearly every penny.

Among those candidates not threatening to self-finance, though, Jeb Bush had the highest burn rate at 86 percent. Music to the ears of skinflint Marco Rubio, who beat his fellow Floridian when to comes to who has more cash on hand.

Here's the tote board for the top 10:

Ben Carson: raised $20 million; spent $14.2 million; $11.3 million cash on hand

Jeb Bush: raised $13.4 million, spent $11.5; million; $10.3 million cash on hand

Ted Cruz: raised $12.2 million; spent $3.7 million; $13.8 million cash on hand

Carly Fiorina: raised $6.8 million; spent $2.2 million; $5.5 million cash on hand

Marco Rubio: raised $5.7 million; spent $4.6 million; $11 million cash on hand

John Kasich: raised $4.4 million; spent $1.7 million; $2.7 million cash on hand

Chris Christie: raised $4.2 million; spent $2.8 million; $1.4 million cash on hand

Donald Trump: raised $3.9 million, spent $4.2 million; $254,772 cash on hand

Rand Paul: raised $2.5 million; spent $4.5 million; $2.1 million cash on hand

Mike Huckabee: raised $1.3 million; spent $1.4 million; $761,410 cash on hand

Winners and losers - David Drucker gives his take on who beat out the competition this quarter and who needs to step up their game.

Jeb just another candidate now - In the anticipation of the 2016 race, Jeb Bush was thought to be the candidate that would raise so much money he'd blow the competition out of the water. After Thursday's release that doesn't seem so anymore. WaPo makes the case that Bush has sunk to the "just another candidate" level.

Rubio snags top N.H. endorsement - WMUR: "Chris Wolfe of Derry, a former co-chairman of Wisconsin Gov. Scott Walker's campaign, has joined the Florida senator's campaign in the same capacity -- as a state co-chair. Wolfe became the second former Walker state co-chair to join Rubio. Former state GOP vice chairman and Manchester Republican Committee chairman Cliff Hurst joined Rubio as a state co-chair just as Walker was leaving the race in September."

Fox News Sunday: At long last Trump - Donald Trump gets his close-up with Mr. Sunday, and Ina Garten aka the "Barefoot Contessa," talks life outside the kitchen. "Fox News Sunday with Chris Wallace" airs at 2 p.m. and 6 p.m. ET on Fox News. Check local listings for air times in your area.

Cruz to visit Bob Jones University - Sen. Ted Cruz will attend the South Carolina Rally for Religious Freedom next month at the controversial Bob Jones University. The school came under fire for anti-Catholic rhetoric, and interracial dating policy, eventually changing the school's position.

Carly comments on Carson, Trump objections to CNBC debate - On "The Kelly File" Carly Fiorina discussed the apparently successful bid by Ben Carson and Donald Trump's to shorten an this month's GOP debate: "For heaven sakes, we have ten candidates on the stage. I don't think three hours is a long time. And I think the American people actually like these debates. Maybe the establishment wants fewer debates. But I think the American people really like them. And I think we ought to stand and answer as many questions as we can." Watch here.

Power Play: Who's got the inside track on the GOP nomination? - Who has the cash, the ground game and, now, a bump in the polls? Ted Cruz's campaign path is broadening in a big way. Can the GOP establishment get its act together in time to block him? Republican consultant Lauren Claffey and Democratic commentator Richard Fowler discuss the Texan's strategy with Chris Stirewalt. WATCH HERE.

Kelly's Koch exclusive - On Thursday's "The Kelly File" Megyn Kelly talked to Charles Koch on everything from his childhood to business to his often demonized role in politics. Koch says on that issue, "I feel I have a moral obligation to do the best I can to make the country better for everybody. And that threatens certain people because they're going to have much less power. I want the power to go back to people making decisions over their own lives rather than some experts making it." Watch here.

WITH YOUR SECOND CUP OF COFFEE…
It was on this day in 1859, America took a fateful step toward civil war as abolitionist John Brown and his followers sought to spark a slave revolt and seize the federal armory at Harpers Ferry in what is now West Virginia. The story is a well-known one. But you may not know how Frederick the Great's sword came into play. Historian Michael Korda lays it out in his biography of Robert E. Lee, the officer sent to dislodge the militants and free their captives. "Brown was particularly determined to capture Colonel Lewis W. Washington, a local gentleman farmer and slave owner on a small scale, the great-grandnephew of President Washington, and to have the ceremonial sword that Frederick the Great had presented to George Washington placed in the hands of one of his black followers as a symbol of racial justice." The excerpt from Korda's book is well worth a read today.

Got a TIP from the RIGHT or the LEFT? Email FoxNewsFirst@FOXNEWS.COM

POLL CHECK
Real Clear Politics Averages
Obama Job Approval: Approve – 45.1 percent//Disapprove – 49.6 percent
Directions of Country: Right Direction – 27.1 percent//Wrong Track – 62.9 percent

OH, THE HUMA-NITY
Fox News: "Clinton confidante Huma Abedin was on Capitol Hill Friday to testify before the congressional Benghazi committee, just days before the former secretary of state faces off with the panel she has called a political attack arm. The closed-door meeting comes as committee Chairman Trey Gowdy combats accusations from both sides of the aisle that the panel is political in nature and bent on targeting Democratic presidential front-runner Hillary Clinton. To that end, the committee took the rare step this week of announcing Abedin's testimony Friday morning, stressing that she will only be questioned on issues relating to the committee's core mission."

[Flashback - WaPo took a look at how Abedin operated at the center of the Clinton universe.]

Obama's comment on Clinton email irks FBI - President Obama's declaration in a CBS interview that Hillary Clinton's private email setup did not endanger national security has FBI investigators angered, NYT reports. "Investigators have not reached any conclusions about whether the information on the server had been compromised or whether to recommend charges, according to the law enforcement officials…to investigators, it sounded as if Mr. Obama had already decided the answers to their questions and cleared anyone involved of wrongdoing."

Hillary's juggernaut: Big bucks, big donors and a big burn rate - The Hill: "Hillary Clinton has $33 million in cash on hand for her presidential bid, her campaign reported Thursday night, more than any other candidate in the race for the White House. The campaign revised its third quarter donation totals to $29.45 million in a release…The newly filed campaign finance report also shows that she spent more than $25.7 million over the three-month span from July through September, a figure that also dwarfs candidates on both sides of the aisle and more than twice that of her chief Democratic challenger, Sen. Bernie Sanders (I-Vt.), over the same period."

Bernie bags a heap of cash and a throng of donors - LAT: "Sen. Bernie Sanders' fundraising total of $26.2 million in the third quarter surpassed an earlier estimate by his campaign by more than $1 million…One of the most significant stats is the fact that only 270 of the more than 650,000 donors to his campaign in the quarter donated the maximum amount allowed by federal law -- $2,700 for an individual. In fact, his campaign says that 77% of its donors gave less than $200. That means it can go back to those donors again and again through the primary and caucus season."

Hillary Clinton: raised $28.7 million, spent $25.7 million; $32.9 million cash on hand

Bernie Sanders: raised $26.2 million; spent $11.3 million; $27.1 million cash on hand

Martin O'Malley: raised $1.3 million; spent $1.8 million; $806,000 cash on hand

POWER PLAY: ALL HAIL QUEEN HILLARY… AGAIN?
The post-debate cry is "Hillary Clinton's coronation is back on." Is that true or a delusion? Chris Stirewalt asks Democrat Richard Fowler and Republican Lauren Claffey for their take. WATCH HERE.

Don't count us out, says Team Biden - AP: "Former Delaware Sen. Ted Kaufman, one of Biden's closest political advisers, said Biden would soon make a decision about whether to enter the race. In an email obtained by The Associated Press, Kaufman asked former staffers to stay in close contact and said Biden would need their help immediately if he enters the race…'If he decides to run, we will need each and every one of you — yesterday!' Kaufman wrote in the letter…Kaufman said he'd spoken extensively with Biden about his deliberations and that if he runs, Biden would mount an 'optimistic campaign.'"

DNC IN SHAMBLES
NYT:"R.T. Rybak, the former mayor of Minneapolis and a vice chairman of the Democratic National Committee, on Thursday accused the party's leader, Representative Debbie Wasserman Schultz, of making 'flat-out not true' statements about another top party officer, questioned her political skills and said he had 'serious questions' about her suitability for the job… In a series of televised interviews on Monday and Tuesday, Ms. Wasserman Schultz…insisted that she had indeed consulted with the party's officers before scheduling the debates…Rybak weighed in angrily in response, expressing shock that Ms. Wasserman Schultz 'would knowingly say something that is flat-out not true.' 'This is not a back-and-forth between a chair and a vice chair,' he said. 'This is a chair of the Democratic Party wrongly stating that she consulted with all of the party officers. I was not consulted. I know that [DNC Vice Chairwoman] Tulsi Gabbard was not consulted. And this is becoming about much more than debates.'"

GET IT? A 'TRANS-FUR STUDENT'
UPI: "Maybe he was a trans-fur student. A student at a Montana high school captured footage of a black bear taking an early morning stroll through a school hallway before the start of classes. Kevin Conwell, principal of Bozeman High School, said the bear was first spotted on the football field about 7:30 a.m. Wednesday and the animal soon found its way into the building through an open garage door in the custodial area. Conwell said students snapped photos and captured video of the bear, but they remained at a safe distance from the animal at all times. 'They were being careful. They were keeping a good, safe distance,' Conwell told the Bozeman Daily Chronicle. The bear eventually left through an open exit and police helped guide it back to a more hospitable area."

AND NOW A WORD FROM CHARLES…
"History is going to judge Obama very severely for [leaving minimum troops in Afghanistan]. As for now, I don't think he is going to reduce it to 5,000 before he leaves. I think that's just a story he's telling." – Charles Krauthammer on "Special Report with Bret Baier" Watch here.

Chris Stirewalt is digital politics editor for Fox News. Want FOX News First in your inbox every day? Sign up here.
Chris Stirewalt joined Fox News Channel (FNC) in July of 2010 and serves as politics editor based in Washington, D.C. Additionally, he authors the daily Fox News Halftime Report political news note and co-hosts the hit podcast, Perino & Stirewalt: I'll Tell You What. He also is the host of Power Play, a feature video series on FoxNews.com. Stirewalt makes frequent appearances on network programs, including America's Newsroom, Special Report with Bret Baier and Fox News Sunday with Chris Wallace. He also provides expert political analysis for FNC's coverage of state, congressional and presidential elections.