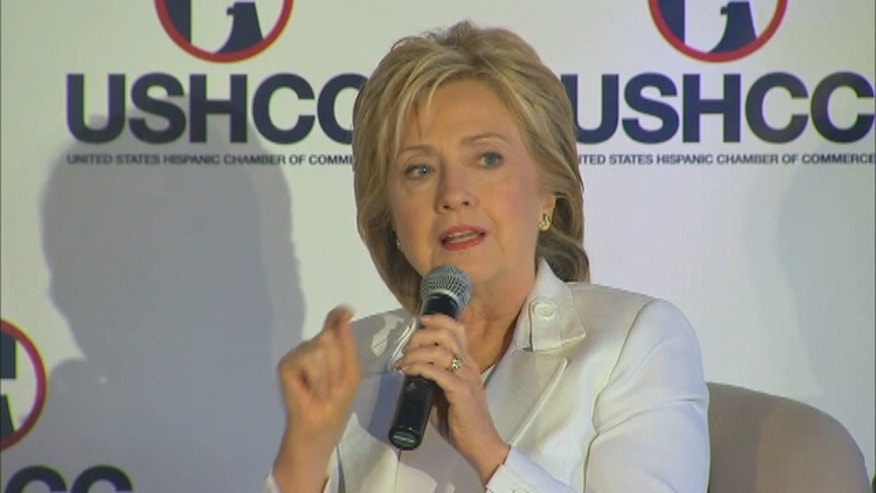 San Antonio, Tex. – Drawing a distinction between herself and President Barack Obama, Hillary Clinton said on Thursday that if she wins the White House, she would not use mass deportation or separate families while pursuing immigration reform.
"The evidence is clear, comprehensive immigration reform, where we bring people out of the shadows, will be good for the economy, [and] will raise wages," said Clinton in a question-and-answer session in San Antonio with the president of the U.S. Hispanic Chamber of Commerce.
"I will not be breaking up families under deportation," Clinton said. "I don't think that the way to do that is to undermine the family structure, and undermine the productivity of people who are (contributing) to our economy."
Clinton's appearance at the chamber event marks the fifth such question and answer session with presidential candidates that the head of the group, Javier Palomarez, launched this year.
Her appearance came exactly one week after GOP candidate and frontrunner, Donald Trump, was to have participated in a session with the chamber but abruptly backed out days before.
With the exception of Clinton's question-and-answer, all have been held in Washington D.C., where the chamber is headquartered.
Clinton frequently bashed the Republican presidential candidates for what she said was the hostility toward Latinos and immigrants in their rhetoric and proposed policies.
"It has just added to the ongoing problem we face [in the country] that it is O.K., still, in American to be condemning some groups of people with this kind of rhetoric," she said, adding that hostile talk encourages some people "to act in a way that is prejudiced and hurtful."
Many people criticized Trump recently after a supporter at one of his campaign rallies maligned Muslims, and the candidate failed to take issue with it during the rally. Many people also criticized Republican presidential candidates for not assailing – or taking too long to condemn – Trump for portraying some Mexican immigrants as drug dealers and rapists when he launched his campaign.
"Anyone in a position of leadership…does have a responsibility to call people out…when they say Mexican immigrants are drug dealers and rapists. Somebody needs to say 'Basta!'"
Clinton said that as president she would work on reforming parts of immigration from the first day.
She said she would streamline the process for applying for programs that Obama implemented – through executive action – that would spare some undocumented immigrants from deportation for a few years, and allow them to obtain work permits, driver's licenses and some federal benefits.
Clinton recalled being part of church youth program that involved looking after the children of migrant workers while their parents worked. She recalled seeing the parents return every day in "a ramshackle bus."
"When those little children saw that bus they started to jump up and down," Clinton said. "The parents, as tired as they were, were bending over and scooping them up."
She recalled telling her mother: "They're just like we are. They're just families like we are."
Asked by Palomarez if she would pick Housing and Urban Development Secretary Julian Castro – the former mayor of San Antonio – as vice president, Clinton demurred.
She sang his praises, however, suggesting she'd like, at the very least, to have him in her administration.
"I think really highly of him," she said, adding that she was thrilled to have received his endorsement shortly before. "I'm really looking hard at him for anything because that's how good he is."
Clinton added that she would work to make it easier for Latino small business owners to find information about launching ventures and accessing services.
She also praised Latinas for starting businesses at a higher rate than other Americans.
Like us on Facebook
Follow us on Twitter & Instagram