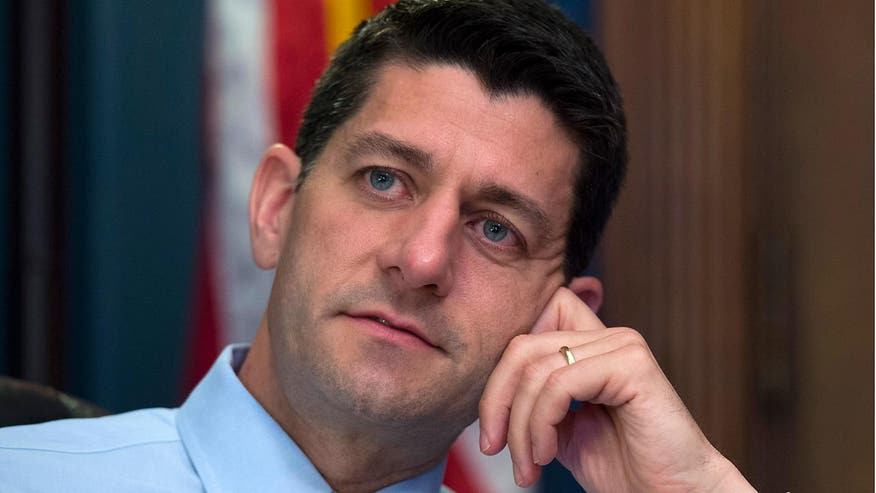 Since House Majority Leader Kevin McCarthy, R-Calif., shocked his congressional colleagues early Thursday by withdrawing his name from consideration to replace John Boehner, R-Ohio, as Speaker of the House, Republicans have launched a relentless press aimed at convincing House Ways and Means Committee chair Paul Ryan, R-Wis., to put himself forward for the job.
Fox News has learned that Boehner himself is imploring Ryan, Mitt Romney's running mate on the 2012 Republican presidential ticket, to put himself forward for the top job in the House, largely because Ryan is one of the few unifying figures in the House Republican Conference.
"It could be a couple of days, but there is a full-court press. Ryan's the consensus candidate", a senior Capitol Hill source told Fox News.
The list of endorsements for Ryan also includes McCarthy, who told the Wall Street Journal, "I think he could unite everybody." Hours earlier, Ryan had expressed his support for McCarthy, calling him "the best person to lead the House."
Other Republicans who have pushed Ryan to run include Trey Gowdy, R-S.C., the chair of the select committee on Benghazi, who described Ryan to The Wall Street Journal as "uniquely gifted to lead." Another source told Fox that Romney himself was expected to call Ryan to ask him to run.
Ryan has consistently passed on running for high-profile Congressional positions before, including for the Senate and in other slots in the House Republican leadership. His reluctance dates back to 2008 when an attempt was made to draft him to run against Boehner after the GOP lost control of the House. There were also efforts to bring him into the leadership fold after then-Majority Leader Eric Cantor lost his primary last year.
Ryan himself repeatedly denied early Thursday afternoon that he would be a candidate to succeed Boehner, who has said he would remain in his job until a new speaker was installed. The election to choose Boehner's replacement had been set for October 29, but its date is now uncertain. It's unclear whether more candidates will enter the race or whether the field will stand as is, with Rep. Jason Chaffetz, R-Utah, and Rep. Daniel Webster, R-Fla., vying for the job.
Thursday night, Rep. Lynn Westmoreland, R-Ga., told Fox News he was putting himself out as a speaker candidate but "I'd like to tell my wife first."
Ryan's denials were amplified by his spokesman, Brendan Buck, who at one point tweeted Thursday, "Geez folks, nothing has changed," an apparent reference to rumors that his boss had decided to run after all.
However, a source familiar with Ryan's thinking believes the 45-year-old will eventually step into the fold. The source says the pressure will be "unrelenting because there is no viable alternative." The source also noted that Ryan would have no excuse not to run for Speaker "because he can move his family to DC." Ryan and his wife, Janna, have three children.
Late Thursday, Ryan refused to flatly rule out a bid for the Speaker's chair, telling reporters as he left the Capitol, "
"You guys are asking all these interesting questions," Ryan said, "but I don't have any interesting answers right now. "
"I think our conference will come together and unify," he added. "We'll find a way to do it."
Fox News' Bret Baier, Chad Pergram, Mike Emanuel, and the Associated Press contributed to this report.