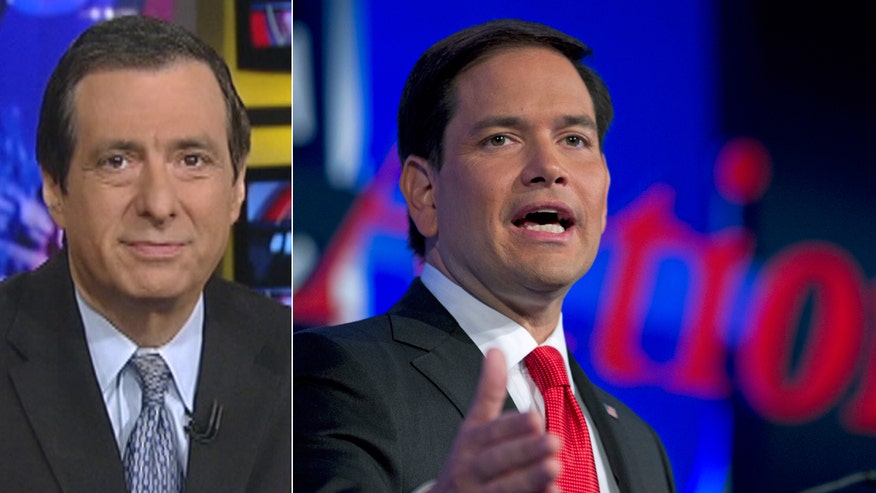 In private conversations, many journalists have told me they think only one candidate is likely to emerge from the battered Republican field and overtake Donald Trump.
His name is Marco Rubio.
It's not that these journalists are rooting for Rubio, although some find the freshman senator appealing. It's that they think he has the most potential if the non-politicians falter, and believe that Jeb Bush may not be able to pull himself out of his tailspin.
This has been the quiet chatter for weeks, but with Rubio creeping up in the polls after two solid debates, it's getting a bit louder.
"Watch out for Marco Rubio," NBC's Chuck Todd said yesterday.
The view from the Rubio camp is that he's not looking to engage Trump, but that no way is he going to shrug off the growing spate of attacks. Now that he's in Trump's crosshairs, the senator quickly tries to pivot back to his message without ignoring the hits, as one adviser told me.
Rubio doesn't bring up his rival unless asked about The Donald in interviews, according to this strategy, but then again, he's doing more interviews. His inner circle sees a fine line between responding to Trump and allowing him to drive the Rubio campaign.
In the new NBC/Wall Street Journal poll, Trump and Ben Carson are effectively tied, 21 to 20 percent, while Rubio and Carly Fiorina are tied for third place, with 11 percent each. And Jeb? He's at 7 percent.
In a new Fox News poll, Rubio is viewed more favorably than unfavorably among Republicans by 35 points (second only to Carson, at 52 points). Trump is viewed more favorably by 12 points, and Bush by 1 point.
As the son of Cuban-American immigrants, Rubio has a good personal story and a charismatic style. Yet he's remained back in the pack, and largely avoided tangling with Trump—until very recently.
Trump unveiled a tax-cutting plan yesterday—so much for critics who say he provides no specifics—and responded to one question by taking a shot at the Florida lawmaker. "Senator Rubio is a lightweight," he said. "He wouldn't be able to do this. He wouldn't know a trade deal from any other kind of deal…Guys like Rubio, he desperately needs money."
But Rubio now swings back against the counterpunching.
"Unlike Bush, who isn't comfortable personally attacking another candidate, Rubio has fewer qualms about trading barbs and belittling an opponent — a tactic he honed in his 2010 Senate race against Gov. Charlie Crist," says a smart piece in Politico.
Just last month, Rubio said on "Meet the Press": "I've made a decision here with Donald Trump, you know, if I comment on everything he says, my whole campaign will be consumed by it."
That was then.
Now he calls Trump "a very touchy and insecure guy" who "doesn't know anything about policy." Rubio is responding to such Trumpian jabs as "Rubio, I've never seen a young guy sweat that much" and "he's got no money, zero." Trump also keeps slapping Rubio for missing too many Senate votes and for being disloyal by challenging Bush, his onetime mentor in Florida politics. And for good measure, he has called Rubio a "baby."
Asked by Fox's Bret Baier whether Trump meets the threshold to be president, Rubio said:
"As of now, I haven't heard him talk seriously about national security. Hopefully that will change…So far he hasn't met the threshold in my mind."
One telling moment: When Trump called Rubio a "clown" at a Values Voters gathering last week, he was met by a chorus of boos.
Rubio's long-term plan is to be acceptable to the more conservative wing of the party while also winning establishment support to challenge Trump. At 44, he can implicitly make the new-generation argument against Trump as he has been doing against Hillary Clinton.
His relative youth may also be his biggest liability in a party that has spent eight years saying freshman senator Barack Obama was unqualified for the presidency. Rubio sometimes counters by saying he previously served as speaker of the Florida House.
And then there is illegal immigration: Rubio has repented for trying to win congressional approval for a plan that included a path to legalization and now says the country must secure the border first. But some conservatives haven't forgotten his heresy in seeking a compromise.
Rubio will ultimately face a showdown in Florida's March 15 primary, as in my view neither he nor Bush can survive a head-to-head loss there. A Florida Atlantic University poll last week showed Rubio surging ahead of the former governor, 19 to 11 percent. (Trump has complained that the headlines should have been about him leading with 31 percent, but since he had been leading before, the new story was the undercard.)
With some pundits chattering about the strength of a Rubio/Fiorina ticket (though Carly would surely reverse the order), Marco could be on the verge of a moment. But whether he can become truly competitive with Trump remains an open question.
Click here for more Media Buzz
Howard Kurtz is a Fox News analyst and the host of "MediaBuzz" (Sundays 11 a.m.). He is the author of five books and is based in Washington. Follow him at @HowardKurtz. Click here for more information on Howard Kurtz.