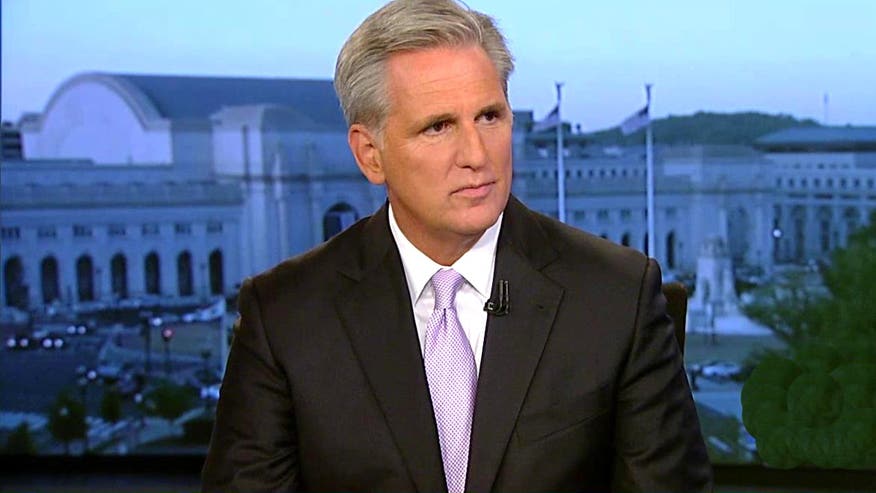 House Majority Leader Kevin McCarthy announced Monday that he will run for speaker, vowing that if elected to the chamber's top post he would "change the culture" of Washington and strive for the "most conservative solution" he can get.
The California lawmaker outlined his vision for the GOP-controlled House on Fox News' "Special Report with Bret Baier" just hours after announcing his widely expected bid to replace Speaker John Boehner.
"I want to fundamentally change the culture of Washington. … We've been governing by crisis," the 50-year-old McCarthy said. "I want to find the most conservative solution I can find."
Boehner abruptly resigned last week amid pressure from the House's most conservative members, a situation that McCarthy will likely inherit.
Whether McCarthy gets the votes from those roughly 25 to 30 members remains unclear. But he is expected to have enough votes to clear the 218-vote threshold when the 434 members cast their ballots.
"A lot of people have counted me out before, but I think I can" win, said McCarthy, who reportedly stayed in Washington over the weekend to garner support and wrangle votes.
So far, he faces a challenge from Florida Republican Rep. Daniel Webster.
During the first part of his roughly nine-minute interview on Fox, McCarthy mostly stuck to his vision for uniting the divided lower chamber, then got into specifics about such pressing issues as immigration reform, passing a comprehensive transportation bill and the future of the Export-Import Bank.
McCarthy said immigration begins with securing the southern U.S. border and fixing lapses in the country's visa program. He suggested that the transportation bill could get tied to tax reform and called for an end to the Export-Import Bank, a target of fiscal conservative.
"That has failed now, and it should stay failed," he said.
McCarthy declined to try to analyze Boehner's demise or explain the outgoing speaker's remarks Sunday about "false prophets," an almost certain reference to the most conservative Capitol Hill lawmakers and the special interest groups that pushed seemingly unrealistic goals like repealing ObamaCare.
"My job isn't to understand what he did right and what he did wrong," McCarthy said. "He's a decent man. He passed a lot of great legislation."
However, he did comment on the Senate, which is also controlled by Republicans but is often blocked by Democrats and the chamber's tough 60-vote threshold on some measures.
McCarthy suggested that his goal would be to work with some of the GOP senators whom he recruited in the House.
"There's going to be a generational change here," McCarthy said.
In announcing his bid earlier Monday, McCarthy said: "If elected Speaker, I promise you that we will have the courage to lead the fight for our conservative principles and make our case to the American people. But we will also have the wisdom to listen to our constituents and each other so that we always move forward together."
Meanwhile, House Republicans continued to jockey for leadership positions in the aftermath of Boehner's resignation and McCarthy's announcement that he would seek to replace Boehner.
Late Monday, Fox News learned of a concerted effort by hawkish House Republicans to defeat House Budget Committee Chairman Tom Price's bid for Majority Leader. The Georgia Republican infuriated his defense-minded colleagues this past spring by slashing money for the Pentagon from the budget blueprint in an effort to get it to balance.
The House ultimately approved Price's budget, but added a so-called "sidecar" which added billions of dollars in defense spending. Since that money wasn't part of the budget itself, Price was still able to declare that his budget "balanced," a statement that both budget and defense hawks viewed as a farce.
Fox News has also learned that Rep. Trey Gowdy, R-S.C. would be willing to serve as acting Majority Leader if House Republicans are unable to determine who might succeed McCarthy if he becomes Speaker. Should the need arise, Gowdy would serve as Majority Leader through the end of the current Congress in January 2017.
Meanwhile, Rep. Cathy McMorris-Rodgers, R-Wash., said late Monday that she would not run for House Majority Leader to replace McCarthy should he become Speaker. McMorris Rodgers is the Republican Conference Chair, and said the position was "the best way right now for me to empower my colleagues through positive change."
Majority Whip Steve Scalise, R-La., is widely considered to be the other potential candidate for Majority Leader to replace McCarthy.
Fox News' Chad Pergram and Mike Emanuel contributed to this report.