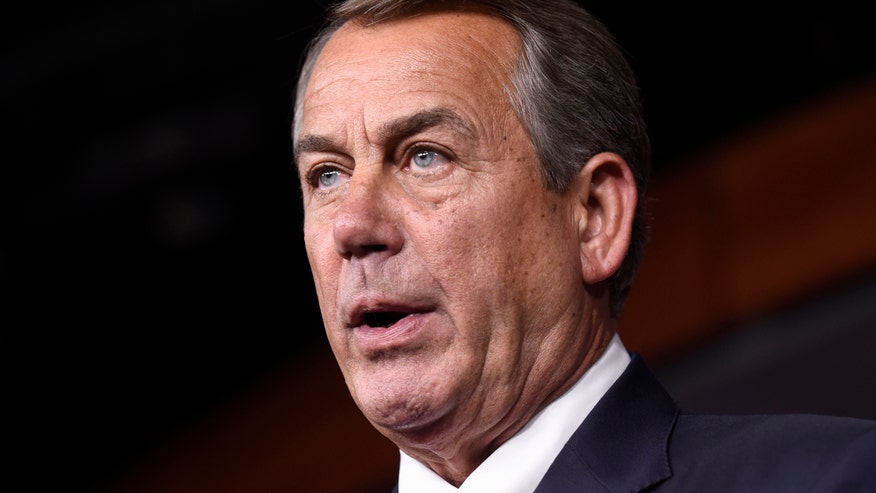 The following are statements from lawmakers and others in reaction to House Speaker John Boehner's announcement that he will resign his post and his seat in October:
President George W. Bush: "John Boehner has done an excellent job for our country as Speaker of the United States House of Representatives. Speaker Boehner is a master of the legislative process who has always demonstrated great respect for the institutions of Congress. I congratulate and thank him for his years of service to his constituents in Ohio and to the American people. Laura and I send our best wishes to John and his wife, Debbie -- and I look forward to many rounds of golf with this good man."
RNC Chairman Reince Priebus: "I want to thank Speaker Boehner for his efforts to make our party, the state of Ohio, and our nation stronger. He has been a tireless advocate for conservative principles who has raised millions to elect and re-elect Republicans to the House of Representatives. Our party owes him a great debt, and I wish him and Debbie the best as he continues to make contributions to the Republican Party and America."
Senate Majority Leader Mitch McConnell: "When some said Republicans could never recover, he never gave up. When some gave in to defeatism, he kept up the fight. Because he did, Speaker Boehner was able to transform a broken and dispirited Republican minority into the largest Republican majority since the 1920s. That's a legacy few can match."
House Democratic Whip Steny Hoyer: "During the nearly five years of his speakership and throughout his twenty-five years in Congress, John Boehner has been a true gentleman and a consistent advocate for the enduring American principle that hard work ought to lead to opportunity. He has never forgotten his roots as the son of Cincinnati small business owners, learning the value of honest work at a young age clearing tables and sweeping floors. Speaker Boehner brought this same ethic to public service, first as an Ohio State Representative, then as a Congressman, and later as the leader of his party in the House. All of us who have served with him have appreciated his straightforward manner, his friendship, and his deep love of country.
Dawn Laguens, Executive Vice President of Planned Parenthood Action Fund: "It looks like leadership in the House may go from bad to worse. While John Boehner was never a champion of women's health in this country, even he recognized that defunding Planned Parenthood wasn't what the American people wanted. The extreme flank of this Congress has become so obsessed with ending women's access to basic health care that they'll pursue it at all costs --- no matter how many Americans disagree, and how many women they hurt as a result."
House Majority Leader Kevin McCarthy: "As our country has weathered difficult times at home and abroad, John has acted as a true statesman, always moving forward with the best interests of the American people close to his heart. He will be missed because there is simply no one else like him.
"Now is the time for our conference to focus on healing and unifying to face the challenges ahead and always do what is best for the American people."
House Ways and Means Chairman Paul Ryan: "John Boehner has been a great leader of the Republican Party and the House of Representatives. This was an act of pure selflessness. John's decades of service have helped move our country forward, and I deeply value his friendship. We will miss John, and I am confident our conference will elect leaders who are capable of meeting the challenges our nation faces. I wish John and his family well as he begins the next phase of his life."
Sen. Chuck Schumer, D-NY: "Speaker John Boehner is a decent, principled conservative man who tried to do the right thing under almost impossible circumstances. He will be missed by Republicans and Democrats alike.
"Let us hope the Republican majority, which Speaker Boehner played a large role in creating, learns the right lesson from his resignation: to work with Democrats in a constructive way, rather than let a handful of extreme right-wingers dictate his party's policy."
Rep. Ed Royce, R-Calif: "Speaker Boehner has led the House through some of the toughest times our country has ever faced and did so with poise, patience, and an unmatched grace. He will be sorely missed. I thank John for his service to our nation and wish him and Debbie all the best moving forward."
Rep. Debbie Wasserman Schultz, D-Fla: "Despite our disagreements, we found common ground on things both personal and legislative. I have long admired his willingness to display his courage of conviction and deeply-held beliefs in the glare of the public eye. It was clear that Pope Francis' visit yesterday visibly moved him, as it did many of our colleagues. One of the highlights of our relationship was his co-sponsorship, and personal attention to, the EARLY Act, my legislation to educate and empower young women with the information, resources, and support they need to help diagnose breast cancer early. He rarely cosponsors legislation himself, and as a breast cancer survivor, I will never forget his compassion towards the women the EARLY Act helps.
Sen. Harry Reid, D-Nev.: To say that I will miss John Boehner is a tremendous understatement. I looked out for him in ways that I could, and he looked out for me in the ways that he could. I will always consider John Boehner my friend, and I look forward to working with him until he leaves. I understand it's going to be in late October, but I will continue to work with him to try to do what I think is the right thing for the country, as I'm confident he will. And hopefully we'll continue someplace in the middle to get things done.