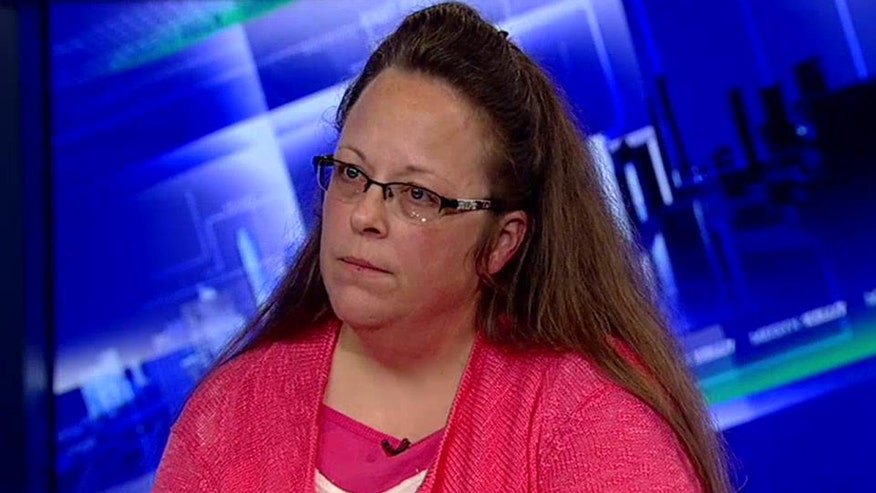 The Kentucky clerk who was jailed for five days after refusing to issue any marriage licenses after the U.S. Supreme Court effectively legalized gay marriage nationwide defended her actions in a cable news exclusive interview Tuesday on Fox News' "The Kelly File."
Kim Davis told Fox News' Megyn Kelly she weighed the cost of her decision and whether it would land her in jail, but never thought of leaving her elected position because she didn't agree with the Supreme Court's ruling.
"If I resign, I lose my voice," Davis said. "Why should I have to quit a job I love and am good at?"
Davis said she originally had asked lawmakers after being elected as a Democrat in rural Rowan County in January for provisions to protect clerks who may have objections to the ruling on gay marriage that was expected to come at the end of the high court's spring term.
Davis told Kelly she only received one reply at the time.
"They can accommodate for all sorts of issues, and we ask for some simple accommodation and we can't receive it," she said.
When asked if she would issue a marriage license to her own children if they were gay or lesbian, Davis said she would stick to her beliefs.
"I wouldn't write them a marriage license," she said.
She also took time to respond to her critics.
"What people say about me does not define who I am," Davis said. "My God has transformed me and that's what people don't understand. "
Meanwhile, a gay couple who were denied a marriage license told Kelly that their confrontation with Davis was "humiliating."
"I didn't go to the county clerk's office to get a lecture on religion," David Ermold told Kelly. "I went there for a marriage license."
But when Kelly asked the couple whether they want to see Davis go back to jail, they said they "just want to see her do her job."
"Well, she still has the right to her religious beliefs just like we have rights to our religious beliefs," David Moore told Kelly. "It's when you push your religious beliefs on other people, you know, that's when it's an issue."
Davis has asked a federal judge again to postpone his mandate that she license all couples after being released from prison. The American Civil Liberties Union originally filed a suit against Davis on behalf of four couples, two straight and two gay.
U.S. District Court Judge David Bunning later ordered Davis to issue licenses to those four couples, as well as any other qualified couples, gay or straight. When Davis ignored him and lost a string of appeals, she was found in contempt and spent five days in jail.
Her deputies then began issuing altered licenses while Davis was behind bars, including to both gay couples who sued her.
Davis's attorneys then asked the appeals court to toss Bunning's order that expanded the licensing mandate to all couples, arguing that because the couples who sued her received a license, she should not have to issue any more while the case is pending.
The appeals court denied the request last week on the legal technicality that her lawyers did not first ask the district judge for a delay, as federal court rules require. Davis' legal team redirected the appeal to Bunning, who rejected it Tuesday.
Bunning on Wednesday dismissed Davis' arguments that she is likely to suffer irreparable harm by having to issue the licenses.
"This argument is unpersuasive because Davis has created her own risk of harm by violating a valid order issued by this court," Bunning wrote, adding: "As for the public interest, the court simply notes that the public has an interest in the enforcement of valid court orders."
The Associated Press contributed to this report.