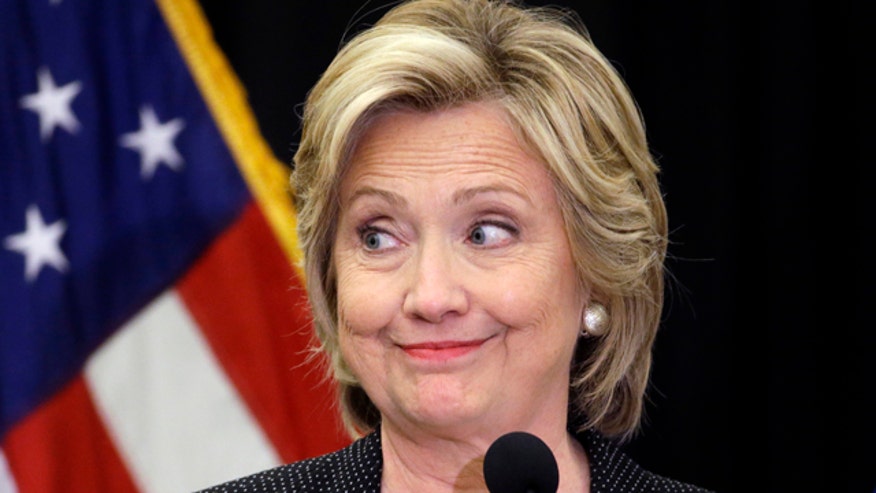 **Want FOX News First in your inbox every day? Sign up here.**
Buzz Cut:
• Poll: With women, Hillary's in the dust
• Biden meets big Obama bundler
• Walker takes on big labor
• Jeb vows to come out swinging
• A new standard of self
POLL: WITH WOMEN, HILLARY'S IN THE DUST
Hillary Clinton's wagon train pulls into Iowa today as she looks to shore up support among women. And no wonder. While the campaign may have imagined they'd be rolling along by now with that key voter contingent, a new poll shows the wheels are wobbling badly and in danger of falling off.

Losing "significant ground" over the past two months as she struggles with her email scandal, the Washington Post/ABC News national poll says that while Clinton still leads the field of Democrats, "…for the first time her support has dropped below 50 percent in Post-ABC surveys, with the biggest decline coming among white women." The news comes on the heels of another poll out this weekend that shows her falling behind rival Bernie Sanders in Iowa, as she has in New Hampshire.

[Florida diss? - Amid reports that the Clinton campaign is bolstering its efforts in the South, The Hill took a look at how some Palm Beach County Dems are feeling left out.]

The WaPo-ABC poll, taken as the Clinton campaign set about its latest reset, shows her trajectory continuing to spiral downward. Leading 42 percent to Sander's 24 percent among Democratic and Democrat-leaning voters, Clinton has seen a drop in support of 21 points since July, while Sanders has picked up 10 points. "She has lost ground with most demographic groups, but the sharpest drop has come among women and particularly white women," [the poll says] "In July, 64 percent of white women said they supported Clinton; today, it is 31 percent, the same level of backing as Sanders, whose support has doubled among this group."

[She'll 'take that to heart,' really - On the advice of a pastor to heed scripture, Clinton said at a church service Sunday she'll be nicer to the press.]

Women are a must-have for Hillary and the campaign knows it. But any reset or re-branding of a candidate with Clinton's name recognition is a dubious prospect to begin with. Throw in the continued drip of her email mess and it's hard to fathom how more humor and heart can reverse an erosion of support rooted in another key vulnerability: 56 percent of those in the WaPo-ABC poll say Clinton is not honest and trustworthy.

With her campaign stuck on such a rutted road there's little wonder the Sanders surge and talk of Joe's revival continue to reverberate among Democrats.

Biden meets big Obama bundler - Bloomberg: "…Fewer than 12 hours after the Colbert interview aired, Biden partook in a meeting that signaled something entirely different…It was held in secret at his hotel in Midtown Manhattan and lasted for more than 90 minutes: a private, one-on-one session with one of the most prominent and powerful fundraising stars in the Democratic firmament—a mega-bundler who happens to be, at least for now, publicly committed to Hillary Clinton. The bundler in question was Robert Wolf: the former chairman and CEO of UBS Americas, a prodigious buck-raker on behalf of Barack Obama in two successive campaigns…"

Socialist Sanders takes campaign to Christian school - USA TODAY: "Sanders, a Vermont independent running for the Democratic presidential nomination, may test the limits of his appeal Monday when he speaks at Liberty University in Lynchburg, Va., founded by the late Rev. Jerry Falwell. "I'm still looking hard for something he and I agree on," school president and Falwell's son, Jerry Falwell Jr., said with a laugh during a recent interview. "I'm pretty conservative but I think some of the things he said about the middle class being destroyed in this country, I think that is a problem. He and I may not agree on how to fix that, but I'm open to hearing what he's got to say."

WITH YOUR SECOND CUP OF COFFEE…
Mermaids have fascinated human beings since the earliest voyagers set to the seas. Often illustrated in Greek mythology as a "siren," the depiction of a mermaid combined a woman's seductive charms with the dangers of early ships landing on foreign coastlines, often leading to shipwrecks. Sirens, or mermaids, were blamed for these disasters as they supposedly used there charms to lure men of the seas into danger. Tales spread and the image of mermaids changed from dangerous sea nymphs to Daryl Hannah washing ashore in "Splash," but audience's fascination with mermaids continues to create a high demand in today's entertainment industry. As Fast Company explains, "Today, there are close to 1,000 full-time mermaids and mermen in the United States, according to the estimates of various experts I spoke with in the mer-community. These merfolk spend their days modeling in shimmering tails, performing for audiences in underwater tanks, and delighting children by making surprise appearances at their pool parties…The mermaid economy is positively booming."

Got a TIP from the RIGHT or the LEFT? Email FoxNewsFirst@FOXNEWS.COM

POLL CHECK
Real Clear Politics Averages
Obama Job Approval: Approve – 46.1 percent//Disapprove – 49.9 percent
Directions of Country: Right Direction – 28.2 percent//Wrong Track – 63.0 percent

WALKER TAKES ON BIG LABOR
AP: "Republican presidential candidate Scott Walker on Monday will call for sweeping restrictions on organized labor in the U.S., seeking to replicate nationwide his successful effort as Wisconsin's governor to curb the power of unions. At a town hall meeting in Las Vegas, Walker will propose eliminating unions for employees of the federal government, making all workplaces right-to-work unless individual states vote otherwise, scrapping the federal agency that oversees unfair labor practices and making it more difficult for unions to organize. Many of Walker's proposals are focused on unions for workers at all levels of government, while others would also affect private-sector unions. Labor law experts said such an effort, if successful, would substantially reduce the power of organized labor in America. While Walker could enact some of the proposals via presidential executive order, others would require an act of Congress or changes in federal regulations. The goal, Walker said, is 'to achieve fairness and opportunity for American workers.'"

Walker PAC beefs up Iowa game - WaPo: "Ahead of President Obama's visit to Des Moines on Monday afternoon, a super PAC supporting Scott Walker's run for president took out a full-page ad in the Des Moines Register…The ad touts three of Walker's achievements as governor in Wisconsin: replacing a budget deficit with a surplus, cutting taxes by $2 billion and cutting the state's unemployment rate in half. The bottom of the ad reads: 'Tired of President Obama? Stand with Scott Walker -- the only conservative running for President who's defeated him.'"

And he's got his staff everywhere…literally - The [Eastern Iowa] Gazette: "Wisconsin Gov. Scott Walker has announced campaign leaders in every one of Iowa's 99 counties as he continues to build his organization in the lead-up to the first-in-the-nation precinct caucuses Feb. 1…securing grass-roots leadership in all 99 counties is even more valuable, according to Walker, because 'the Iowa caucuses are the ultimate grass-roots organization exercise.'"

Rubio pulls out all stops in Iowa ahead of Obama education visit - In a Des Moines Register op-ed, Sen. Marco Rubio, R-Fla., name-checks President Obama over higher education reform arguing that high school students should have options besides a four-year degree including a path to a good-paying job. Rubio also has a new web video which focuses more on choice in the pre-K through high school years.

Jeb vows to come out swinging - Reuters: "[Former Gov. Jeb Bush, R-Fla.] plans to take a more aggressive tack at the debate at the Ronald Reagan Presidential Library in Simi Valley, California. 'If someone comes at me, bam! I'll come back at 'em,' he said in Salem, smacking a fist into a palm. 'I'll campaign hard.' Bush has mocked Trump, branding him a Democrat in disguise with past positions favoring higher taxes and past expressions of admiration of Hillary Clinton, the front-runner for the Democratic presidential nomination.

[In the crease - Jeb 2016 is running a full-page hockey-themed ad in the New Hampshire Union Leader, highlighting Bush's conservative governing record. The ad compares Bush's "hat trick" as the #1 Tax Cutter, #1 Spending Cutter and #1 Job Creator to the rest of the major Republican candidates in the field who have served as governors.]

Latino group counterprograms Trump in Texas - USA Today: "Latino activists in Dallas are planning a rush-hour 'Dump the Trump' march Monday evening to counter an expected massive city rally for GOP presidential front-runner Donald Trump, Texas media reported. Local chapters of the League of United Latin American Citizens (LULAC) and other area activist groups said they planned to bus protesters in from as far away as Houston to 'march against hate,' said Domingo Garcia, a Dallas lawyer and president of LULAC Council 102. Trump is scheduled to speak at Dallas' American Airlines Center at Victory Park… The Fort Worth Star-Telegram reported that the rally's 20,000 free tickets were gone by Friday afternoon…"

Carson dials down Trump faith flap - In an interview with WSJ, Ben Carson explained why he felt the need to apologize to Donald Trump. He said, "I said something that sounded like I was questioning his faith. I really wasn't, I was really talking more about mine. But it was said in an inappropriate way, which I recognized and I apologized for that. It's never my intention to impugn other people."

[Programming Note: Chris will be back with the GOP and Democratic Power Index next Monday.]

A NEW STANDARD OF 'SELF'
UPI: "Bhanu Prakash, 24, recently quit his full time job as a research assistant at a hospital to become a record-breaking selfie taker. Prakash said he was inspired by the achievements of Dwayne 'The Rock' Johnson, who took 105 selfies in three minutes in May. The current world record holder is American football player Patrick Peterson, who managed to take 1,449 selfies in one hour. Prakash also negates claims that selfies are 'just a girl thing.' He further claims his personal record is currently 1,700 but seeks to raise the number to 1,800. Prakash also says he is keeping up with hand and wrist exercises, essential to being able to hold a phone for so long. Initially apprehensive, Prakash's family now supports his dream. Prakash will formally attempt to break the world record on Sept. 18."

Chris Stirewalt is digital politics editor for Fox News. Want FOX News First in your inbox every day? Sign up here.