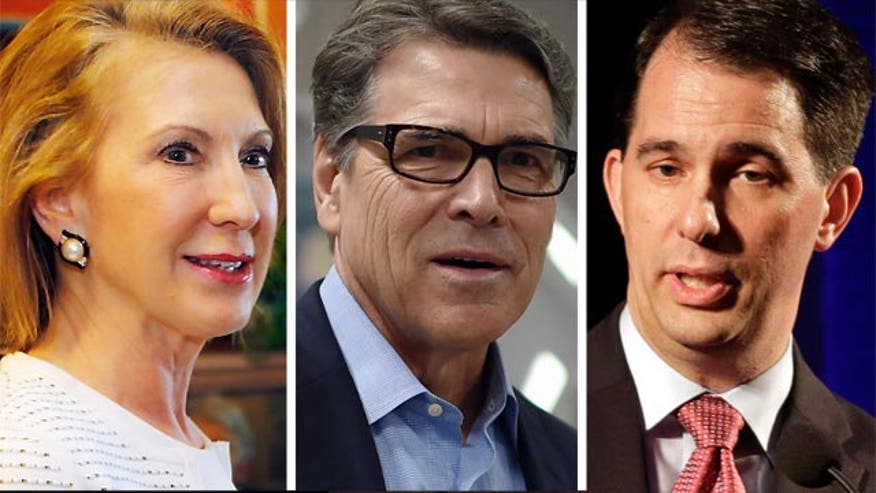 Summer's here and soon we'll be hearing about 2016 presidential candidates stealing a few days at predictable vacation spots (Kennebunkport! Martha's Vineyard! The Jersey Shore!).
So the Fox News poll asked voters which presidential contender they would most (and least) want to spend their summer vacation with.
Of the candidates they would most want to spend their vacation with, former Secretary of State Hillary Clinton comes in first with 22 percent. Former Florida Gov. Jeb Bush finishes a distant second with 7 percent. Rounding out the top five are retired neurosurgeon Ben Carson (5 percent), businessman Donald Trump (5 percent), and Kentucky Sen. Rand Paul (4 percent).
Down the list even further, the poll finds Vice President Joe Biden, former Arkansas Gov. Mike Huckabee, Vermont Sen. Bernie Sanders and Massachusetts Sen. Elizabeth Warren each garner three percent, while New Jersey Gov. Chris Christie, Texas Sen. Ted Cruz and Wisconsin Gov. Scott Walker get two percent apiece. All of the others get one percent or less. Former Rhode Island Gov. Lincoln Chafee, the most recent Democrat to announce his candidacy, doesn't even make the list.
The question was open-ended, which means respondents were not read a list of the 20-something candidates to choose from. Twenty-five percent of voters say none of them -- they'd rather fly solo than share the sunscreen with a White House hopeful.
Clinton also finds herself as the one voters would least want to spend their vacation with (31 percent). Bush and "none of the above" come next with 13 percent, while Paul (8 percent) and Cruz (5 percent) complete the top five.
Among Democrats, 39 percent would most want to spend their time off with Clinton, followed by "none of them" at 21 percent and Sanders with 7 percent. Democrats would least want to spend their summer with Bush (22 percent).
Republicans would most want to join Bush (14 percent) and Carson (9 percent) on holiday. More than one GOPer in five would rather not spend vacation with any of the candidates (22 percent). Perhaps unsurprisingly, a majority of Republicans (59 percent) says Clinton is the person with whom they would least want to go on holiday.
Who do independents most want to vacation with? More than a third (36 percent) picks "none" followed by Clinton (13 percent) and Carson (7 percent). Clinton also tops the list of being the person independents least want to vacation with (32 percent).
Pollpourri
A majority of voters would prefer to have more time to be on vacation than money to spend on it (52 vs. 43 percent), although the preference for more vacation time over more money is smaller now than in 2013. At that time, 55 percent wanted more vacation time and 36 percent wanted more money for vacation.
The Fox News poll is based on landline and cell phone interviews with 1,006 randomly chosen registered voters nationwide and was conducted under the joint direction of Anderson Robbins Research (D) and Shaw & Company Research (R) from May 31-June 2, 2015. The full poll has a margin of sampling error of plus or minus three percentage points.