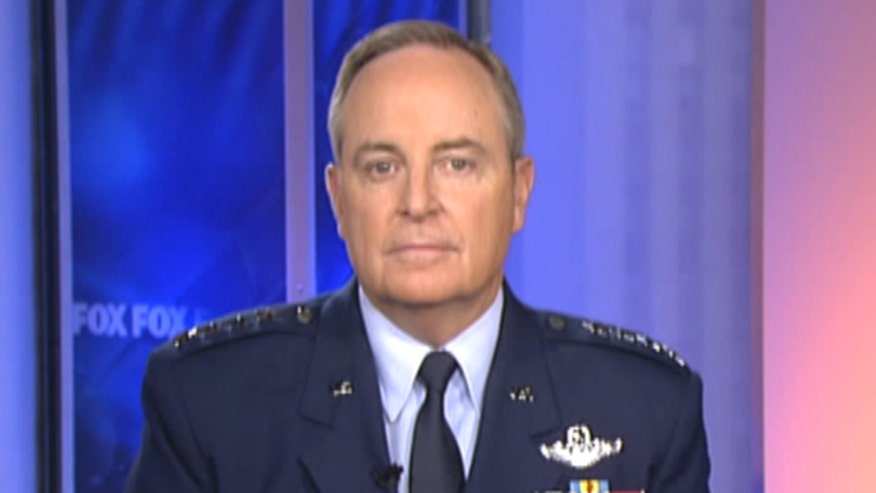 The fight against the terror group ISIS, the drawdown of U.S. troops in Afghanistan as well as other conflicts are spreading the Air Force's resources too thin, one general warns.
"If the nation expects to continue to use its military force the way it has in the past, we are stretched pretty thin – you can't get any smaller and still do the things we are currently being asked to do," General Mark Welsh, chief of staff for the U.S. Air Force, told FoxNews.com's "Defcon 3."
The Air Force is on track to reduce the size of its force to one of the smallest in history -- with 329,500 active airmen, according to the Heritage Foundation. The service is also seeing a continued reduction in its number of available aircraft.
"For the Air Force specifically, the individual and unit readiness to fight a full-scale conflict is not where it should be," said Welsh. "We've had a little problem with that over the past 15 years as we've focused on a … conflict in the Middle East and the resources we've diverted to do that."
Sequestration has a major impact on how the Pentagon determines its priorities. Welsh, a member of the Joint Chiefs of Staff, says budget constraints have been a significant factor.
"The current pressures on the budget have kept us from having the readiness levels that we believe we should have … so we are trying to work with our financial partners on the Hill to keep moving in a direction of recovery of that readiness."
According to the 2015 Defense Department budget request, sequestration has degraded readiness throughout the Joint Force by "requiring sharp cuts to training, maintenance, and support."
Even under these parameters, Welsh says the Air Force must keep adapting to fight the next threat.
"Our biggest strategic risk is not being able to change ahead of it," said Welsh. "We are bound by internal process and decision-making … that leads us to believe we can take long periods of time to do things – that's not the world we live in today. We have got to become more strategically agile in everything from education to training."
Chris Snyder is a producer for Fox News based in New York. Follow him on twitter: @ChrisSnyderFox.