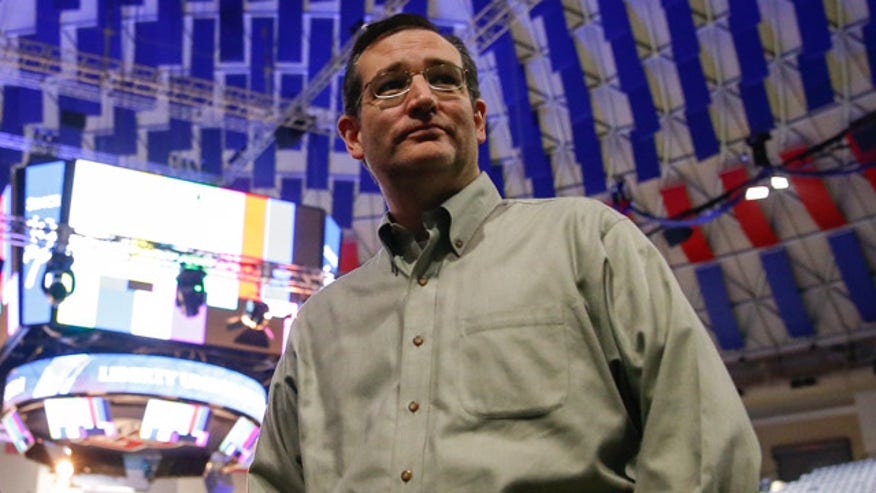 **Want FOX News First in your inbox every day? Sign up here.**
Buzz Cut:
• 2016 GOP Power Index: Cruz cracks top tier
• Hillary, aides used private emails for Benghazi talk
• Democrats seek fake primary
• Power Play: Grassley slams Dems on racism claims
• So, you're saying the #racetogether tattoo was a mistake?
2016 GOP POWER INDEX: CRUZ CRACKS TOP TIER
It's not that Ted Cruz surprised anyone with his presidential announcement. But where and how he is going about it means that all those on the right looking to be the main rival to conservative frontrunner Scott Walker got a rough wakeup call today. Cruz, with enormous name identification and a network built during his siege war with the Republican congressional leadership, is starting out with an unsparingly conservative message and doing so at the nation's largest Christian college, Liberty University. Cruz's early and unflinching entrance is seriously bad news for those hoping to ride enthusiasm from one part of the right – social conservatives, constitutional fundamentalists, firearm-rights enthusiasts, etc. While others are looking to build a movement to knock off Walker and win the chance to face establishment pick Jeb Bush in the GOP finals, Cruz already built his movement.

[Watch Fox: Chris Stirewalt joins "The Real Story" in the 2 p.m. ET hour with the latest on who's up and who's down in the 2016 Power Index.]

While Sen. Rand Paul, Ben Carson, former Gov. Mike Huckabee, former Sen. Rick Santorum and Gov. Bobby Jindal won't see their core support vanish overnight, they will have increasing difficulty getting past Cruz and his message of "courageous conservatism." He has all the scars to show for his battles with GOP moderates. His name, in fact, has become shorthand for the kind of Republicanism found odious by many in the Acela Corridor. Being the man most hated by the Republican establishment will go a long, long way with voters who hate the establishment. The question is whether Cruz can solidify his expected role quickly enough to turn his attacks on Walker. For Cruz to make it into the final showdown with Bush, he will need to reserve all his energies for toppling Walker and not spend too much time dickering with other right-wing candidates over doctrinal purity.

[Watch Fox: Campaign Carl Cameron is reporting live from Lynchburg, Va., on Sen. Ted Cruz's [R-Texas] presidential announcement.]

If Cruz is indeed to become Walker's chief tormenter, the biggest beneficiary would have to be Bush. The former Florida governor doesn't need to worry about answering charges from Cruz (yet, anyway) and if Walker is pushed to express even more stringently conservative positions, Bush would have an easier time of branding him a general election liability. For the establishment frontrunner, the rule remains the same: The more fighting on the right, the better. And the fire that Cruz is lighting today will burn for some time to come.

The rankings - 1) Jeb Bush; 2) Scott Walker; 3) Ted Cruz [+1]; 4) Marco Rubio [-1]; 5) Rand Paul [-1]; 6) Carly Fiorina [+1]; 7) Rick Perry [-1]; 8) John Kasich; 9) Chris Christie; 10) Ben Carson.

On the Radar - Mike Huckabee, Rick Santorum, Bobby Jindal

What would you say? - Give us your take on the GOP field and we will share the best and brightest with the whole class. Send your thoughts toFOXNEWSFIRST@FOXNEWS.COM

Jeb-ernaut: Establishment favorite looks to lock down home turf - NYT: "The political apparatus surrounding former Gov. Jeb Bush, determined to avoid embarrassment in a state that has vexed his party and family in national elections, is plotting a vast operation aimed at turning Florida into a bulwark for his presidential campaign, according to dozens of interviews. The plan, code-named 'Homeland Security,' seeks to try to neutralize two potentially grave but homegrown threats to Mr. Bush's long-anticipated run for president: the likely challenge from a charismatic young Republican senator from Miami, Marco Rubio, who is expected to seek the Republican nomination himself, and a demographic drift within Florida that could doom Mr. Bush there in a fall campaign against a Democrat…In what advisers said could amount to a $50 million undertaking by Election Day…"

[The Washington Free Beacon reports that Bush adviser James Baker is under fire for his scheduled address at tonight's J Street conference, a lobbying group that advocates additional pressure on Israel. As a former secretary of state and long-time critic of America's relationship with Israel, Baker's address has created criticism among Israeli supporters who previously called on Bush to distance himself from the conference.]

Walker scores in South Carolina - WaPo: "COLUMBIA, S.C. – When Jim Ulmer came to see Scott Walker here last week, he was transfixed. 'He's the little engine that could,' Ulmer said, describing the Wisconsin governor who successfully battled labor unions and has rocketed to the front of the Republican presidential race… They acknowledged they know very little about Walker yet said they are ready to vote him into the White House. As they see it, he's a fighter, tenacious and decisive. He fought the unions again and again, and he won each time. They see the 47-year-old governor as a truth-teller, a pure conservative and an energetic, fresh face, as the future…They want to rally behind someone they can relate to, and, importantly, who they think can take the fight to Hillary Rodham Clinton, the Democratic heavyweight, and win. For now, at least, that's Walker."
Rubio snags top Miami donor - Miami Herald: "Jorge Luis Lopez, a prominent Miami-Dade lobbyist, is raising money for Marco Rubio's potential presidential campaign. In an email to clients and others, Lopez is pledging to raise $100,000 for Rubio and is seeking deep-pocketed donors to sign up for the same amount…The email, shared with Naked Politics, said Lopez is seeking nine others who will donate and raise a total of $100,000 for the Rubio Victory Committee. Lopez's email captures the team-picking underway among Miami's political establishment as Rubio battles Jeb Bush for hometown dollars and support in the 2016 presidential race."
[Happy anniversary, ObamaCare - Noting the likelihood that the Supreme Court will strike down the president's health law subsidies, Sen. Marco Rubio, R-Fla., offers his three part plan for the post-ObamaCare era today at Fox News Opinion.]

Undercard for Kasich? - In this Cleveland Plain-Dealer column, Thomas Suddes sizes up Ohio Gov. John Kasich as a potential running mate. "No one seeks the vice presidency. A presidential nominee picks a running mate. But [Jeb Bush] has to be giving Kasich the once-over. For one thing, Kasich, who was in the U.S. House for 18 years, and a maestro of the federal budget, might be able to help a Bush White House deal with Congress."

Christie keeps up attacks - TIME: "New Jersey Gov. Chris Christie warned the Republican Party's top donors Saturday against backing a candidate who flip-flops on important issues. Addressing a harbor-side reception Saturday at an exclusive retreat for donors to the Republican National Committee, the Garden State governor appeared to criticize Wisconsin Gov. Scott Walker, without mentioning him by name, for adjusting his positions to curry favor with early state voters. 'We need to make sure that we make our party bigger and broader than it's been before,' Christie told a sunset gathering of about 250 donors who have given more than $15,000, and as much as $330,000, to the GOP. 'And that's not about pandering, it's not about flip-flopping on issues'…"

Carly Fiorina is in Texas today for a speech and some politicking. At a meeting organized by her political action committee, Fiorina said she wasn't running to be vice president but would be in the race to win it. She told supporters, "so far, all systems are 'go.'"

WITH YOUR SECOND CUP OF COFFEE…
What if you couldn't remember? It sounds like a nightmare for most, but is there a more merciful side to amnesia? What if you kept some sense of yourself and the work you loved doing, but carried no baggage from the past? What if you weren't haunted by what was gone? The New Yorker tells the story of renowned illustrator Lonni Sue Johnson, who lost most of her memories and much of her ability to make new ones after an infection ravaged her brain seven years ago. "Her 'temporal window'—the period of time that she can reliably keep track of—slams shut after only a minute or two." But what Johnson can do is draw and draw and draw. She mostly seems to be content to remain lost in the presentness of her life today. It is when she is reminded of unhappy facts of life – the death of her father, her loss of the ability to fly an airplane, etc. – that Johnson seems to suffer the most. Is memory a gift or a curse? It would seem that it depends entirely on how you look at it.

Got a TIP from the RIGHT or LEFT? Email FoxNewsFirst@FOXNEWS.COM

POLL CHECK
Real Clear Politics Averages
Obama Job Approval: Approve – 44.8 percent//Disapprove – 51.4 percent
Direction of Country: Right Direction – 31.4 percent//Wrong Track – 59.8 percent

HILLARY, AIDES USED PRIVATE EMAIL FOR BENGHAZI TALK
Senior government officials described some of Hillary Clinton's emails surrounding the 2012 Benghazi, Libya attack for the NYT: "They provided no evidence that Mrs. Clinton, as the most incendiary Republican attacks have suggested, issued a 'stand down' order to halt American forces responding to the violence in Benghazi, or took part in a broad cover-up of the administration's response, according to senior American officials. But they did show that Mrs. Clinton's top aides at times corresponded with her about State Department matters from their personal email accounts, raising questions about her recent assertions that she made it her practice to email aides at their government addresses so the messages would be preserved, in compliance with federal record-keeping regulations."

Hillary's brother tapped family connection for Haitian gold mine - WaPo detailed another potential complication for Hillary: her brother Tony Rodham's involvement in a Haitian gold mine embroiled in controversy over potential environmental damage and the belief that the project will primarily benefit foreign investors…. Rodham and the chief executive of Delaware-based VCS Mining said they were introduced at a meeting of the Clinton Global Initiative — an offshoot of the Clinton Foundation that critics have long alleged invites a blurring of its charitable mission with the business interests of Bill and Hillary Clinton and their corporate donors."

Democrats still seeking fake primary - As Democratic frontrunner Hillary Clinton gets ready to officially enter the race with another speech to supporters today, her party has become increasingly concerned that she will emerge from a symbolic primary process unready, ideologically unmoored and without having her wounds properly cauterized. So what to do? Create the illusion of a real contest – as long as a resulting Hillary victory is ensured. "'[W]e're going to have a very robust primary,' [N.H.] state Democratic Party Chairman Ray Buckley told the Union-Leader. 'It's going to happen. (A challenger to Clinton) will emerge.'" The Boston Globe, which backed Hillary rival Barack Obama in 2008, is out pushing Sen. Elizabeth Warren, D-Mass.: "Democrats would be making a big mistake if they let Hillary Clinton coast to the presidential nomination without real opposition…," the paper claims. But like the Al Gore balloon that was floated in recent weeks, the point is for someone not to win, but to spend tens of millions of dollars to tune Clinton up for the real race and force her to run as an explicit liberal.

[Clinton will deliver the Toner Prize for Excellence in Political Reporting today in Washington.]

O'Malley sets his sights on Iowa - Des Moines Register: "If he's really serious about the White House, where has Democrat Martin O'Malley been?...O'Malley, a 52-year-old Democrat who served as governor of Maryland, cultivated Iowa activists with vigor before the fall elections, then disappeared. He didn't resurface until this past weekend…Asked if Iowa Democrats can expect to see him here frequently in the approximately 315 days until the first-in-the-nation presidential vote, O'Malley hedged a bit. 'I think that any serious presidential campaign has to present its candidacy and its ideas for governing to the people of Iowa,' he told the Register. 'If I were in this race, that's certainly what I would do.'"

[O'Malley sang folk songs for potential supporters in Council Bluffs.]

2016 Democratic Power Index - 1) Hillary Clinton; 2) Joe Biden; 3) Elizabeth Warren [+1]; 4) Martin O'Malley [-1]; 5) Jim Webb

POWER PLAY: GRASSLEY SLAMS DEMS ON RACISM CLAIMS
Sen. Chuck Grassley, R-Iowa, has some string words for Democrats who claim racism is behind the delayed vote on the nomination of Loretta Lynch to be the next attorney general. Grassley joins Chris Stirewalt to discuss that and what the effort to bring a budget plan across the finish line means for ObamaCare and other issues. WATCH HERE.

Ex-Im Bank battle heats up - Freedom Partners Chamber of Commerce, a nonpartisan group championing the benefits of free markets and society is launching a campaign against cronyism and the Export-Import Bank today. In their first web titled "A Bad Deal," Freedom Partners president Marc Short says, "The Ex-Im Bank puts billions of taxpayer dollars at risk to subsidize some of the world's largest, most well-connected companies at the expense of hard-working American taxpayers. Congress should take a stand against corporate welfare and allow this bank to expire." Opposition has gained momentum with 2016 Republican presidential contenders including Senators Ted Cruz, Rand Paul, Marco Rubio and former Gov. Jeb Bush have all come out against reauthorization.

Budget battle dominates - The Hill: "Republicans in the House and Senate will both focus on passing their respective budget plans this week in what's expected to be a long and protracted debate…. It's unclear if House Republicans keep both fiscal and defense hawks on board. No Democrats are expected to vote for the budget resolution, meaning that Republicans will have to pass it on their own….A final House vote on the budget, which would balance in nine years, is likely Wednesday or Thursday. The Senate, meanwhile, is expected to conduct a "vote-a-rama," during which senators can offer an unlimited number of amendments to the budget. The back-to-back votes on amendments are likely to go all night, possibly Thursday. Senate Democrats have pledged to block any attempt to increase defense spending without also increasing spending for non-defense programs."

[Chad won't leave you hanging - Fox News Senior Producer for Capitol Hill Chad Pergram details how this is a make or break week for the House: "[I]f things go well, the House Republican majority could score two of its biggest legislative victories in quite a while, demonstrating it can govern. The stakes are high as the GOP plans to debate and approve a budget. It's a two-step in which Republicans slash spending but maneuver … to bolster defense programs, satisfying both fiscal conservatives and budget hawks. Or, the effort could blow up in the Republicans' face."]

SO YOU'RE SAYING THE #RACETOGETHER TATTOO WAS A MISTAKE?
Well, that was quick. Starbucks has already scrapped its promotion #RaceTogether, in which employees were to engage customers on the issue of race. The responses to what was deemed exploitative and obnoxious by commentators across the political spectrum were, ahem, not subtle. But to be fair, there have been worse corporate promotions. Like the time the Cleveland Indians sold beer for a dime or an environmental group's exploitation of 9/11 or the offer of free food for life for those customers who got a tattoo of a San Francisco restaurant's mascot.

Chris Stirewalt is digital politics editor for Fox News. Want FOX News First in your inbox every day? Sign up here.
Chris Stirewalt joined Fox News Channel (FNC) in July of 2010 and serves as politics editor based in Washington, D.C. Additionally, he authors the daily Fox News Halftime Report political news note and co-hosts the hit podcast, Perino & Stirewalt: I'll Tell You What. He also is the host of Power Play, a feature video series on FoxNews.com. Stirewalt makes frequent appearances on network programs, including America's Newsroom, Special Report with Bret Baier and Fox News Sunday with Chris Wallace. He also provides expert political analysis for FNC's coverage of state, congressional and presidential elections.