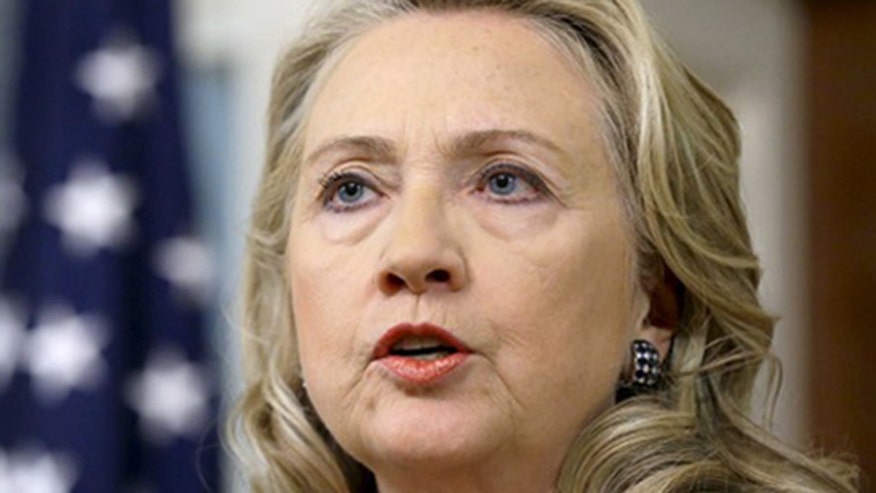 **Want FOX News First in your inbox every day? Sign up here.**
Buzz Cut:
• No entitlement reform: Hillary email scandal reveals core weakness
• (White) House of pain
• Walker backs late-term abortion ban
• Feds approved amnesty for 100,000 before judge halted
• Orange you glad I didn't say banana?
NO ENTITLEMENT REFORM: HILLARY EMAIL SCANDAL REVEALS CORE WEAKNESS
If you were one of the many, many people running the second presidential campaign of Hillary Clinton, what is one thing you absolutely, positively, double-dog, by-jiminy would not want your candidate to be doing tonight? Other than perhaps hosting an event on electronic transparency for the exiled government of Libya, Clinton has found absolutely the worst place to be. She is going to attend a gala at a super-posh venue on Wall Street for her family foundation. Woof. Hitting what reportedly will be a glitzy event to raise more money from the global upper crust for a foundation at the center of a fundraising fiasco would be bad enough for the presumptive Democratic nominee even without the bizarre new and continually expanding scandal surrounding her private emails at the State Department. Prior to the new revelations, Clinton might have been able to blow off the press, schmooze with the .0001 percent and get back on the trail. But the revelations will turn tonight into a public embarrassment fitted like Versace gown for political attacks rather than a private indulgence.

[Power Play - How damaging will this latest scandal be and will Hillary need to come out and address it? Chris Stirewalt provides the lay of the land, in just 60 seconds. WATCH HERE.]

Enablers - One can't blame Clinton for the bad timing. She certainly knew that dodging transparency and accountability measures would result in a scandal, but she couldn't have known when. (When you are operating a "homebrew" server out of your house for official emails, you probably aren't figuring it's no big deal.) She must have imagined that she could ride out the bad press and that the disruption would be worth the advantages offered by secrecy and unaccountability. One cannot blame Clinton for the disastrous timing of this concatenation, but if she and her family can't resist celebrating their Wall Street connections and big buckraking right now there is an evident lack of judgment at work. Through that lens, we get a better insight on why Clinton felt she could operate her own private email system when she worked for the government. Because she felt entitled to do so. As her campaign lumbers and lurches forward, we see entitlement at the core of many of Clinton's problems. If there is not one of her many advisers who are able to convince Clinton that she must learn to live by the rules, this candidacy will be just as doomed as the last one.

Sauce for the goose… "At the end of the day, it looks like they were trying to avoid the records act ... by operating official business off the official systems," –John Podesta, top adviser to Hillary Clinton, criticizing the Bush administration officials for using private emails in a 2007 WSJ interview.

[À la Haig - Buzzfeed'sBen Smith got a telling response to a question he posed to John Podesta on Hillary Clinton's emails. "…when I am in charge of the campaign I will return your calls."]

Look over here! - The Clinton campaign network sent a letter to Florida's Department of State Tuesday "…requesting unreleased emails sent from Jeb Bush's private email account during his time as governor. Recently, Bush was quick to brag about releasing 250,000 emails in his ostensible devotion to transparency -- but Bush said he received 550,000 emails on his private account and 2.5 million emails on his public account during his gubernatorial tenure."

[The Atlantic dives into Clinton's longstanding contempt for transparency and accountability measures, at least when applied to her.]

(WHITE) HOUSE OF PAIN: NO PLAN TO AID THOSE WHO COULD BEAR BRUNT IN OBAMACARE CASE
With Supreme Court arguments today on a case that could blow the bottom out of ObamaCare and put policies for millions at risk, the president and his team is reverting to the Clubber Lang doctrine for such standoffs. Their prediction: Pain. As the NYT reports, the administration is intentionally refusing to consider any backup plans at the risk of signaling "to the justices that reasonable solutions existed." And if past conduct is indicative, the president must also hope that by maximizing suffering in the short term, he can better block Republican alternatives and gain the upper hand on preserving his law in the eventual rescue operation. Meanwhile, no fewer than four Republican plans have emerged. The most recent is from by Sen. Ted Cruz, R-Texas, and five co-sponsors, including Sen. John Barrasso, R-Wyo., and Sen. Marco Rubio, R-Fla. There are other, potentially complementary, plans already on offer including one includes financial assistance for individuals who would lose coverage, another that would offer tax credits and the one perhaps best suited for an emergency measure sponsored by Sen. Ben Sasse, R-Neb.

Government case rests in part on Jonathan Gruber's honesty - WaPo: "MIT economist Jonathan Gruber first earned notoriety because of this challenge. Opponents of the law last summer circulated a 2012 video of him saying — contrary to the administration's argument — that states would deprive their residents of subsidies if they didn't set up their own exchanges. Gruber, who had widely been described as an architect of the ACA, later said the comments were a mistake."

Carpe diem - New in Fox News Opinion, former Romney policy adviser Lanhee Chen writes that Republicans should seize the opportunity to tackle the future of health care: "Liberal commentators are doing their best to portray a doomsday scenario for the American health care system if the plaintiffs in the case are victorious. And most importantly, President Obama is sure to blame Republicans if the impact of the case is lost coverage or higher premiums. There is a talented field of potential Republican candidates for the presidency in 2016, however, who should see the King case as an opportunity to make important arguments about the future of the American health care system."

[Watch Fox: Correspondent Shannon Bream has the latest on ObamaCare arguments live from the Supreme Court.]

FEDS APPROVED AMNESTY FOR 100,000 BEFORE JUDGE HALTED
Stephen Dinan reports: "The administration processed about 100,000 applications for amnesty for so-called Dreamers under some of the expanded rules President Obama announced last year, lawyers told a Texas judge late Tuesday, in a move that could complicate their claim that they have halted all action under the amnesty. Mr. Obama's Nov. 20 announcement offered a number of different benefits to illegal immigrants, including expanding eligibility for his 2012 amnesty for Dreamers and boosting the amount of time he was granting an amnesty form deportation and permits for legal work from two years to three years. While the administration hadn't begun collecting applications under the expanded eligibility, it had awarded tens of thousands of three-year permits to applicants who had qualified as Dreamers under the original rules from 2012."

[Watch Fox: Chief Congressional Correspondent Mike Emanuel reports on the GOP fight to block President Obama's executive amnesty for millions of illegal immigrants.]

NOT JUST BIBI: PRESSURE GROWS TO NIX DEAL ON IRAN NUKES
Reuters: "U.S. Secretary of State John Kerry flies to Riyadh this week to try to reassure King Salman that any nuclear deal with Iran will be in Saudi interests, despite the kingdom's fears that it may boost Tehran's backing for Shi'ite Muslim groups in the region. … While the main critics of the U.S. push for a nuclear deal with Iran are Israel and Congressional Republicans, Sunni Muslim powerhouse Saudi Arabia is also concerned that an accord would allow Iran to devote more cash and energy to Shi'ite proxies in Syria, Iraq, Lebanon and Yemen, escalating conflicts. 'The Saudis fear Obama will give the Iranians a deal whatever the cost because it is important for his legacy and that Iran will get a certain regional status in exchange for an agreement,' said one diplomat in the Gulf."

Words that Hurt - "Mr. Kerry fancies himself a shrewd statesman on the global stage. But, in truth, history only remembers for his failure to beat former President George W. Bush in the 2004 presidential election. Unless, of course, he strikes a deal with Iran that leads to the annihilation of Israel. Then he will finally be remembered for something else." – Charles Hurt writing in his column for today.

WITH YOUR SECOND CUP OF COFFEE...
If you start today, you could serve homemade corned beef on St. Patrick's Day. Not only can you cure your "joint of beef" with whatever flavor ratios of coriander and allspice (or whatever else) you like, but you can also be sure that the meat itself is perfect: lean enough for good slicing and great sandwiches from leftovers and strong enough to deliver beefy flavor and handle a jaw-dropping 12-day brine. [Fox News First officially recommends the often-underestimated eye of round, but hey, it's your pickled portion.] Corned beef is, of course, an American nod to our Irish roots not an Irish export. The recipe as we know it likely resulted from Irish immigrants using fresh, fatty cuts available here to replicate the taste of the lean, salted beef that would have been a luxury item for peasants over there. The result was a delicious cross-cultural phenomenon. How cross-cultural? This great recipe comes from renowned California butcher Aaron Rocchino.

Got a TIP from the RIGHT or LEFT? Email FoxNewsFirst@FOXNEWS.COM

POLL CHECK
Real Clear Politics Averages
Obama Job Approval: Approve – 44.6 percent//Disapprove – 51.1 percent
Direction of Country: Right Direction – 32.5 percent//Wrong Track – 59.5 percent

WALKER BACKS LATE-TERM ABORTION BAN
Milwaukee Journal-Sentinel: "Gov. Scott Walker on Tuesday embraced a move to ban abortion after 20 weeks after repeatedly declining to spell out where he stood on the issue in last year's re-election campaign. Wisconsin Right to Life has touted as its top priority legislation that has yet to be introduced that would prevent women from seeking abortions in most cases after 20 weeks. Walker said in last year's campaign he opposed abortion, but refused to say whether he supported banning the procedure after 20 weeks…In a Tuesday letter, he addressed specific legislation head on. 'As the Wisconsin legislature moves forward in the coming session, further protections for mother and child are likely to come to my desk in the form of a bill to prohibit abortions after 20 weeks,' his letter said. 'I will sign that bill when it gets to my desk and support similar legislation on the federal level. I was raised to believe in the sanctity of life and I will always fight to protect it.' The letter was on Walker's campaign letterhead and released by the Susan B. Anthony List, an anti-abortion group."

Jeb's mega donors asked to keep contributions under $1 million this quarter -
WaPo: "An unusual request has gone out to wealthy donors writing large checks to support former Florida governor Jeb Bush: Please don't give more than $1 million right away. The requested limit, confirmed by multiple people familiar with the amount, may mark the first time that a presidential hopeful has sought to hold off supporters from contributing too much money. The move reflects concerns among Bush advisers that accepting massive sums from a handful of uber-rich supporters could fuel a perception that the former governor is in their debt. The effort is also driven by a desire to build as broad a pool of donors as possible among wealthier contributors. …His potential rivals have acknowledged that they have little hope of matching his current pace. Pro-Bush fundraisers have been encouraged to stick to the $1 million per donor limit for the first 100 days."

Rubio dines with casino magnate Adelson - Fox News colleague Serafin Gomez reports: "Florida Sen. Marco Rubio dined with Republican mega-donor Sheldon Adelson at a steakhouse in Washington Monday night, a person with direct knowledge of the meeting told Fox News. Adelson, a casino mogul, pumped nearly $100 million of his own money into super PACs to help 2012 GOP presidential candidate Newt Gingrich and eventual GOP presidential nominee Mitt Romney. His meeting with Rubio comes as the Florida Republican weighs his own White House bid for 2016…Rubio donors sources also have confirmed there is a $50 million fundraising target before the Iowa caucuses. PAC aides are aggressively courting Romney's former finance chairman, Spencer Zwick, who is perceived as a gatekeeper to Romney's formidable donor network."

[Joins conservative stalwart Lee on tax plan - In this WSJ op-ed, Rubio and Sen. Mike Lee, R-Utah, introduce their sweeping tax reform plan which includes cutting the corporate tax rate to 25 percent and the personal rate from the current seven brackets down to two, 15 percent and 35 percent.]

Perry prods big buck backers in New York - CNN: "Rick Perry hosted a dinner at the posh Carlyle Hotel in Manhattan's Upper East Side on Monday, marking the former Texas governor's latest overture to the New York donor class as he mulls a potential 2016 White House run. The gathering attracted about 40 to 50 guests and there was no fee to attend, two attendees told CNN. Among the guests were John Catsimatidis, former New York City mayoral candidate and billionaire owner of the grocery chain Gristedes, and CNBC host Larry Kudlow.

Kasich heading to New Hampshire 'soon' - "All options are on the table. I've made no decision, and there's no timetable right now. I understand the realities of political decision-making, but there's no reason for me to have to make any decision at this point. I think we're going to go to New Hampshire sometime soon. I've gotten I don't know how many invitations to go there." –Gov. John Kasich, R-Ohio, in an interview with Politico

Poll: Lindsey should pass on prez bid - The State: "Nearly two-thirds of S.C. registered voters say U.S. Sen. Lindsey Graham should not run for president, according to a Winthrop Poll released Wednesday. The poll…comes as the Seneca Republican makes visits to early-primary-states Iowa and New Hampshire while a political committee assesses whether the three-term senator should pursue a White House bid in 2016."

KOCHS COME OUT AGAINST 'CORPORATE WELFARE' AT EX-IM BANK
The Hill: "Koch Industries told lawmakers to oppose reauthorizing the Export-Import Bank in a letter sent to Congress on Tuesday and obtained by The Hill. Philip Ellender, president of government and public affairs at Koch Companies Public Sector, wrote in the letter that 'the Ex-Im bank is yet another example of the government intervening in the market to pick winners and losers.' ... Congress must reauthorize the Bank before June 30 or it will shut down. Many hard-line conservatives oppose the bank, calling it tantamount to 'corporate welfare' and 'cronyism.'"

Bank broadside offers clue to network backing - WaPo: "Freedom Partners president Marc Short singled out former Florida governor Jeb Bush, Sen. Marco Rubio of Florida, Sen. Rand Paul of Kentucky and Sen. Ted Cruz of Texas for backing the phase-out of the bank, a federal entity that provides loans to U.S. companies doing business overseas."

ORANGE YOU GLAD I DIDN'T SAY BANANA?
Did you know about the war on knock-knock jokes? NPR examined the history and evolution of knock-knock jokes, or as they were originally known, "do you know" jokes, e.g. "Do you know Arthur?" "Arthur who?" "Arthurmometer!" Pun haters at the start of the 20th century believed that such drivel couldn't last. Not only did it last but intensified with the knock-knock format in the 1930s. Central Pennsylvania seems to have been the epicenter of the boom, with special credit belonging to radio station WKBO in Harrisburg, which marked the selection of Frank Knox as the 1936 Republican vice presidential nominee a day of the jokes. Get it? Knox-Knox. Clubs of knock-knock lovers, musical numbers and appearances in movie scripts followed as craze intensified, as did the corresponding loathing among sophisticates. In time, the jokes receded to being mostly kids' stuff, as they provide a great formula for young jokesters who are learning about comedic timing. When they were gone from mainstream life, the haters could finally greet Miss Zellitsover at the door. You know… Gladys Zellitsover.

AND NOW, A WORD FROM CHARLES…
"Look, when you hear these stories about the Clintons, it's all of a pattern. Whether or not it was illegal, how scandalous it is, yes, it was a breach of secrecy, it established a security risk and, of course, it allows the Clintons complete control over what is known and what's not known, which is not supposed to be the case. But it is so Clintontonian. The amazing thing here is, they never sought to hide it." —Charles Krauthammer on "Special Report with Bret Baier" Watch here.

Chris Stirewalt is digital politics editor for Fox News. Want FOX News First in your inbox every day? Sign up here.
Chris Stirewalt joined Fox News Channel (FNC) in July of 2010 and serves as politics editor based in Washington, D.C. Additionally, he authors the daily Fox News Halftime Report political news note and co-hosts the hit podcast, Perino & Stirewalt: I'll Tell You What. He also is the host of Power Play, a feature video series on FoxNews.com. Stirewalt makes frequent appearances on network programs, including America's Newsroom, Special Report with Bret Baier and Fox News Sunday with Chris Wallace. He also provides expert political analysis for FNC's coverage of state, congressional and presidential elections.