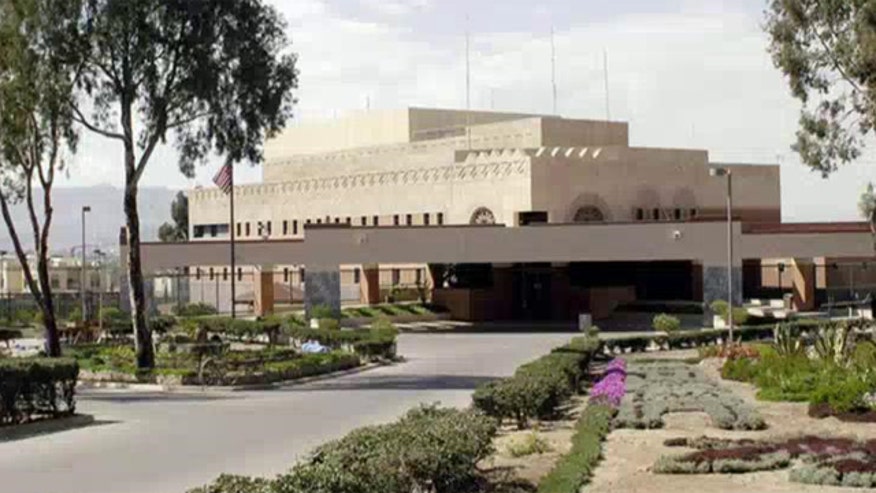 The top Senate Republican on the Homeland Security Committee has demanded answers from Secretary of State John Kerry about the rushed evacuation from the U.S. embassy in Yemen earlier this month after a Fox News report showed sensitive information was left exposed.
"The confusion surrounding the closure of the U.S. Embassy in Sana'a raises questions about the extent to which Department personnel followed procedures in place to ensure that they secured U.S. Embassy assets," Sen. Ron Johnson of Wisconsin wrote in the four-page letter.
"While the safety and security of U.S. personnel overseas is of paramount importance, the Committee seeks to ensure that sensitive information is not susceptible to potential exposure in future such scenarios," he added.
CLICK HERE TO READ JOHNSON'S LETTER
Johnson asked Kerry to answer nine specific questions about the evacuation by no later than March 11.
The questions include the decision by the U.S. Ambassador to Yemen, Matt Tueller, and Undersecretary for Management Patrick Kennedy to leave an unclassified communication link, known as OpenNet, up and running in case the evacuation plan failed, and more than 120 Americans had to return to the embassy for an indefinite period.
Johnson also wanted to know whether the sensitive information left behind in Sana'a was successfully erased from the hard drives, or whether it can still be recovered , as well as an update on the status of 20 government SUVs left at the airport.
After exclusive details -- gleaned from internal State Department emails --were reported February 18, the State Department did not contact Fox News to dispute the account. Rather, an unnamed State Department official apparently sought to limit the damage two days later by providing anonymous quotes to "Foreign Policy" magazine – the substance of which did not conflict with Fox's original reporting.
In addition to exposing sensitive information on OpenNet, the internal emails reviewed by Fox News show at least four servers, including financial management information as well as consular affairs -- which contains sensitive passport and visa application information -- had to be scrubbed after the embassy staff left.
And while it is technically accurate that OpenNet was eventually taken down, as the unnamed State Department official told "Foreign Policy," it took three days to accomplish and the data deletion had to be done remotely. Supervisors warned in the State Department emails reviewed by Fox that the data was vulnerable and potentially available to the "bad guys."
"The safety and security of U.S. personnel overseas is of utmost importance. As recent events in Yemen illustrated, the security environment throughout the Middle East is rapidly changing," Johnson's office said in a statement. "With this in mind, the department must ensure that diplomatic personnel are aware of and follow proper protocol in the event of a need to quickly evacuate or close a diplomatic facility. In addition to the safety and security of American personnel, it is vital that the department ensure that its sensitive information and assets housed overseas are properly secured and not left susceptible to potential exposure."
Catherine Herridge is an award-winning Chief Intelligence correspondent for FOX News Channel (FNC) based in Washington, D.C. She covers intelligence, the Justice Department and the Department of Homeland Security. Herridge joined FNC in 1996 as a London-based correspondent.