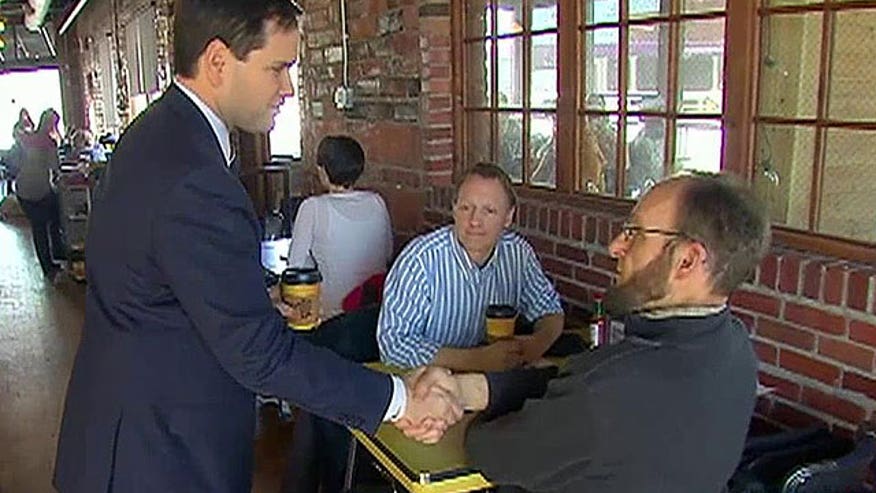 DES MOINES, Iowa – Sen. Marco Rubio is no stranger to Iowa. The Florida senator was one of the first prominent Republicans to campaign for rising GOP star Joni Ernst, who upset the primary field last year and went on to win the state's open Senate seat in November.
On Friday, the potential 2016 presidential candidate returned -- making his first stop in the Hawkeye State as part of a campaign-style book tour.
"I'm putting out my ideas," Rubio said in an interview with Fox News. "I imagine and I hope other candidates will follow suit [with] a very specific set of ideas about what we would do for the future of our country."
Rubio has not formally launched a presidential campaign. But his book tour -- starting in Des Moines and heading next to the four earliest-voting states in the GOP primaries -- and recent staff hirings by his Reclaim America PAC indicate he is proceeding forward with a 2016 bid.
"Look, I'm very seriously thinking about running for president. There is no mystery about that. Iowa is a critical place in that endeavor," Rubio said. "I don't think there is anything wrong with coming to this state, obviously, talking to people about my ideas and laying that groundwork, if in fact, that's the direction we go."
While none of the 2016 GOP potential aspirants have yet declared, the players in the ever-expanding field have been busy with behind-the-scenes maneuvering.
Wisconsin Gov. Scott Walker, who did well in a recent Des Moines Register poll here, is the first of the group to lease Iowa offices. This week, his PAC selected a location in Urbandale, just outside of Des Moines.
Former Florida Gov. Jeb Bush recently hired David Kochel, a former Mitt Romney advisor, as his top Iowa aide, and as a potential national campaign manager if the former governor decides to run.
But many of the likely GOP presidential contenders are facing a potential hurdle: the residual Iowa clout of the 2008 caucus winner, former Arkansas Gov. Mike Huckabee. Eight years later, Huckabee could have a built-in advantage, according to top Iowa strategists.
"Mike Huckabee is the caucus front-runner. He won it in 2008. He still has a lot of goodwill. Mike Huckabee has a turnkey operation here," said Tim Albrecht, who worked for Romney in 2012 and has worked for Iowa Gov. Terry Branstad. "When he says 'go,' his people are going to be fired up and they will be with him just like they were" in 2008.
Huckabee, a former Fox News host, is close to influential pastors in Iowa and still carries strong name recognition.
Family Leader President Bob Vander Plaats, a key social conservative figure in Iowa (who backed Huckabee in 2008), agreed with Albrecht's assessment but said it would not be an easy path for the former Arkansas governor.
"If the caucus were to happen today, I think Mike Huckabee is going to be a very strong candidate. ... People just flat-out like Governor Mike Huckabee," he said. "But that doesn't mean right away that they are going to be supporting him, endorsing him and championing his effort."
Vander Plaats added, "Governor Huckabee has told me he is going to have to earn the Iowa caucuses again in 2016, just like he did in 2008."
Other prominent Republicans in Iowa believe Huckabee will continue to be a factor if he decides to run but say many are eager to hear from "fresh faces."
"I think Iowans are very interested to see what candidates like Marco Rubio and Scott Walker are going to bring to the conversation," said Matt Whitaker, former Senate candidate and Iowa Republican strategist. "They are fresh faces, they haven't been on the national stage for a long time and I think there is a lot of interest in what they have to say."
As Rubio shook hands with Iowans at Smokey Row Coffee Co. in Des Moines on Friday, many were getting their first face-to-face introduction to the Florida senator.
"I love you," a middle-aged man said and shook the senator's hand, as he waited in line for his coffee.
A blond-haired man in his twenties wasn't quite sure who he was.
"I'm Marco Rubio," Rubio responded, smiled, and put out his hand.
"He's Cuban-American, isn't he? My friend is Cuban-American," a coffee shop customer in a group of white-haired ladies blurted as Rubio walked outside into the cold Des Moines afternoon.
"I like Cuban-Americans," one said, then sipped her coffee and turned back to the conversation.