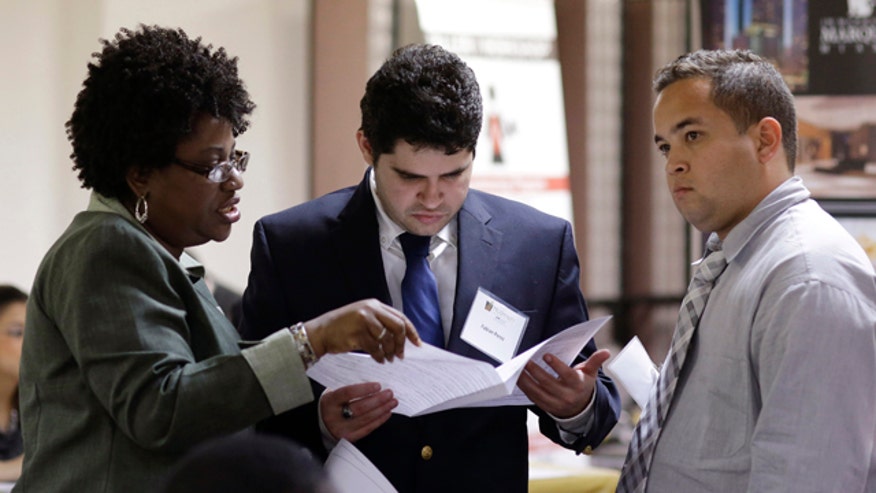 U.S. employers added a robust 257,000 jobs in January and wages jumped, even as the unemployment rate ticked up to 5.7 percent.
The Labor Department report issued Friday also showed hiring was far stronger in November and December than previously thought. Employers added 414,000 jobs in November -- the most in 17 years. Job growth in December was also revised sharply higher, to 329,000, from 252,000.
The numbers point to an accelerating job market, despite words of caution earlier this week that some data put out by the department -- namely, the jobless rate -- are not representative of the full health of the economy.
Gallup CEO Jim Clifton, in a column earlier this week, called the unemployment rate the "Big Lie," since it does not factor in people who have stopped looking for work and the "severely underemployed."
That rate has been falling steadily, as the Obama administration touts an improving economic picture. In the latest report, it ticked up slightly, from 5.6 percent to 5.7 percent. But that occurred for a good reason: More Americans began looking for jobs, though not all of them found work. Their job hunting suggests that they are more confident about their prospects.
U.S. Unemployment Rate & Newly Employed | FindTheBest
The Bureau of Labor Statistics, meanwhile, has defended its reporting.
In a statement, the BLS noted that it releases six different measures to "provide a broad perspective on the employment and unemployment experience of the nation's population."
The statement said: "The official unemployment rate, one of these six measures, is the most widely-recognized, well-understood and timely indicator of labor market conditions because it is based on an objective definition of unemployment: people who are without work, available to work (except for temporary illness), and who have actively looked for work within the past four weeks."
In the latest report, average hourly wages soared 12 cents in December to $24.75, the biggest gain since September 2008. In the past year, hourly pay has increased 2.2 percent. That is ahead of inflation, which rose just 0.7 percent in 2014.
The sharp drop in gas prices in the past year has held down inflation and boosted Americans' spending power. Still, wages typically rise at a roughly 3.5 percent pace in a fully healthy economy.
Strong hiring pushes up wages as employers compete for fewer workers. Job gains have now averaged 336,000 a month for the past three months, the best three-month pace in 17 years. Just a year ago, the three-month average was only 197,000.
The Federal Reserve is closely monitoring wages and other job market data as it considers when to begin raising the short-term interest rate it controls from a record low near zero. The Fed has kept rates at record lows for more than six years to help stimulate growth. Most economists think the central bank will start boosting rates as early as June.
Steady economic growth has encouraged companies to keep hiring. The economy expanded at a 4.8 percent annual rate during spring and summer, the fastest six-month pace in a decade, before slowing to a still-decent 2.6 percent pace in the final three months of 2014.
There are now 3.2 million more Americans earning paychecks than there were 12 months ago. That lifts consumer spending, which drives about 70 percent of economic growth.
The Associated Press contributed to this report.