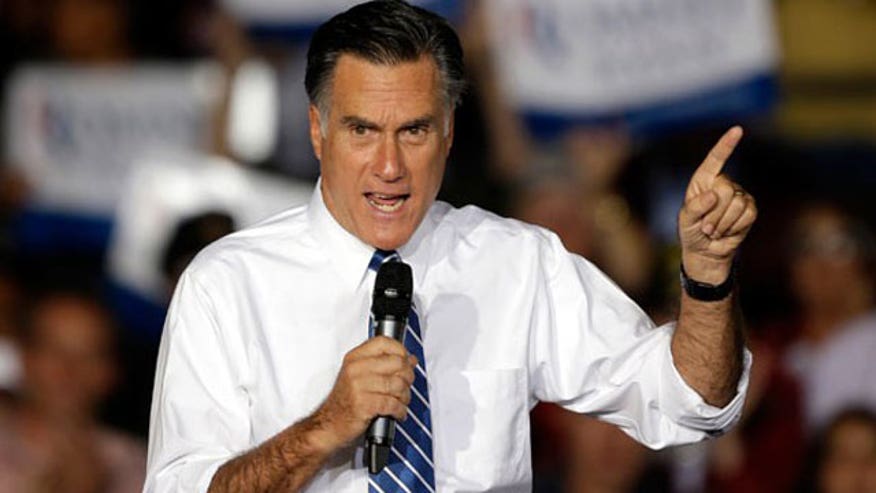 Mitt Romney, after revealing to donors just days ago he's considering a third presidential bid, has aggressively cranked up his outreach to political allies -- leaving Republican operatives with the impression that he, indeed, is likely to join the 2016 horse race.
The former Massachusetts governor has been calling former aides, donors and supporters from his 2012 campaign -- as well as GOP leaders and insiders in the vital state of New Hampshire -- as he weighs a 2016 bid, sources close to Romney told Fox News.
One longtime adviser who has spoken to Romney in the last few days told Fox News it is "very likely" the 2012 Republican presidential nominee will announce a 2016 campaign for president in the next three to four weeks.
Fred Malek, the self-made billionaire who serves as finance chairman for the Republican Governors Association, said Tuesday he believes both Romney and former Florida Gov. Jeb Bush will seek the GOP nomination next year.
"They've taken this forward a lot faster and a lot further than I would have imagined," Malek said in an interview with Fox News. "And I don't think they would have done that unless they have a serious intent on moving ahead."
Others close to Romney -- who for months denied interest in another White House campaign -- are pushing back on the notion that a 2016 bid is inevitable.
"I would not say he is reassembling his [2012] staff. He is giving it a lot of thought and a lot of effort," a senior Romney aide said. "He is talking to a lot of people. This is Mitt Romney's decision."
But the developments show Romney actively checking the pulse of the party and inching ever-closer to a decision -- one he'll likely have to make soon.
After revealing to donors last week that he was weighing a bid, Romney has been busy phoning GOP leaders as well as former supporters from his unsuccessful 2012 bid. This includes calls to advisers and insiders in New Hampshire, which holds the first-in-the-nation primary.
Veteran New Hampshire GOP operative Tom Rath, an adviser to Romney's presidential campaigns in 2008 and 2012, told Fox News he spoke to Romney by phone recently and "he's taking a hard look at it."
He added, "He's leaning towards making another [presidential] run."
Rath said he committed himself to Romney should the winner of the 2012 New Hampshire GOP primary make a third run.
"He's asking his people to hold in place until he makes a decision, which those of us who worked for him before are willing to do," Rath said. "It was a nice call, and we agreed that we'd be speaking again soon."
Sen. Kelly Ayotte, R-N.H., also confirmed Tuesday that Romney has reached out to her. "He is very enthusiastic," she said.
In his phone calls, Romney is emphasizing to them that his wife Ann and their five sons are "fully on board" with another campaign; and that if he runs, he will do things "very differently," Fox News is told.
Romney is said to believe that with the exception of Bush, the other members of the Republican field do not have the experience, fundraising prowess or institutional footing to build a truly national operation, as he has done twice; and that he is better positioned to defeat likely Democratic front-runner Hillary Clinton than Bush would be.
But as the longtime adviser cautioned, "The egg timer is on," with "the sub-primary" already in full swing and major financial donors receiving calls "every hour" from Romney's potential GOP rivals.
Another Romney aide told Fox News that the former Massachusetts governor has a short window to make a decision on a presidential bid -- at most, a month.
Meanwhile, the Republican National Committee has invited Romney to speak at its winter meeting near San Diego this week. An RNC source told Fox News that Romney is confirmed to speak briefly on Friday night.
Bush, who will be in California this week for fundraising events, was also invited to the RNC event but has no plans currently to attend the meeting, a Bush source confirmed to Fox News.
James Rosen joined Fox News Channel (FNC) in 1999. He currently serves as the chief Washington correspondent and hosts the online show "The Foxhole." His latest book is "A Torch Kept Lit: Great Lives of the Twentieth Century" (Crown Forum, October 4, 2016).
Jake Gibson is a producer working at the Fox News Washington bureau who covers politics, law enforcement and intelligence issues.