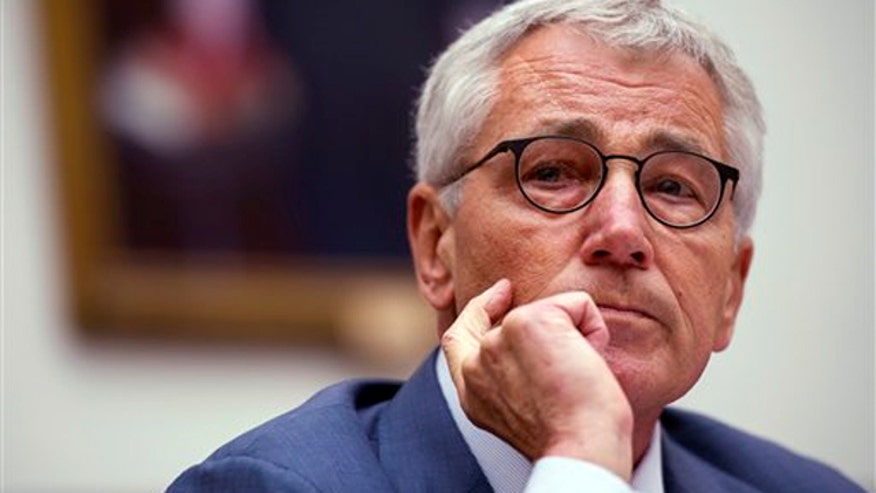 **Want FOX News First in your inbox every day? Sign up here.**
Buzz Cut:
• Obama finds midterm scapegoat in Hagel
• Warren in Tel Aviv with Bibi on Iran deadline day
• Obama: Voters want 'new car smell' in candidate, but Hillary would be 'great'
• Four Pinocchios for Obama immigration claims
• Your selfie stick is jamming my signal
OBAMA FINDS MIDTERM SCAPEGOAT IN HAGEL
In another strong sign of President Obama's hard tack left in the wake of a midterm drubbing, Secretary of Defense Chuck Hagel is heading for the exits. First reported by the NYT, the cashiering of the Pentagon boss comes after "the two men mutually agreed" that it was time for the highest profile Republican in Obama's cabinet to go. But given the fact that the White House was the one pushing out the story, it seems more likely that the president had grown tired of the ongoing pressure from Hagel and members of the top brass to take a more aggressive stance on national security threats abroad. The conflict went public back in August when Hagel openly contradicted White House talking points on the threat posed by Islamist militants in Iraq and Syria. While Obama succumbed to the pressure, Hagel's ouster shows the president seeking to reassert control over his foundering foreign policy.

[Who will replace? - NYT: "At the top of the list are Michele Flournoy, the former undersecretary of defense; Senator Jack Reed, Democrat of Rhode Island and a former officer with the Army's 82nd Airborne; and Ashton Carter, a former deputy secretary of defense."]

Fault finding - Democrats blame disaffection among base voters for the party's historic defeat earlier this month. And, to be sure, there has not been much for liberals to cheer in Obama's foreign policy of late. Not only has the president begrudgingly escalated the war against Islamists, the administration has quietly accepted defeat in the president's bid to get all fighting forces out of Afghanistan. The "endless war" foreign policy combined with stunning revelations about Obama's expansion of domestic surveillance sent the president's approval ratings on national security – once stratospheric after the killing of Usama bin Laden – to a series of new lows. And among no group was the decline more evident than with Democrats. Given the centrality of Obama's dovish foreign policy to the building of his coalition, even the reluctant, half-hearted hawkishness of 2014 might be seen as a key culprit by Democrats in the party's losses.

[The good times - Obama often touted his friendship with Hagel as evidence of bipartisan bent, with the right kind of Republican.]

That was then - Hagel, who became a hero to Democrats for his relentless criticism of fellow Republican President George W. Bush during the Iraq war, apparently still proved too hawkish for the president and his supporters. That Hagel's team was recently expressing confidence that he would serve through the end of the president's term suggests that this reordering came as something of a surprise. Given the harsh critiques of Obama's other top foreign policy advisers, Hagel's replacement will be a fraught business. And with the ongoing struggles of Obama's foreign policy, the debate could further divide Democrats on the most volatile issue for the party and its hawkish 2016 frontrunner.

IRAN NUKE TALKS MISS DEADLINE
AP: "Nuclear negotiators have failed to meet a Monday deadline for a deal that would ease international concerns about Iran's atomic program and are poised to extend the negotiations for a comprehensive agreement until July 2015, diplomats said. Under the terms of limited agreements reached after a frenetic six days of talks in Vienna, a political accord is to be completed by March 1, with final details contained in annexes to be sealed by July 1, the diplomats said….British Foreign Secretary Philip Hammond said it 'was not possible to meet the deadline' due to wide gaps on well-known points of contention, including levels of uranium enrichment and the number of centrifuges Iran would be allowed to operate."

[Jerusalem Post: "Israel has issued a stark, public warning to its allies with a clear argument: Current proposals guarantee the perpetuation of a crisis, backing Israel into a corner from which military force against Iran provides the only logical exit."]

Warren in Tel Aviv with Bibi on deadline day - Jerusalem Post: "While it is two full years before the 2016 US presidential race, the parade of possible candidates to Israel began Monday afternoon with a meeting by Massachusetts Democratic Senator Elizabeth Warren with Prime Minister Binyamin Netanyahu. Warren, whose name has been mentioned as a possible challenger to Hillary Clinton for the democratic nomination, arrived Saturday in Tel Aviv, and will also visit Ramallah and Amman. This is the first trip abroad for the senator, elected in 2012 and who has so-far concentrated largely on US domestic issues."

[Washington Free Beacon: "Iran's foreign minister and lead negotiator in nuclear talks is known to frequently scream and shout at Western diplomats, including Secretary of State John Kerry, a practice that has caused alarm among bodyguards stationed outside the negotiating room, according to a member of the Iranian diplomatic team who spoke to the Farsi-language press.]

RAND CALLS FOR A DECLARATION OF WAR AGAINST ISIS
NYT: "Senator Rand Paul [R-Ky.] is calling for a declaration of war against the Islamic State, a move that promises to shake up the debate over the military campaign in Iraq and Syria as President Obama prepares to ask Congress to grant him formal authority to use force. Mr. Paul, a likely presidential candidate who has emerged as one of the Republican Party's most cautious voices on military intervention, offered a very circumscribed definition of war in his proposal, which he outlined in an interview on Saturday. He would, for instance, limit the duration of military action to one year and significantly restrict the use of ground forces. Unlike other resolutions circulating on Capitol Hill that would give the president various degrees of authority to use force against Islamic militants, Mr. Paul would take the extra step of declaring war — something Congress has not done since World War II. The president has said he will ask Congress for the explicit authority to fight the Islamic State, though administration officials have insisted that he has the legal power to continue the current campaign."

Paul strengthens McConnell ties with fundraiser hire - National Review: "[Sen.] Rand Paul [R-Ky.] is bringing on [Sen.] Mitch McConnell's [R-Ky.] national finance director, Laura Sequeira, to play a key fundraising role at his political-action committee ahead of an expected 2016 presidential campaign."

[Flashback: "We've developed a very tight relationship, and I'm for him…I don't think he's made a final decision on that. But he'll be able to count on me." – Senate Majority Leader-elect Mitch McConnell in a post-electioninterview.]

Air freshener - NYT: "Republicans also confront a generational decision: They have several energetic governors and senators in their 40s and early 50s lining up to run. …Democrats have had their share of intergenerational battles, but this is relatively new terrain for Republicans. With the exception of George W. Bush, every Republican nominee since 1976 has been over 60."

Poll: No GOP frontrunner in N.H. - Among the tightly packed pool of contenders on the Republican side, a new Bloomberg Politics/Saint Anselm New Hampshire poll ties Sen. Rand Paul, R-Ky., and Gov. Chris Christie, R-N.J., at 16 percent each. Former Gov. Jeb Bush, R-Fla., follows close behind at 14 percent. The remaining potential candidates remain further behind with less than 10 percent each. When 2012 Republican Presidential nominee Mitt Romney is added, he jumps way ahead of the field at 30 percent. While on the Democratic side, Hillary Clinton enjoys a substantial lead at 62 percent over her next closest competitor, Sen. Elizabeth Warren, D-Mass., at 13 percent.

Carson gets warm welcome from Iowa evangelicals - USA Today: "Dr. Ben Carson, a prominent retired neurosurgeon widely mentioned as a prospective 2016 presidential candidate, got a warm and enthusiastic reception Saturday night from a key group of Iowa Christian conservatives…Carson pulled no punches in his hour-long remarks, affirming his support for traditional marriage and opposition to abortion while criticizing the Affordable Care Act and President Obama's plans to allow up to 5 million undocumented immigrants to remain in the country."

IG report could dog Kasich - Mark Tapscott reports: "Ohio Gov. John Kasich is often mentioned as a potential 2016 Republican presidential hopeful, but there could be an unexpected roadblock for him, a new Department of Homeland Security Inspector General report said. 'Although Ohio took steps in recent years to improve its management of funds awarded under the Homeland Security Grant Program, [the Federal Emergency Management Agency] cannot be assured that Ohio effectively managed grant funds from fiscal years 2010 through 2012,' the IG said in a report made public Nov. 18, 2014."
OBAMA: VOTERS WANT 'NEW CAR SMELL' IN CANDIDATE, BUT 22-YEAR VETERAN HILLARY WOULD BE 'GREAT'
Fox News: "[President Obama] says voters want a 'new car smell' in the 2016 White House race and that [Hillary Clinton] would be 'a great president.' But would Clinton pass that particular smell test? In a nationally televised interview broadcast Sunday, Obama seemed to suggest that any Democrat other than him would provide the turn of the page that he says voters are interested in. He acknowledged the 'dings' to his own political standing during nearly six years of sometimes bruising battles with Congress and said Americans will want something new. 'They want to drive something off the lot that doesn't have as much mileage as me,' Obama said in the interview with ABC's 'This Week,' which was taped Friday in Las Vegas following a public appearance there by the president."

[Ed. note: And she's "likable enough" to boot! Better get some air fresheners for the campaign plane.]

Hillary repeats mistakes of the past - New Yorker: "On Friday, Ready for Hillary, a super PAC that has been described as "a make-work program for former Clinton hands," and that is busy building a database of donors and volunteers that the group will eventually sell or rent to an official [Hillary] Clinton campaign, held an all-day meeting at the Sheraton on Fifty-third Street, in New York…The meeting came at the end of an eventful week—one that only underscored Clinton's continued reluctance to explain what she might want to do as President. In Congress, the Senate debated two major issues: the Keystone XL pipeline and reform of the National Security Agency. Clinton remained silent about both…"

[In a WSJ op-ed, co-written by Democratic pollsters Doug Schoen and Pat Caddell, write that President Obama is harming Hillary Clinton's chances for 2016 saying, "She needs to distance herself from Mr. Obama without alienating his strongest supporters, but she also needs to develop a clear reason and logic for why she should be elected president—a logic that six years after she first declared her candidacy remains more elusive than ever. Barack Obama could end up beating Hillary Clinton yet again."]

WITH YOUR SECOND CUP OF COFFEE...
What makes string cheese stringy? The Atlantic explores the birth of the delicious single servings of mozzarella that inhabit lunch boxes and bags for Americans young and old. As it turns out, there's nothing magical (or synthetic) about getting the mild mozzarella into its stringy state, just a different handling and packing process. The magazine follows the trail to – where else? – Wisconsin to discover how it all began. "From its humble three- to five-inch length origins, Baker Cheese quickly designed a stick that was thinner, more holdable, and lighter (current string cheese clocks in at 28 grams; prehistoric string cheese was in the 40 to 45 gram range). That was in 1976. But it wasn't until the a few years later, when string cheese had become cylindrified from its original twisted rope state and retail opportunities abounded, that string cheese catapulted from a local oddity to a national craze that caught on with the younger set."

Got a TIP from the RIGHT or LEFT? Email FoxNewsFirst@FOXNEWS.COM

POLL CHECK
Real Clear Politics Averages
Obama Job Approval: Approve – 42.7 percent//Disapprove – 53 percent
Direction of Country: Right Direction – 27 percent//Wrong Track – 66.5 percent

FOUR PINOCCHIOS FOR OBAMA'S IMMIGRATION CLAIMS
WaPo: "As part of its justification for President Obama's executive action on immigration, the White House and its allies have repeatedly stressed that Obama's action, in impact, is roughly equivalent to a step that George H.W. Bush took in 1990…. The numbers generated by that law – a little more than 140,000 — further indicate that the universe of potential applicants was much smaller than 1.5 million, especially given that the law eased restrictions even more. In the end, 200,000 amounts to about 6 percent of the illegal immigrant population at the time, not 40 percent. Small wonder the White House prefers the larger number."
["Saturday Night Live!" poked fun at President Obama's executive action on immigration reform. Watch here.]

More, more, more? – Liberal site Policy.Mic decries the president's failure to expand ObamaCare in his sweeping executive action on immigration: "His latest actions do not provide those newly-protected immigrants access to health care benefits under the Affordable Care Act, preventing millions of people from purchasing coverage and receiving subsidies. Obama could have, within the parameters of existing law, broadened the scope of the program as part of his executive action."
Texas Hold 'Em -"The incoming Majority Leader of the U.S. Senate [Mitch McConnell] should announce if the president implements this illegal amnesty, that we are going to halt confirming any executive or any judicial nominees, other than vital national security positions, until this amnesty ends." –Sen. Ted Cruz, R- Texas, On "Fox and Friends"
David Drucker details how claims by some Republican lawmakers that the "power of the purse" is not an effective option against President Obama's executive decrees on immigration under current law has angered conservative members of the party. A significant factor on that front is shaping up via a challenge by Sen. Mike Enzi, R-Wyo., to conservative Sen. Jeff Sessions, R-Ala., for leadership of the powerful Senate Budget Committee.

BARRICADES, FRAYED NERVES AWAIT DECISION IN FERGUSON
Fox News: "Authorities in St. Louis County, Mo. continued preparations ahead of an expected grand jury decision on whether to charge a white police officer for the fatal August 9 shooting of a black teen in Ferguson. Barricades have been placed around the St. Louis County Justice Center in Clayton, where the grand jury has been meeting… Some expected a decision to be announced this past weekend, but it did not come to pass. The grand jury was expected to reconvene Monday, but there has been no official confirmation that will be the case…. The lack of a decision and a scarcity of official communication about the case has left nerves frayed and many anticipating unrest no matter what the outcome.

Obama not ruling out Ferguson trip - President Obama left open the possibility of a visit to Ferguson after the grand jury decision is announced. "I'm going to wait and see how the response comes about," he told ABC News. The president, who called for calm and cautioned against violence, said he had been in touch with Missouri Gov. Jay Nixon, D-Mo., to ensure that authorities have a plan to "respond in a careful and appropriate way" to any potential violence.

[Flashback - In August, President Obama dispatched Attorney General Eric Holder to Ferguson in the wake of street violence prompted by the shooting.]

"[P]art of what I have asked Eric Holder to do is to not just engage with the folks in Ferguson, but to engage nationally in a conversation between law enforcement and communities of color that often times feel as if they not being treated fairly by law enforcement officials…Law enforcement has a very tough job. But what is clear is that that lack of trust between communities and law enforcement crops up not just in Ferguson but in places all across the country"–President Obama in an interview with ABC News broadcast Sunday.

CASSIDY WIELDS IMMIGRATION ORDER IN SENATE RUNOFF
Monroe [La.] News Star: "It didn't take long for Republican Rep. Bill Cassidy to turn President Barack Obama's Thursday night speech on immigration into campaign fodder. Minutes after the president finished detailing his executive order to protect millions of undocumented immigrants from deportation, Cassidy's campaign began firing off emails targeting Democratic Sen. Mary Landrieu, his opponent in Louisiana's hotly contested Senate runoff…Obama's executive order puts Landrieu in a difficult position. It reminds voters in Louisiana, a conservative state where Obama is widely disliked, that the president and Landrieu belong to the same party. Landrieu, the underdog in the Dec. 6 runoff against Cassidy, would prefer that voters focused on other things. She has worked to distance herself from the president, particularly on energy, apparent in her recent, unsuccessful effort to push legislation through the Senate to authorize construction of the Keystone XL pipeline. She also criticized the president's use of executive power on immigration…Immigration likely won't have much staying power in the Senate race, [says Joshua Stockley, a political scientist at the University of Louisiana,] because Louisiana doesn't have a large immigrant population."

[The latest Real Clear Politics Average gives Cassidy a 15.7 point lead over Landrieu.]

TRAILING, REP. BARBER TRIES TO DELAY VOTE CERTIFICATION
Tuscon [Ariz.] Sentinel: "Attorneys for U.S. Rep. Ron Barber wrote to Secretary of State Ken Bennett, asking him to delay the statewide election canvass. Both Pima and Cochise counties declined Barber's requests to review more ballots. The Democrat trails Republican challenger Martha McSally by just 161 votes, and claims 167 ballots should be added to the count. In a letter Friday, Barber's team said that there were 147 ballots improperly rejected from the count in Pima County, and 20 such ballots in Cochise County...Because of the narrow margin, an automatic recount will be held next month. Tuesday, the Pima County Board of Supervisors rejected a similar request to delay the official approval of the count."

YOUR SELFIE STICK IS JAMMING MY SIGNAL
Tech crazed South Korea has launched a campaign against the "selfie stick," a device used to increase the distance between the camera and the user. The Korea Times reports that the Ministry of Science, ICT and Future Planning is seeking to find and confiscate the camera extenders saying, uncertified sticks could cause other electronic devices to malfunction. The devices have blue tooth technology and therefore fall under the "Wireless Telegraphy Act" require all devices with electromagnetic waves must be certified and tested before being sold for civilian use. The government is asking citizens to report any unauthorized sellers of the extenders. Those caught could face up to $27,000 in fines and prison time for three years. Residents and bloggers are bashing President Park Geun-Hye's attempt for a "creative economy" as simply a way for more creative taxes and a method for more government interference in everyday life.

Chris Stirewalt is digital politics editor for Fox News. Want FOX News First in your inbox every day? Sign up here.
Chris Stirewalt joined Fox News Channel (FNC) in July of 2010 and serves as politics editor based in Washington, D.C. Additionally, he authors the daily Fox News Halftime Report political news note and co-hosts the hit podcast, Perino & Stirewalt: I'll Tell You What. He also is the host of Power Play, a feature video series on FoxNews.com. Stirewalt makes frequent appearances on network programs, including America's Newsroom, Special Report with Bret Baier and Fox News Sunday with Chris Wallace. He also provides expert political analysis for FNC's coverage of state, congressional and presidential elections.