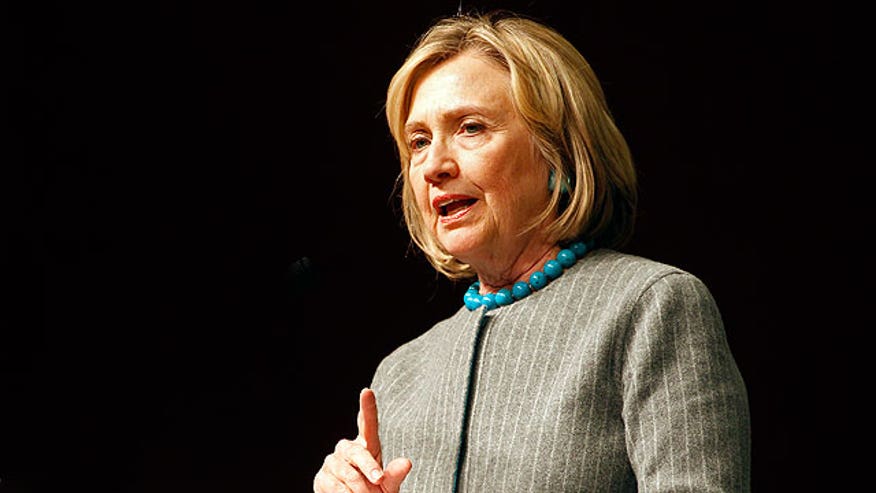 She is the leading global voice championing the empowerment of girls and women, but of the eight Democratic women Hillary Clinton stumped for in the 2014 midterm cycle, only one was declared a winner.
She is the prospective frontrunner for her party's presidential nomination in 2016, but of the 26 Democrats Clinton campaigned for in the midterms, 12 won, 13 lost, and one – Sen. Mary Landrieu of Louisiana – lingers in uncertainty, facing a Dec. 6 runoff election against her Republican opponent.
This cycle marked Hillary Clinton's return to the arena of electoral politics for the first time since her failed presidential bid in 2008 – secretaries of state traditionally abstain from partisan activity – and for those scouring the newly refashioned landscape for indications of how Clinton's White House prospects may be affected, the results are decidedly mixed.
Supporters of the former secretary of state argue that, despite having eschewed the rough and tumble of politics for six years, she used her time on the stump this fall to good effect, forging new and strong ties with local party chieftains in states where such connections will prove valuable to a presidential run in two years.
"I think Hillary Clinton did yeoman's work in campaigning out there for Democrats," said Patti Solis Doyle, a former Clinton campaign manager in 2008, in an interview with Fox News. "She did what she could to help her friends, and very strong Democrats out there. She raised money for them; she campaigned for them."
Solis Doyle emphasized that neither Clinton's name nor her policies were on the ballot on Tuesday – but that hasn't stopped some of her potential rivals from spreading the word that the big GOP gains marked a major setback for her aspirations. Rep. Paul Ryan, R-Wis., the GOP's 2012 vice presidential nominee, told conservative radio host Hugh Hewitt that Tuesday's verdict "tells you that she's not inevitable. I think she's very beatable."
More pointed was Sen. Rand Paul, R-Ky., who took to Twitter with unabashed glee to brand the 13 unsuccessful candidates Clinton stumped for "Hillary's Losers." "The 1990s was a long time ago," Paul said on "Fox and Friends" on Friday morning. "I don't think there is such a Clinton cachet as there once was. ... There is a message here about Hillary Clinton as much as there is a message about the president."
Doug Schoen, a former pollster for President Clinton, dismissed Sen. Paul's suggestions that Mrs. Clinton remains, in the public imagination, tied at the hip to the unpopular incumbent in the White House. "This election was a repudiation, first and foremost, as every Republican I've heard say, of President Obama," Schoen said on Fox News' "Happening Now" on Wednesday. "I think that the Clinton brand is separate and distinct from President Obama. I don't think this has an appreciable impact on her fortunes and future."
With long memories of the central role that Florida and Ohio have played in recent presidential contests, Clinton and her Democratic colleagues cannot have looked favorably upon the Republicans' success on Tuesday in holding onto the governor's mansions in those critical battleground states. Some have argued that she will benefit from the GOP wave by being able to run against the GOP Congress.
Yet in the actual business of campaigning – the deployment of rhetoric and charisma to sway persuadable hearts and minds – Clinton's performance again left some feeling as though she has still not worked out the kinks on display in her rocky book tour this spring. Perhaps Clinton's most memorable statement as a surrogate speaker during this cycle was her assertion, during an Oct. 24 appearance in Boston on behalf of (doomed) Massachusetts gubernatorial candidate Martha Coakley: "Don't let anybody tell you that it's corporations and businesses that create jobs."
That statement prompted criticism from Charles Lane, the left-leaning opinion writer for the Washington Post. " I thought NBC created a job for Chelsea [Clinton], so there is at least one corporation that has created a job," he quipped on the Oct. 27 edition of Fox News' "Special Report with Bret Baier." "She has made quite a few gaffes now since this unofficial presidential campaign has gotten underway."
Solis Doyle, who recalled chatting amiably with Clinton at a Georgetown event last month, thought her former boss effectively used the campaign cycle to regain her footing as a stump speaker after a long absence from the trail and the difficulties of the "Hard Choices" rollout. "There has been some criticism over the book tour," Solis Doyle said. "But I think what was good about that is that it was able to get some of the, you know, not-great performances out of the way, and she's sort of back in her game. ... I thought her performance on the stump during the 2014 midterm elections was pretty good."
James Rosen joined Fox News Channel (FNC) in 1999. He currently serves as the chief Washington correspondent and hosts the online show "The Foxhole." His latest book is "A Torch Kept Lit: Great Lives of the Twentieth Century" (Crown Forum, October 4, 2016).