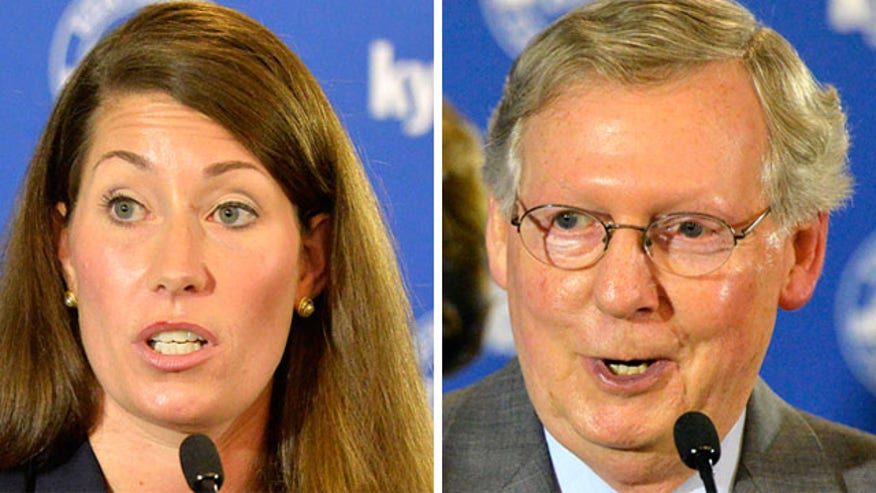 LOUISVILLE, Ky. – Senate Republican Leader Mitch McConnell is pulling away from Democratic challenger Alison Lundergan Grimes in the final stretch of this hard-fought race, polls show, as the incumbent looks to not only lock up a sixth term but also ascend to majority leader if his party takes the Senate.
The bitter rivals, though, haven't stopped campaigning and are riding hard to the finish in a race punctuated by nasty disagreements – most recently, over a Republican campaign mailer that Grimes' camp is calling a tool to scare voters.
"This is rock bottom," Grimes told a crowd in Lebanon, Ky., Sunday night. "This is desperation. This is a scare tactic. This is voter intimidation. This is wrong."
The GOP mailer has the words, "Election Violation Notice," in all caps across the front. It goes on to essentially accuse Grimes of spreading "fraudulent information" to voters.
McConnell over the weekend defended the flier, which his campaign authorized, calling it "absolutely appropriate."
"It just reflects what she's been doing on the air," McConnell said Saturday, referring to the inside of the mailer, which defends him against Grimes' attack ads.
Each side is putting out controversial fliers in the final stretch. Another circulating from the state Democratic Party invoked race -- it features a black family and accuses McConnell of "targeting our president and the community" and "leading an effort to take away our right to vote."
The McConnell campaign called it a "reckless attempt to sow racial division among Kentuckians with false information."
But Grimes defended the mailer and told Fox News that McConnell's record speaks for itself.
"He is the one that's voted against felons actually receiving re-enfranchisement," Grimes said. "He's the one that has actually proposed government-issued IDs at the polls."
The Real Clear Politics average of polls shows McConnell with more than a 7-point lead. The Rothenberg Political Report also moved the race from "lean Republican" to "Republican favored," and an NBC News/Marist poll on Sunday showed McConnell has hit 50 percent and opened up a 9-point lead on Grimes.
McConnell has been preparing for this battle for a long time and has hammered a simple message about his opponent. He has dismissed Grimes as an inexperienced rubberstamp for the failed Obama agenda, on everything from ObamaCare to energy policies and the economy to national security.
"A new face to do what," McConnell said Saturday in Mt. Sterling, Ky. "A new face to vote for the president's agenda. A new face for Harry Reid for majority leader of the Senate. She's a new face for the status quo."
Grimes consistently has slammed McConnell as a right-wing Washington obstructionist in the pockets of big corporate interests.
"Mitch McConnell thinks we can't live without his seniority," said Grimes. "Seniority might be worth something if our senator wasn't up for sale from the highest bidder."
Democrats have poured millions of dollars into the state to defeat McConnell, who isn't popular there -- but neither is President Obama, whose approval ratings are even lower.
Grimes brought the race close at one point, but made a few rookie mistakes along the way.
She has refused to say whether she voted for Obama despite having been a delegate for him at the 2012 Democratic National Convention that nominated him. Some voters saw it as awkward pandering by just another politician.
Grimes emerged as a candidate after Hollywood star Ashley Judd balked at taking on McConnell.
With the help of Grimes' father Jerry, an influential former two-term state Democratic Party chairman, she ran unopposed for her party's nomination.
McConnell's aides, who've been building his ground game all year, tell Fox News his reelection and the GOP majority are all but locked up. Though Democrats dispute this, this would put him in line to helm the Senate for at least the next two years.
"These people in the White House need to be stopped," McConnell proclaimed Saturday. He said there's nobody he wants more to have a bad night Tuesday than Obama.
According to sources, McConnell has been quietly plotting a strategy for a GOP Senate majority with colleagues and aides for months. If Republicans control Congress, McConnell and House Speaker John Boehner, R-Ohio, may be able to hammer out some compromises with Obama.
But the 2016 presidential race limits the window of opportunity to the first six-to-eight months of next year. After that, the race to succeed Obama will make doing business while he's around all but impossible.
With that calendar in mind, top Republican staffers say to expect to hear from a couple of ad hoc bipartisan "gangs" with various options for deals the president might sign should the GOP control both sides of the Capitol.
Lawmakers in both parties want to move energy legislation, secure the border and strengthen national and economic security.
Sources also say that Democrats in competitive states, win or lose, have validated the GOP criticism of the Obama agenda on issues including guns, Keystone XL Pipeline and national security policy, which includes Syria, the Islamic State, Vladimir Putin, Ebola and more.
McConnell also would go after the Affordable Care Act, but not immediately. Whatever the House of Representatives passes to reform or repeal the law would likely need to be watered down to get through the Senate. Should this happen, it is expected Obama would veto the first few bills to reach his desk, recognizing McConnell is prepared to bide his time.
Still, if a Republican-controlled Congress passes bills next year with a few Democratic votes and the president doesn't sign them, the GOP 2016 field could look stronger. In turn, Democratic White House hopefuls, including Hillary Clinton, would either have to side with or against Obama as they run to replace him.
Jason Donner is a Fox News Producer based in Washington, D.C. Follow him on Twitter: @jason_donner