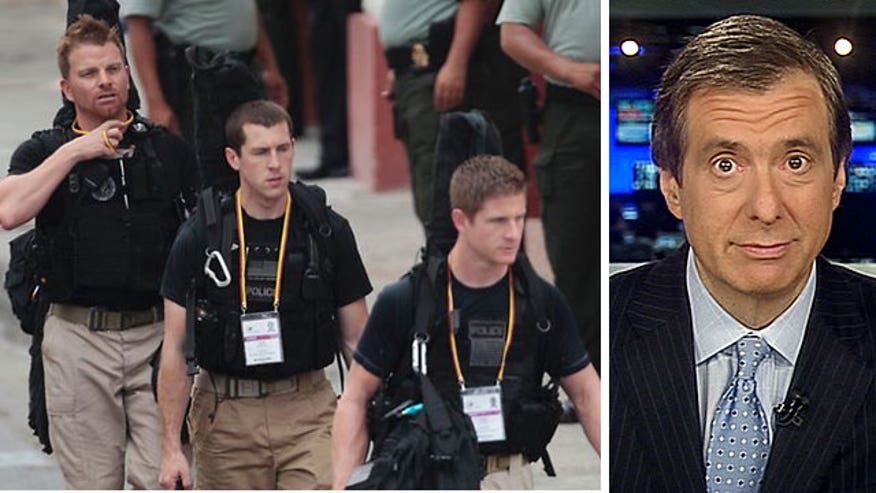 The Secret Service scandal has taken a dangerous turn for President Obama—dangerous, that is, to his political health.
The earlier revelations generated sympathy for the president, as it was clear his life and that of his family had been jeopardized by colossal incompetence, whether it was allowing a fence jumper to reach the East Room or allowing an armed felon on an elevator with Obama.
But now comes a devastating report that ties White House staffers to the agency's prostitution scandal, and worse, carries a strong whiff of a coverup.
Many conservatives have been saying that the administration has a pattern of failing to come clean. They view Benghazi as a coverup, rather than a case of conflicting explanations in the heat of an attack. They view the IRS as a coverup, rather than malfeasance by the Cincinnati office and incompetence leading to all those lost e-mails. They view the president's "keep your doctor" pledge as a lie rather than a broken promise. And was the coverup of the VA's phony waiting lists really limited to local hospitals?
But much of this remains unproven, with incremental evidence rather than a smoking gun.
The Secret Service debacle may be different. And the core of the latest story is easy for average Americans to understand: government officials and hookers.
Most of the media, as I predicted, moved on after Julia Pierson was forced out as Secret Service chief. But not the Washington Post, which has been leading the pack with a series of exclusives.
Nearly two dozen agents were fired or punished after the 2012 prostitution scandal in Colombia, but "Obama administration officials repeatedly denied that anyone from the White House was involved," says the Post.
But senior White House aides were given information at the time suggesting that a prostitute was an overnight guest in the hotel room of a presidential advance-team member — yet that information was never thoroughly investigated or publicly acknowledged."
The Secret Service is said to have shared its findings with Kathryn Ruemmler, then the White House counselor. The White House volunteer in question, the son of a prominent Democratic donor, has denied being involved with a prostitute.
It gets worse. Here, according to the paper, is what happened when Homeland Security's inspector general conducted its probe.
"The lead investigator later told Senate staffers that he felt pressure from his superiors in the office of Charles K. Edwards, who was then the acting inspector general, to withhold evidence — and that, in the heat of an election year, decisions were being made with political considerations in mind.
"'We were directed at the time . . . to delay the report of the investigation until after the 2012 election,' David Nieland, the lead investigator on the Colombia case for the DHS inspector general's office, told Senate staffers, according to three people with knowledge of his statement." Nieland also alleges that his bosses told him "to withhold and alter certain information in the report of investigation because it was potentially embarrassing to the administration."
That is political dynamite.
Presidential spokesman Eric Schultz denied any interference by the White House and said a Senate report had failed to confirm Nieland's charges.
Remember, this is not coming from some GOP congressman or right-wing website. It's a careful worded story in a major newspaper whose earlier disclosures about the Secret Service were confirmed to the point that the president had to dump the director.
Presidents can be unfairly blamed for everything under the sun. No commander-in-chief could single-handedly stop the spread of Ebola and force the Iraqis to more effectively fight ISIS.
But they are expected to run a competent government, and to have their staffs investigate scandals when they inevitably erupt—especially in an agency as sensitive as the Secret Service.
This story, depending on how it plays out, could spell big trouble.
Click for more from Media Buzz.
Howard Kurtz is a Fox News analyst and the host of "MediaBuzz" (Sundays 11 a.m.). He is the author of five books and is based in Washington. Follow him at @HowardKurtz. Click here for more information on Howard Kurtz.