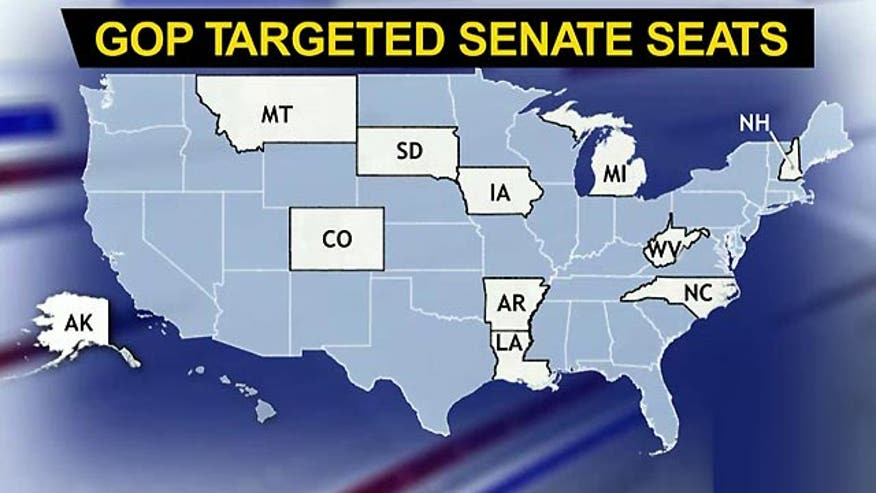 American voters disagree with President Obama that the economy is in better shape today than in 2008. Most are unhappy with ObamaCare. And optimism about the future of the country is down. With only 54 days until Election Day, these sentiments are pretty well baked into the cake -- boosting Republican candidates in a new Fox News poll.
The poll, released Thursday, also shows that nearly as many people say their household income has gone down as say it has gone up during Obama's presidency (36 percent gone down vs. 42 percent gone up).
CLICK HERE TO READ THE POLL RESULTS
By a 14 percentage-point margin, those in homes with annual income less than $50,000 are more likely to say their income has gone down. Those in higher-income households say, by a 23-point margin, their income has gone up.
More voters are optimistic (57 percent) than pessimistic (38 percent) about the future of the country. Yet that's a sharp decline from the 40-point optimism edge in 2012 (66-26 percent).
Sentiment today looks a lot like four years ago, before the 2010 midterms, when voters were more optimistic by 27 points (61-34 percent). When Obama took office in January 2009, 77 percent felt optimistic about the country's future and 20 percent pessimistic.
The president recently claimed that "by almost every measure" the nation's economy and American workers are better off now than when he took office. Voters dismiss his boast as "mostly false" by a 58-36 percent margin. That includes 37 percent of Democrats who think it doesn't ring true.
More than twice as many voters think the new health care law "went too far" (48 percent) as think it "didn't go far enough" (21 percent). About a quarter thinks ObamaCare is "about right" (24 percent).
Men, women, those under age 45 and over age 45, voters from higher and lower income households -- all are more likely to say ObamaCare went too far.
Most voters who think the new health care law went too far plan to support the Republican candidate in their House district this fall, while most of those who think it didn't go far enough or it's about right plan to vote for the Democrat.
Overall, when asked who they would back if the Congressional election were today, 47 percent of likely voters say the Republican candidate in their district and 40 percent the Democrat. Recent Fox News polls of registered voters have shown a narrow Democratic advantage, although the lead bounced back and forth between the two parties for most of the spring and summer.
Almost all Republicans and Democrats plan to vote for their party's candidate. Independents are twice as likely to say they would back the Republican over the Democrat, yet the largest number say they would vote for a third-party candidate or are still undecided.
In states with active U.S. Senate races, likely voters would back the Republican candidate in that race by a 48-39 percent margin. And when looking at the results in just the 14 Fox News battleground states, that GOP edge widens to 53-35 percent among likely voters.
Call it the ISIS effect: equal numbers of voters now say terrorism is the most important issue to their vote as say the economy: 41 percent say each will be "extremely" important in their decision. Four years ago, 57 percent said the economy would be "extremely" important, while 41 percent said terrorism (September 2010).
Today 36 percent say government spending and 35 percent say health care will be "extremely" important to their vote for Congress, followed by immigration (32 percent), foreign policy (29 percent) and abortion (23 percent).
Pollpourri
Most voters continue to think Congress stinks at its job: 78 percent disapprove of the job lawmakers are doing. Just 13 percent approve. Moreover, approval of Congress has been below 20 percent since August 2011.
Voters say Obama's recent push to increase the minimum wage is more about trying to win votes in the midterm elections (48 percent) than about helping working people (40 percent).
Still, 52 percent favor increasing the minimum wage, while 26 percent oppose it and another 20 percent say there shouldn't even be a minimum wage in the first place.
Eighty percent of Democrats think the federal government should increase the rate. That's almost twice the number of independents (44 percent) and more than three times the number of Republicans who feel that way (26 percent).
The Fox News poll is based on landline and cell phone interviews with 1,000 randomly chosen registered voters nationwide and was conducted under the joint direction of Anderson Robbins Research (D) and Shaw & Company Research (R) from September 7-9, 2014. The full poll has a margin of sampling error of plus or minus three percentage points. For the subgroup of 883 likely voters, the margin of sampling error is also plus or minus three points.
The Fox News battleground states in this poll were: Arkansas, Colorado, Georgia, Iowa, Kansas, Kentucky, Louisiana, Michigan, Minnesota, Montana, North Carolina, New Hampshire, South Dakota and West Virginia.