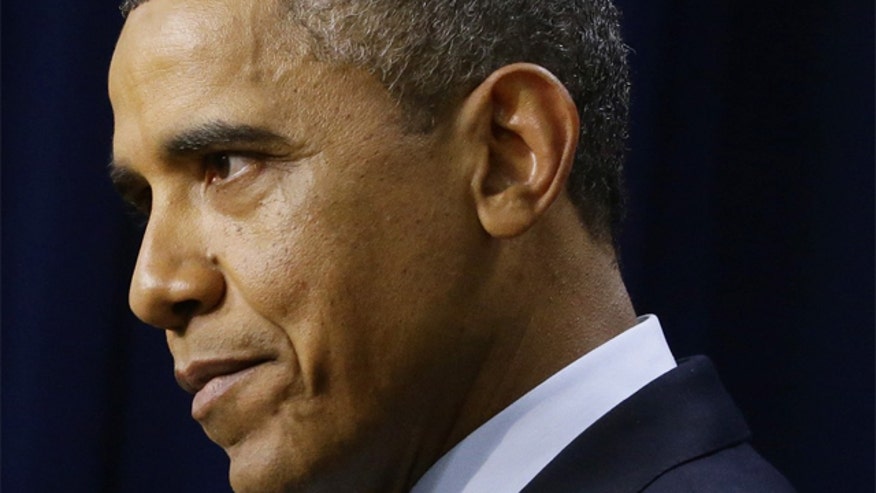 There's an avalanche of bad news for the Obama administration in the latest Fox News poll on foreign policy.
American voters feel:
- Barack Obama is weak and indecisive.
- The U.S. is less respected since Obama became president.
- The U.S. should do more to stop the Islamic extremist group ISIS.
- Obama isn't willing to do what it takes to defeat ISIS.
- ISIS will try to attack the U.S. soon.
- Embarrassed about Obama not having a strategy for dealing with ISIS.
- Obama will try to "manage" ISIS rather than "defeat" it.
The poll also finds:
- For the first time, more voters than not feel the U.S. is less safe today than before 9/11.
- Obama's job approval is at record lows on Syria, Iraq and terrorism. (Obama's overall job approval matches his all-time low.)
- Most would tell Obama to kill extremists beheading Americans now, rather than caution him against overreacting.
The new poll was released Wednesday, hours before President Obama's prime-time address to the nation about ISIS.
CLICK HERE TO READ THE POLL RESULTS
Here are the numbers behind the bullet points above: 59 percent of voters think the U.S. is less respected today than when Obama took office. That's up 11 percentage points from 48 percent who felt that way last year -- and up a significant 22 points from 37 percent in 2012.
Among independents, 67 percent feel the U.S. is less respected. That's a dramatic increase from 38 percent in 2012.
By a 15-point margin, Democrats are more likely to say the U.S. is less respected (35 percent) since Obama took office. Just 20 percent of Democrats say the country is more respected today, a drop of 32 points from 52 percent who felt that way in 2012.
Overall, 57 percent of voters think Obama is "weak and indecisive" on foreign policy, up from 48 percent last year. Twenty-three percent of Democrats and 62 percent of independents say he's weak.
People fear an attack is coming -- yet don't think the president will do what it takes to defeat ISIS. More than three-quarters of voters think ISIS is planning an attack on U.S. soil (77 percent) and about the same number say the U.S. should be doing more to stop ISIS (76 percent).
Still, by a 54-39 percent margin, voters say Obama isn't prepared to "do whatever it takes to defeat" ISIS, and a 55-percent majority feels embarrassed he doesn't have a strategy to deal with the Islamic extremist group in Syria. About a third is reassured Obama is taking time to develop a strategy.
Obama receives all-time low approval ratings for the job he's doing on terrorism (38 approve-56 disapprove), Iraq (34 approve-59 disapprove) and Syria (27 approve-61 disapprove). The president's overall foreign policy job rating remains deep underwater: 34 percent approve vs. 59 percent disapprove. His record-low 32 percent approval on foreign policy came in June 2014.
The president's overall job approval stands at 38 percent, which matches its all-time low. A record-high 56 percent of voters disapprove. Approval among Democrats stands at 73 percent, just 4 points higher than its record low. Same story among independents: 26 percent approve today -- just 1 point higher than the all-time low among this group. And 39 percent of women approve, also matching a record low.
The nation feels less secure. For the first time in 10 years, voters say the country is less safe today than it was before 9/11. A record-low 43 percent say the country is safer today, and a record-high 45 percent say the country is less safe. In 2010 voters said the country was safer by a 23-point margin. In 2004 it was 35 points. And as recently as March of this year, voters said the country was safer by a 10-point margin (49-39 percent).
Obama has sent mixed messages on how he plans to handle ISIS. At one point he said the group should be destroyed, yet later he said it should be managed. Which do voters think he will try to do? By a 46-39 percent margin, more think Obama will manage rather than destroy ISIS. Democrats are more likely to think Obama will try to destroy ISIS, while Republicans and independents say he'll manage the Islamic extremists.
The new poll asks voters which message they would like to send to Obama about the Islamic extremists who are beheading Americans. Over half -- 54 percent -- would say "kill them now." Nearly a third would caution "don't overreact" (32 percent).
Democrats would tell Obama "don't overreact" (49 percent). Majorities of Republicans (70 percent) and independents (59 percent) say "kill them now." Veterans and those currently serving in the military (62 percent) as well as non-military voters (53 percent) would advise "kill them now."
Voters disagree with the Justice Department's decision to treat the murder of American journalist James Foley as a criminal case: 65 percent think the U.S. military should go after the extremists responsible, while just 14 percent agree it is the job of federal prosecutors.
By nearly two-to-one voters think it will take boots on the ground to defeat ISIS (51 percent) rather than airstrikes alone (27 percent). Pluralities of independents (49 percent) and Democrats (42 percent), and a majority of Republicans (62 percent) think it will take U.S. ground troops to do the job.
The Fox News poll is based on landline and cell phone interviews with 1,000 randomly chosen registered voters nationwide and was conducted under the joint direction of Anderson Robbins Research (D) and Shaw & Company Research (R) from September 7-9, 2014. The full poll has a margin of sampling error of plus or minus three percentage points.