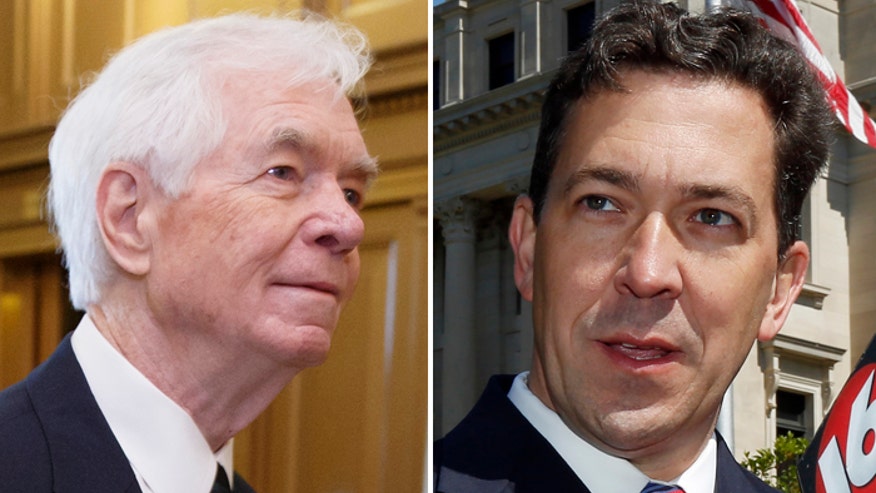 It was already a slugfest. But with a week left until primary day, recent developments in the race for a U.S. Senate seat in Mississippi have redefined the sort of nasty politics that turns many voters off.
Sen. Thad Cochran is asking voters in next Tuesday's Republican primary to give him a shot at winning a seventh term. Challenger Chris McDaniel, with the backing of Tea Party and several other conservative groups, is hoping voters are looking for a change and will anoint him the Republican nominee.
McDaniel had launched a full-out assault against Cochran – charging that he had been in office too long, had become a creature of Washington, and lacked the sort of conservative voting record Mississippians were demanding.
"He's voted for higher tax increases," McDaniel told Fox News. "He's voted for more spending, for bailouts. He's voted for the Cash for Clunkers program for goodness sakes. If you can imagine a liberal vote, Senator Cochran has cast it."
The Cochran campaign countered with charges that, as a state senator, McDaniel had opposed Hurricane Katrina relief, was soft on crime and voted in the Democratic primary in 2003.
But then along came an obscure supporter of McDaniel – Clayton Kelly – and the whole tone of the campaign took an exponential leap into the sordid and salacious.
Kelly is facing charges for sneaking into the St. Catherine's Village nursing home in Madison, Miss., taking photos and video of Sen. Cochran's wife Rose and posting them to his blog Constitutional Clayton. Rose Cochran has been in the home since 2000 with severe dementia.
Kelly's attorney, Kevin Camp, told Fox News that Kelly was acting as an amateur journalist and wanted material for a story he was writing about Cochran's absence from the state at Easter. The narrative, explained Camp, was that Cochran was in Washington, while his wife spent Easter alone in her Mississippi nursing home.
The Cochran campaign took aim at McDaniel – arguing that he was aware of the video, but rather than alerting the authorities to it, had his campaign manager contact the blogger to tell him to take it down. For its part, the Cochran campaign did alert the authorities, but not until three weeks after it learned that the video and photos had been posted online.
In a conference call, Cochran communications director Jordan Russell argued that McDaniel, an attorney, had shirked his responsibilities.
"Our campaign's actions helped result in an arrest," Russell told reporters. "And, Chris McDaniel's campaign did nothing. They – you know, they didn't alert any authorities, so we think that's a big distinction."
The day after that call, police in Madison made three more arrests, including of Mark Mayfield, the vice chairman of the Mississippi Tea Party, who was also a volunteer for the McDaniel campaign.
While there was still no evidence directly linking McDaniel's campaign to the alleged crime, the Cochran campaign lashed out with an ad attacking the challenger on it. McDaniel fired back with his own ad calling the attacks "shameless" and "outrageous." And with outside groups like Citizens United, Club for Growth and Crossroads GPS dumping hundreds of thousands of dollars into the final week's ad wars, the tone will likely get nastier still.
How all this will affect the race is unclear.
Recent polls have been all over the place – with one showing Cochran up 23 percentage points and another showing McDaniel up 4 points. Tuesday's primary results could be a nail-biter, if McDaniel can weather the scandal and continue to exploit the perception that Cochran is part of the "old-guard establishment."
Sources close to the Cochran campaign believe he is up by low double digits, but that his lead is soft and could erode given the right line of attack.
John Roberts currently serves as the chief White House correspondent for FOX News Channel (FNC). He joined the network as a senior national correspondent in January 2011, based in the Atlanta bureau.