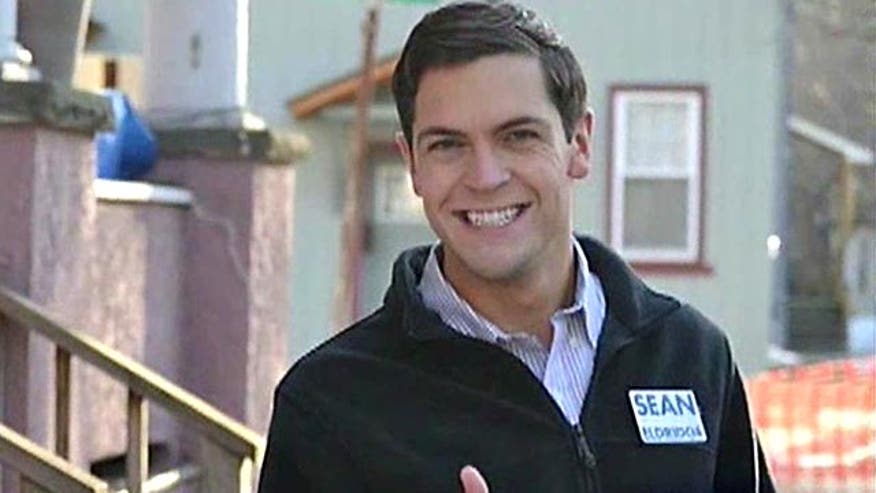 The race pits a decorated war veteran who was born and raised in his New York district against a new arrival who just moved in last year. The vet also happens to be one of the least wealthy members of Congress, while his opponent sits on a $700 million fortune.
That is the contest shaping up in New York's upstate 19th congressional district between 47-year-old, two-term incumbent Republican Rep. Chris Gibson and his Democratic challenger, 27-year-old Sean Eldridge.
"Folks around here, certainly Republicans and Independents, are not happy at all and are very wary about someone like that," Gibson said of his opponent.
"Even Democrats, a fair number of Democrats ... really reject the insincerity of his campaign."
Gibson served four tours of duty in Iraq, and was wounded by shrapnel in Mosul in 2005. He also earned a Ph.D. from Cornell and taught U.S. government at the U.S. Military Academy at West Point.
Eldridge went to Brown University, married Facebook co-founder Chris Hughes, and has been involved in civil rights and environmental causes.
Eldridge's campaign did not agree to an interview with Fox News, saying that he is only agreeing to interviews with local reporters, not the national news media.
That rare stance for a budding politician earned Eldridge some curious notoriety in April, when Politico also tried to track him down. In the resulting story, "Chasing Sean Eldridge," Politico reporter Alex Isenstadt detailed his unsuccessful effort to snag a sit-down with the elusive candidate.
"Eldridge has a team of high priced campaign professionals, they are very protective over him and they keep him very insulated," Isenstadt reported.
The race is also notable for a highly unusual and largely unprecedented move by Eldridge to spread money around the area through his venture capital firm, Hudson River Ventures, which invests in local businesses. He serves as president of the fund, which has its headquarters in an historic building in downtown Kingston.
"I founded Hudson River Ventures, an investment company that has created local jobs and grown small businesses throughout our region," Eldridge said in a campaign video. "I know firsthand what it takes to support small businesses and create good jobs."
He also founded a 3-D printing center at a local state university and said he is running for Congress "because I know we can do better."
Hudson River Ventures does not detail how much it has distributed in total, but the amount certainly appears to be in the millions. Its website says that 21 area firms, including a farm website in New York City, have received investments ranging from $50,000 to $500,000.
The fund has enabled Eldridge to claim that he has already created local jobs before even being elected.
Gibson charged he is using Hudson River Ventures as a way to use his riches to buy the election.
"He thought this money could potentially buy himself a seat in Congress. But you know what, had he looked at the situation a little closer, he would have seen that even though this district voted for President Obama by six (points), they voted for me to go to Congress by six in the very same election," Gibson said.
"Just because this guy married into a billion dollars...they are blessed with a lot of money," he added.
Skidmore College professor of government Robert Turner said that while Eldridge's personal coffers make the contest a competitive race, his investment fund could also become a campaign issue.
"Voters will be able to see it and judge for themselves, is this a serious, long term investment in the region or is this just a short term political propaganda?"
Turner noted that the match-up "has the sexy contrast between millionaire carpetbagger from New York City versus, like, local war hero. I think that contrast is of such interest to the national concern, but in some ways it is not necessarily what is going to be at stake in the minds of local voters. They are going to be thinking about the upstate economy, and what is the best way forward."
He said the district is one of the few potentially vulnerable Republican districts, and that Eldridge's financial resources distributed through his fund mean that "he can actually come out and say I've created jobs ... and most candidates don't have that kind of opportunity."
But the incumbent predicted his constituents will give him a "decisive win" over Eldridge with his hometown advantage.
Gibson grew up in the middle-class neighborhood in which he still lives, while Eldridge and Hughes plunked down nearly $2 million in 2013 to buy a secluded home on a private drive after moving from an adjoining congressional district.
"He can flood our airwaves, he can jam our mailboxes but at the end of the day it is still up to the individual to decide how they are going to vote," Gibson said.
"I think it is important that it reaffirms people's faith that in our democracy a seat in Congress is not up for sale."
Follow Eric Shawn on Twitter: @EricShawnonFox
Kathleen Foster contributed to this report.
Follow Eric Shawn on Twitter: @EricShawnTV