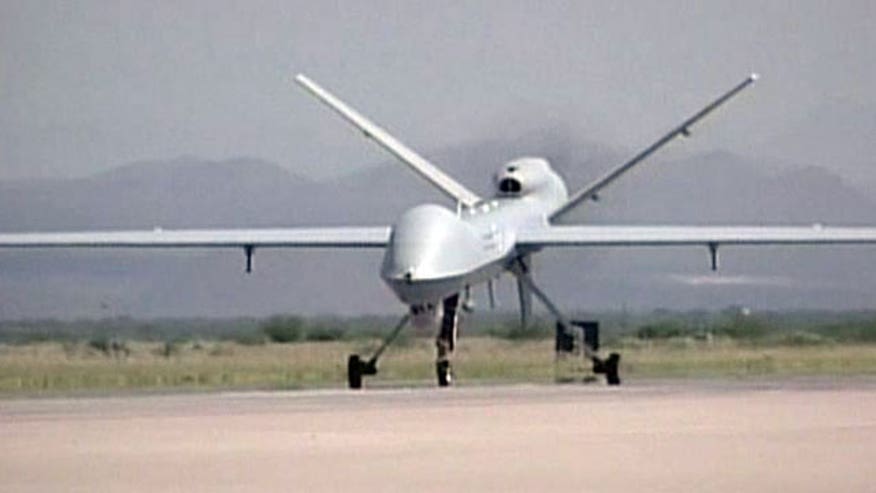 The 80 militant personnel deployed to Chad to help find nearly 300 kidnapped Nigerian schoolgirls are from the Air Force and have already begun their mission, a U.S. military spokesman said Thursday.
Chuck Prichard, a spokesman at the U.S. military's Africa command in Germany, said that the 80 Air Force personnel were previously stationed in the United States, though he did not disclose where in the U.S.
The missing girls and young women, all from a school in northern Nigeria, were kidnapped last month by the Islamic extremist group Boko Haram.
Pentagon spokesman Lt. Col. Myles Caggins said Wednesday the team will mostly be made up of Air Force personnel responsible for operating a single unmanned, unarmed drone. The drone will be flying out of an airstrip in Chad -- which shares a portion of its western border with northeastern Nigeria -- with a mission to search for the girls in Nigeria.
Other U.S. service members will be assigned to act as an armed security force tasked with protecting the team.
Obama formalized the decision with a letter to House Speaker John Boehner and the Senate notifying lawmakers about the steps under way to assist in the return of the abducted girls.
Obama said the service members will help with intelligence, surveillance and reconnaissance aircraft for missions over northern Nigeria.
He said the force will stay in Chad until its support is no longer necessary.
As the U.S. escalated its involvement in the search effort, new violence erupted in Nigeria at the hands of Boko Haram.
The group assaulted three villages in northern Nigeria, killing 48 people, residents said Wednesday, hours after twin bombings claimed at least 118 lives in the central city of Jos.
Officials in at least three other central and central-north states have suggested the extremists are feeding into tribal and religious tensions to spread the insurgency from their stronghold in Nigeria's northeast into an area where thousands have been killed in recent years in disputes over land, water, religion and tribe.
The new U.S. ground team suggests that the U.S. wants to now fly Predator drones rather than the Global Hawks they've reportedly been using up to this point. Global Hawks have a longer range, but Predator drones would need a support team close by to fly them.
Fox News' Justin Fishel and The Associated Press contributed to this report.