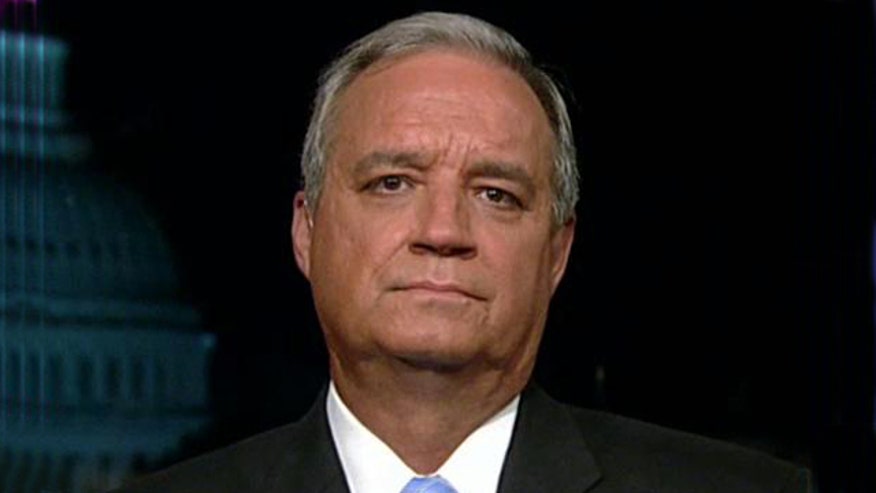 The chairman of the House Committee on Veterans Affairs said Thursday on "The Kelly File" the agency is suffering from "a systemic problem that is a life and death issue" and can't be solved simply by removing the cabinet secretary in charge.
"This has been going on for years, and of course, the Obama administration wants to say this goes all the way back to the Bush administration, and that may be true," Rep. Jeff Miller, R-Fla., told Megyn Kelly. "But (Department of Veterans Affairs Secretary Eric Shinseki) has been in office now for well over five years and has had an opportunity to make a difference and he hasn't done it, and the agency has continued to grow."
Miller said he believes President Obama should have taken a more proactive stance when news of the scandal first broke last month with the disclosure that key data allegedly was concealed at the Phoenix Veterans Affairs center while dozens of veterans died waiting for care. Since then, allegations of neglect and misconduct have been made at VA facilities across the country.
"This is a systemic problem that is a life and death issue, and the president should have come out and immediately said, 'I will allow any veteran who is on a waiting list to receive the medical care that they have earned to go outside of the VA network and get it on the private market,'" Miller said.
He added that some workers are gaming the system by saying they're meeting with veterans every two weeks to fulfill statistical obligations, but not providing them with needed health care.
"Look, nobody is saying that the whole system itself doesn't provide quality health care, because it does, once you get inside the system," Miller said. "But they have set unrealistic goals, goals that people have unfortunately found to game around the system, and we're finding some of the most ingenious ways you could have ever imagined, where staff has found ways to hit that 14-day goal so that they can look good, not only up to division, but to the regional office and the central office in Washington as well."
Kelly asked Miller why he hasn't joined those calling for Shinseki to resign.
"Look, getting rid of Secretary Shinseki is not going to solve the problem," Miller said. "There is a serious systemic problem within the Department of Veterans Affairs. Taking the head of the agency and removing him may be a one-day story, but you still are going to have veterans out there not receiving the health care that they have earned."