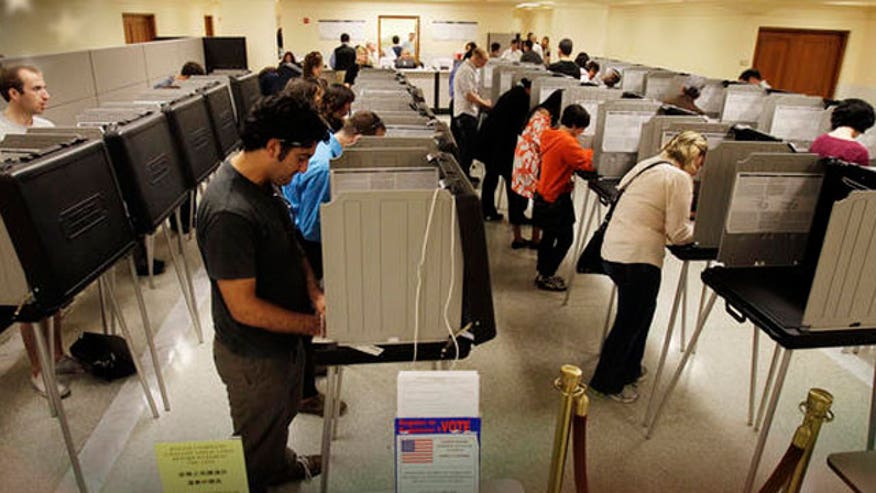 Republicans are competing Tuesday for prize nominations in several races considered vital to the party's hopes of retaking the Senate in November, as voters cast their ballots in primaries across six states.
Though primary voters are heading to the polls for a host of Republican and Democratic contests -- including Senate, House and gubernatorial races -- the most closely watched appears to be Georgia, where a whopping seven candidates are running for the GOP Senate nod.
The winner of that race is expected to take on Democratic front-runner Michelle Nunn in the fall. She is the daughter of Sam Nunn, a Democrat who represented Georgia in the Senate from 1972-1997.
Meanwhile, Senate Republican Leader Mitch McConnell beat Tea Party-aligned Matt Bevin in his Kentucky primary contest. But the real competition for him is likely to come in November, when he will face Kentucky Secretary of State Alison Lundergan Grimes.
McConnell is running not only to defend his seat, but possibly to grab the title of majority leader next year.
The Georgia and Kentucky Senate races represent Democrats' best, and perhaps only, shots at picking up Republican-held Senate seats. It is considered critical that Republicans hold these seats, in order to have a chance at picking up the six seats needed to gain the majority.
Hypothetical match-ups already show McConnell and Grimes locked in a tight competition in November.
In Georgia, Republicans are looking to pick a strong nominee who can defend the seat being left by retiring Republican Sen. Saxby Chambliss.
Polls suggest former Secretary of State Karen Handel, Rep. Jack Kingston and businessman David Perdue are battling for the top two posts. Reps. Paul Broun and Phil Gingrey are also running.
A July 22 runoff of the top two candidates is likely, given the difficulty any candidate would face in garnering the 50 percent necessary to avoid one.
Nunn is considered a formidable opponent and Republicans can ill afford to lose the seat. Although the state has voted reliably Republican in recent years, Democrats see an opening with changing demographics in the state -- a growing minority population and residents moving in from out of state.
Kingston, a longtime congressman, dominated in fundraising throughout the GOP race and drew support from dozens of state and local officials. Of the three congressmen, Kingston was considered the strongest to secure a spot in a runoff and received the backing of the U.S. Chamber of Commerce, which spent nearly $1 million in TV and online ads promoting him.
Perdue, a cousin of former Gov. Sonny Perdue, saw his standing in the polls rise in the weeks leading up the election due in part to his early and effective TV ads depicting his four opponents as crying babies who have had their chance as elected officials to fix the nation's problems. Perdue, who made millions working at Dollar General, contributed more than $2.1 million of his own money to the race, which helped pay for those early ads that also championed him as the outsider in the race.
Handel also sought to claim the outsider mantle, running against the three congressmen with a message that they had spent a combined 42 years in Washington.
Throughout the race, Handel trailed in fundraising but benefited from being the only candidate to have run statewide before and won. She built momentum in the final month with the help of a comment by Perdue and endorsements from former Alaska Gov. Sarah Palin, Arizona Gov. Jan Brewer, conservative talk radio host Erick Erickson and former GOP presidential candidate Rick Santorum.
The Kentucky and Georgia Senate races have attracted international attention and impressive sums of money. Candidates already have spent more than $32 million, with $26 million by Republicans
Grimes and Nunn have tried to frame themselves as centrists and capitalize on voters' obvious frustrations: Obama's job approval rating is in the low 40s nationally, and approval for Congress in recent years has consistently been less than half that figure.
In an NBC News interview and in remarks later Monday to The Associated Press, Nunn refused to say whether she would have voted for the Affordable Care Act. Instead she said she plans on "continuing to answer the question by talking about where we need to go in the future and how we need to move forward."
Senate races also were on the ballot in Arkansas, Idaho and Oregon on Tuesday, and there were primary contests for governor and some congressional seats in Pennsylvania, Arkansas, Idaho, Georgia and Oregon.
In Oregon, Republicans are picking a nominee to take on Democratic incumbent Sen. Jeff Merkley in the fall.
The race is being fought between front-runner Monica Wehby, a pediatric neurosurgeon, and state Rep. Jason Conger.
Wehby was hit with back-to-back reports in recent days about allegations of harassment by former companions.
According to a police report made public Monday, Wehby's ex-husband Jim Grant called police to accuse her of harassing him as they were going through a divorce in 2007. On Friday, a separate police report showed Wehby's former boyfriend, Andrew Miller, called police last year reporting that she was stalking him and harassing his former employees.
"Like a lot of women, I've gone through a divorce that was a trying time in my life for me and for my family," Wehby said in a statement. "I'm deeply saddened that such a personal matter, which bears no relevance to my Senate campaign, has been used as a political weapon to attack my character."
Neither of the incidents is likely to weigh heavily on the outcome of the election, though. Oregon holds a mail-in primary, with Tuesday being the last day. Many have already cast their primary votes.
The Associated Press contributed to this report.