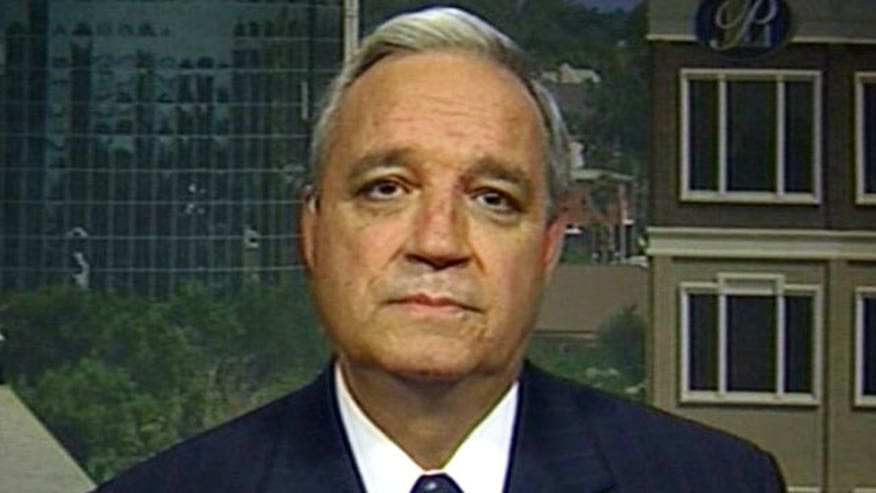 Republicans are putting the heat on President Obama over the scandal at the Department of Veterans Affairs over allegedly fatal health care delays, saying he can no longer float above the ever-widening controversy.
"It's time President Obama personally answer for the horrific conditions and abuses occurring at our veterans facilities," House GOP Leader Eric Cantor said in a statement, after VA Secretary Eric Shinseki testified Thursday before a Senate committee.
Lawmakers at that hearing were visibly frustrated over the state of the VA, and the succession of reports that VA workers may have manipulated records to make it seem like veterans were being treated in a timely fashion, when they were not. Further, they voiced concerns that the department is waiting for the results of investigations that may not conclude for weeks, or even months.
The White House has dispatched deputy White House chief of staff Rob Nabors to review VA health care procedures and policies. But critics, including Cantor, say it's time for Obama to get personally involved.
The VA scandal is just one of many facing the Obama administration -- including the botched rollout of the health care law, the response to the Benghazi terror attacks and the IRS targeting of conservative groups -- and Republicans voiced concern that the White House would handle this controversy like the others.
"Time after time, President Obama deflects blame to his hand-picked cabinet secretaries," Cantor said, adding: "Our nation's veterans can't wait on an internal White House staff review for this to be resolved."
A handful of lawmakers and groups have called for Shinseki to resign over the scandal. But Republicans appear to be quickly looking past the head of the VA in favor of applying pressure to the president.
Senate GOP Leader Mitch McConnell made similar remarks on the Senate floor.
"My concern is that the Obama administration will treat this scandal like it does all the others, like a political crisis to get past rather than a serious problem to be solved," he said, adding that "if the president is truly serious, he needs to treat these stories at least as seriously as he did the ObamaCare website fiasco."
How the administration should tackle the well-documented problems at the VA is an open question. Some lawmakers are calling for firings, even jail time.
The VA operates the largest single health care system in the country, serving some 9 million veterans a year. Surveys show that patients are mostly satisfied with their care but that access to it is becoming more of a problem as Vietnam veterans age and increasing numbers of veterans from the Iraq and Afghanistan wars seek treatment for physical and mental health problems, including post-traumatic stress disorder.
Rep. Jeff Miller, R-Fla., chairman of the House Veterans Affairs Committee, called for an independent bipartisan commission. Noting that the White House had sent Nabors to review the system, Miller told Fox News: "I think it's more crisis mode, spin control, if you will."
Shinseki, at the hearing on Thursday, said he's "mad as hell" about the allegations and vowed to get to the bottom of it.
Asked if Obama is also that angry, White House Press Secretary Jay Carney said: "He certainly is very concerned and angry about the allegations that we've seen regarding specifically the Phoenix office. "
Carney voiced confidence in the ability of Nabors to handle the review.
Shinseki, a retired four-star Army general who has headed the VA since 2009, has promised a preliminary report within three weeks on treatment delays and falsified patient-appointment reports at VA health centers.
The report -- and another due in August from the department's inspector general -- should give officials a window into complaints about long waitlists and falsified records at the VA's 150 medical centers and 820 community outpatient clinics nationwide, Shinseki said.
Richard Griffin, acting inspector general for the VA, said an initial review of 17 people who died while awaiting appointments at the Phoenix VA hospital found that none of their deaths appeared to have been caused by delays in treatment.
"It's one thing to be on a waiting list, and it's another thing to conclude that as a result of being on the waiting list that's the cause of death, depending on what your illness might have been at the beginning," Griffin told the Senate panel. "On those 17, we didn't conclude so far that the delay caused the death."
But he said federal prosecutors are involved as investigators weigh whether criminal charges are warranted.
Griffin said his office was working off several lists of patients at the giant Phoenix facility, which treats more than 80,000 veterans a year. He said a widely reported list of 40 patients who died while awaiting appointments there "does not represent the total number of veterans that we're looking at."
The Associated Press contributed to this report.