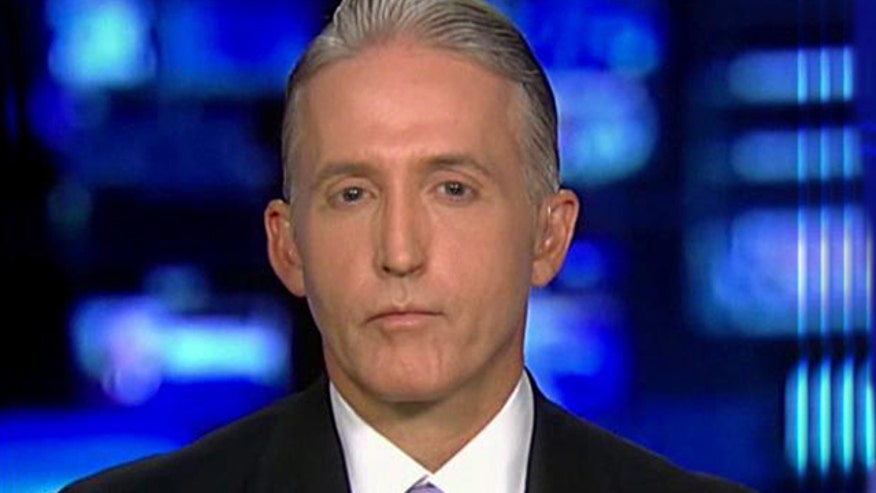 It's hard to imagine Heisman trophy-winning quarterback Johnny Manziel having much in common with second-term Rep. Trey Gowdy, R-S.C.
But there are similarities. Today is draft day in the National Football League. And the House of Representatives today debates and votes to empanel a select committee, headed by Gowdy, to investigate the Benghazi attacks.
No player in Thursday's draft is watched as closely as Manziel. It's believed Manziel could go early in the first round. But he could drop much later. Some speculate that Manziel's size will hurt him. Listed generously at 6'1", Manziel is not even close to that height. Still, that might not mean much. Look at Doug Flutie.
But the fan base of whichever club drafts Manziel is sure to convulse with elation, unable to contain itself at the potential of having "Johnny Football" scrambling around the backfield, splitting defenders.
That might not yield a lot of success. But it sure is fun to watch. Stardom in college doesn't always translate to the pros -- especially at quarterback. Still, the attraction of how Manziel performs is irresistible.
The same is true with Gowdy. House Speaker John Boehner, R-Ohio, tapped Gowdy to run the Benghazi committee. Gowdy's name was leaked early to the press. But before it was official that Gowdy was chairman, there was chatter from Capitol Hill insiders about other possibilities. There was prognostication about former House Foreign Affairs Committee Chairwoman Ileana Ros-Lehtinen, R-Fla.; Rules Committee Chairman Pete Sessions, R-Texas; and Rep. Mike Turner, R-Ohio. But when it came to leading the select committee, they were congressional Teddy Bridgewaters. Federal and local prosecutor, the fiery Gowdy's been one of the most visible and outspoken critics of the Obama administration. And like Manziel, there was no more exhilarating player available on the draft board.
Tea Party loyalists exploded at Boehner's announcement, eager to see Gowdy grilling former Secretary of State Hillary Rodham Clinton or National Security Adviser Susan Rice. The fireworks. The busted plays. Highlight reels worthy of NFL Films. That's Gowdy.
Drafting Gowdy created an immediate quarterback controversy on Capitol Hill. Boehner's decision to authorize a Benghazi panel benched House Oversight Committee Chairman Darrell Issa, R-Calif. Democrats embraced this turn of events. They rushed to upbraid the California Republican whom they love to hate.
"This is the full-neutering of Darrell Issa," said House Democratic Caucus Vice Chairman Joe Crowley, D-N.Y.
"Either they think Issa was a competent chairman or they don't," offered House Minority Whip Steny Hoyer, D-Md.
Of course, coach Boehner made his decision on who he wanted to lead this inquiry. He wouldn't let this be like the San Francisco 49ers QB controversy of two years ago between Alex Smith and Colin Kaepernick.
"Rep. Gowdy has the confidence of this conference and I know his professionalism and grit will earn him the respect of the American people," said Boehner.
Playing the role of Alex Smith to Gowdy's Kaepernick, Issa graciously bowed.
"Speaker Boehner could not have chosen a member more committed to getting the full truth about the before, during and after of the Benghazi terrorist attack than Congressman Gowdy," gushed Issa.
It's unclear when the hearings will start. But people will pay good money to score admission. That's a lot like people forking over top dollar to see Johnny Manziel -- even if he's just holding a clipboard on the sideline.
That's part of the conundrum facing Gowdy. He'll certainly be in the game calling the plays. And people will judge whether Gowdy makes the smart throws or throws into double coverage.
But for now, the right is just ginned up about the prospect of Gowdy, and an aggressive investigation. But then again, lots of pro football fans were excited about drafts which brought their teams Ryan Leaf, Heath Shuler (the former congressman), JaMarcus Russell, Matt Leinart, Tim Couch and Akili Smith. All were highly touted college quarterbacks. Yet they fizzled in the pros.
There is also potential for peril with Gowdy. What if the public views Gowdy as too harsh? What if Benghazi "fatigue" sets in? There's a lot for the GOP to lose in playing this game.
Rep. Alcee Hastings, D-Fla., says his constituents have turned to other things.
"Nobody said to me anything about Benghazi. About the IRS. About a need to have a select committee to investigate anything," railed Hastings. "And here we are about the business of looking for a scandal when there is no scandal. And that is the scandal."
It's unclear if Democrats will even participate in the Benghazi committee. When in the minority in 2005, Democrats took a pass on a select panel engineered by Republicans to investigate Hurricane Katrina. Pelosi called for an equal split between Republicans and Democrats on the Benghazi committee. The breakdown will be seven Republicans and five Democrats.
Gowdy dismissed Pelosi's request out of hand during an appearance on Fox News.
"We're the majority now. We're the majority for a reason," declared Gowdy of the GOP-Dem ratio.
Republicans quickly noted that Pelosi implemented a nine-Democrats-to-six-Republicans split when she created the Select Committee on Energy Independence and Global Warming when Democrats were in the majority in 2007.
In a closed-door caucus meeting Wednesday, many rank-and-file Democrats argued against appointing members to the committee.
"Not under the present circumstances, no," said Rep. Gerry Connolly, D-Va., a name which has surfaced as a possible candidate to serve as the lead minority member if the Democrats do elect to play. "The leadership has laid out certain conditions in terms of a partisan ratio and subpoena powers and rules of engagement. None of those conditions or concerns have been addressed by Speaker Boehner."
This too mirrors the NFL. Once the draft is complete, there are always holdouts. And such may be the case for the Benghazi committee if the Democrats refuse to suit up.
Capitol Attitude is a weekly column written by members of the Fox News Capitol Hill team. Their articles take you inside the halls of Congress, and cover the spectrum of policy issues being introduced, debated and voted on there.