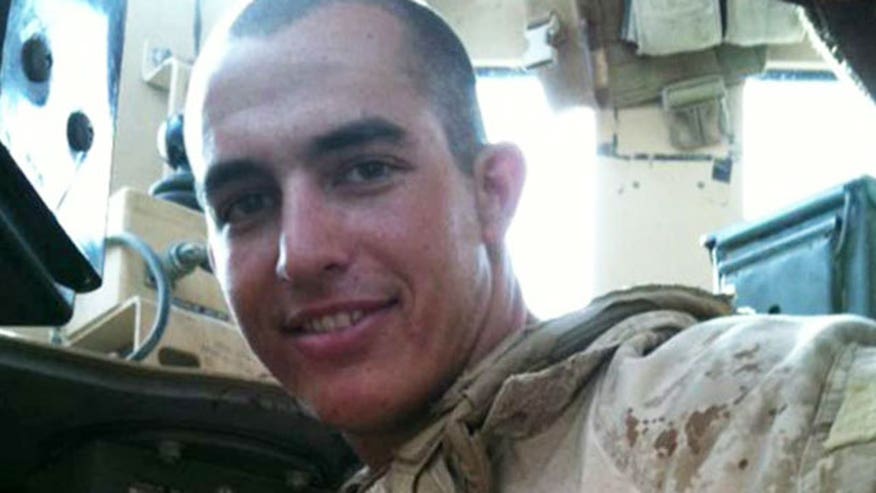 Lawmakers from both sides of the aisle are pushing for Secretary of State John Kerry to intervene in the case of a U.S. Marine reservist detained inside a notorious Mexican border prison.
Rep. Duncan Hunter, R-Calif., who represents the San Diego border area, sent a letter Friday asking him to help secure Andrew Tahmooressi's release, calling the detainment an "extraordinarily unfortunate occurrence."
The 25-year-old was arrested April 1 after getting lost and accidentally crossing into Mexico at the San Ysidro checkpoint near San Diego, according to his interview Sunday with the U-T San Diego newspaper from La Mesa Penitentiary in Tijuana.
The decorated Marine, who has two tours in Afghanistan under his belt, was carrying three firearms purchased legally in the U.S. but outlawed in Mexico.
"It is absolutely critical that Andrew's release be achieved as soon as possible," wrote Hunter in the letter to Kerry. "He served his country faithfully as a U.S. Marine and he is owed the same commitment by the U.S. government in return."
A spokesperson for Rep. Debbie Wasserman Schultz, D-Fla., said her office also reached out to the State Department after Tahmooressi's mother, Jill Tahmooressi, sent a letter to the congresswoman seeking help as one of her constituents. Florida Democratic Sen. Bill Nelson also has been in touch with the family.
State Department spokeswoman Marie Harf declined to discuss Tahmooressi during Monday's press briefing.
"Unfortunately, on this case, I can't talk about any of the details because of privacy," Harf said.
Harf said she was unable to confirm whether Kerry was aware of the case. "Obviously, if there's something that needs to rise to the attention of the secretary, it will," said Harf.
Tahmooressi's story is reminiscent of that of Jon Hammar, another Florida Marine who spent four months in a border prison for carrying an antique shotgun while traveling through Mexico in 2012. He was eventually released after pressure from U.S. lawmakers, led by Rep. lleana Ros-Lehtinen, R-Fla.
Jill Tahmooressi said her family has received tremendous support from both the Hammars and the U.S. Consulate in Tijuana, which has been giving her twice daily updates on her son's condition. She described the ordeal as a "nightmare" and said at one point, her son was shackled by four-point chain restraints in a prison infirmary after he attempted an escape by climbing a prison wall on April 6. He also is reportedly suffering from a neck wound after stabbing himself with a broken light bulb after his escape attempt failed.
"He said, 'Mom they were going to kill me," Tahmooressi told "Fox and Friends" on Saturday.
La Mesa State Penitentiary has a reputation for violence, corruption and extreme overcrowding. It was the site of two riots in 2008 that left 21 inmates dead.
She said her son was driving his pickup truck to meet up with friends in a border town near San Diego when he made the wrong turn. He had recently relocated to San Diego from Weston, Fla., to seek treatment for post-traumatic stress disorder.
"He had just been diagnosed," Tahmooressi told "Fox and Friends."
"He had already started a treatment plan 10 days earlier."
She said Tahmooresse was living out of the Ford F-150 and in addition to the guns, was carrying all of his possessions.
He is ineligible for bail because two of the firearms are only permitted for use by the Mexican military.
During a rally outside the Mexican Consulate in Miami Monday, one of at least four being held nationwide to coincide with the Cinco De Mayo holiday, Tahmooressi said the next step in her son's legal process is scheduled for May 28, when prosecutors can submit statements from the arresting officers.
Tahmooressi's Tijuana-based lawyers told U-T San Diego that if convicted, he faces between 6 and 21 years behind bars. His mother said she hoped pressure from both sides of the border will help speed up the process.
"He's a very vulnerable and decorated Marine that needs some consideration," she told WSVN-TV. "It's all about unity. A common voice -- Mexico and America for due process of Sgt. Tahmooressi."
Tahmooressi served four years in the Marines and was honorably discharged in 2012.