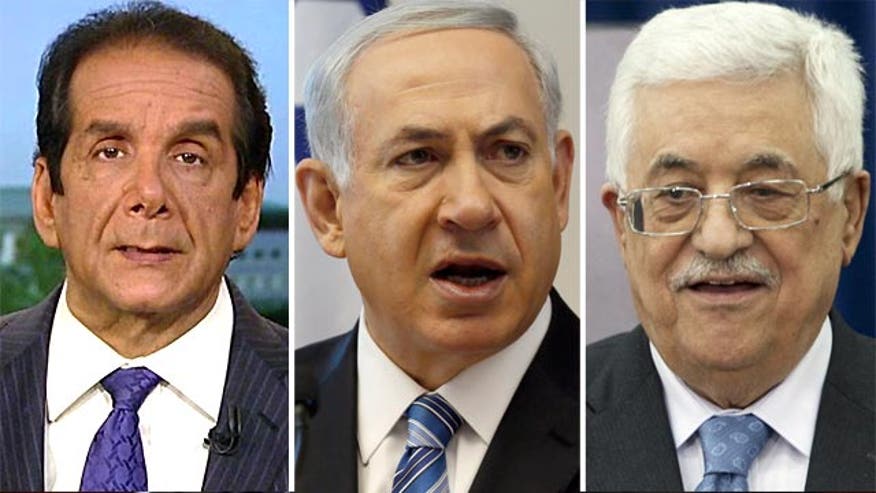 Charles Krauthammer told viewers Thursday on "Special Report with Bret Baier" he is not surprised that Israeli-Palestinian peace talks have once again fallen apart.
"It's a lesson we have to learn, re-learn, over-learn, every single time," the syndicated columnist and Fox News contributor said. "The answer's always no, and the reason is this: they [Palestine] will not accept a Jewish state in their midst."
Israel suspended peace talks with Palestine on Thursday after Palestinian President Mahmoud Abbas agreed to a unity deal with rival government Hamas.
Israeli Prime Minister Benjamin Netanyahu, in an interview on "Special Report,"called the unity pact with Hamas a "blow to peace" and a "huge step backward" for the Palestinian people.
"The moderate Palestinians, the Fatah Palestinians...have shown us again and again that when it comes to making a final deal to get a peace with Israel, they are not interested," Krauthammer said. "Once you make a pact with Hamas, which is openly dedicated, proudly dedicated to destroying Israel, and to actually attacking Jews all over the world - that's actually in their charter - you have announced you're uninterested in peace."
"Israel can't possibly conclude a peace with a Palestinian government, half of whom is consisted of people who want to destroy Israel," he added. "That's why we were where we are. This is the same lesson again, unfortunately."