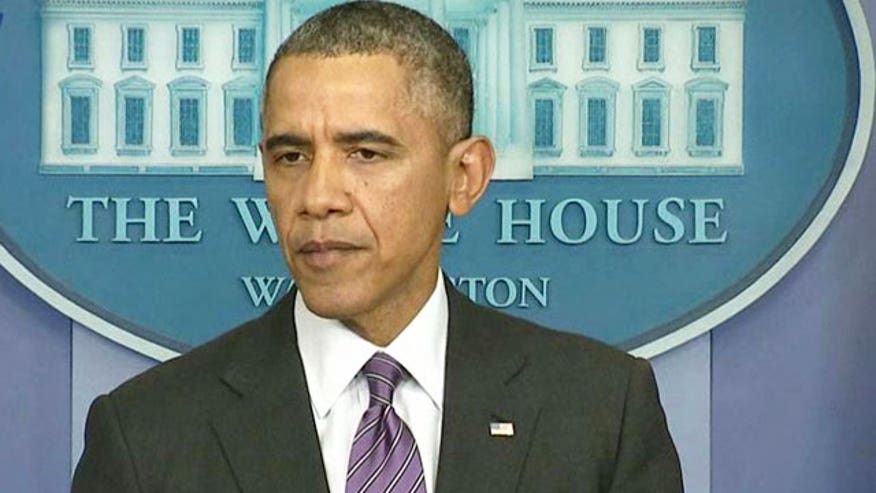 President Obama said Thursday that a newly struck diplomatic agreement on Ukraine offers the "prospect" to "de-escalate" the crisis, but warned that the U.S. is preparing "additional consequences" if the Russians don't hold up their end of the bargain.
[audio-clip]
Obama called the agreement a "glimmer of hope" and said he hopes to see "follow-through" from the Russians.
But he said: "I don't think given past performance, we can count on that."
Obama addressed the developments in Ukraine during his first solo press conference in months. He also discussed the status of the Affordable Care Act and immigration talks, speaking for just about a half hour after making a surprise appearance in the briefing room.
Obama voiced some skepticism in describing talks in Geneva among representatives of the U.S., Ukraine, Russia and the European Union. Their agreement would freeze for now any additional sanctions by the West on Russia, while calling for illegally armed groups to be disarmed and pro-Russian separatists to turn over government buildings they have seized.
He said the U.S. still must be prepared to respond to "efforts of interference by the Russians" in eastern and southern Ukraine.
"The question now becomes, will in fact they use the influence that they've exerted in a disruptive way to restore some order so that Ukrainians can carry out an election, move forward with the decentralization reforms that they've proposed, stabilize their economy and start getting back on the path of growth and democracy and that their sovereignty will be respected?" he said.
The president kicked off the press conference late Thursday afternoon by defending his health care law and touting recent ObamaCare sign-up figures.
He said the total number of people who have signed up on the Affordable Care Act exchanges has risen to 8 million. That's up from the 7.1 million reported at the end of March -- some were given until mid-April to sign up, which could account for the boost.
Obama also said 35 percent who signed up on the federal marketplaces were under 35 years old -- a key and sought-after demographic.
"This thing is working," Obama said, urging Republicans to drop efforts to repeal the law.
"The repeal debate is and should be over."
The president took an aggressive tone in battling Republicans, repeating past claims that they are "fear-mongering."
Following the disastrous rollout of the exchanges in October, when HealthCare.gov was virtually unusable, Democrats have been hoping that higher-than-expected results could help their candidates reclaim the political high ground ahead of the midterm elections. Seven months out from Election Day, Democrats are seeking to turn the page on the law's flawed debut -- a strategy underscored last week when Obama announced that Health and Human Services Secretary Kathleen Sebelius, who became the face of the rollout failure, was stepping down.
The Associated Press contributed to this report.